Deal with it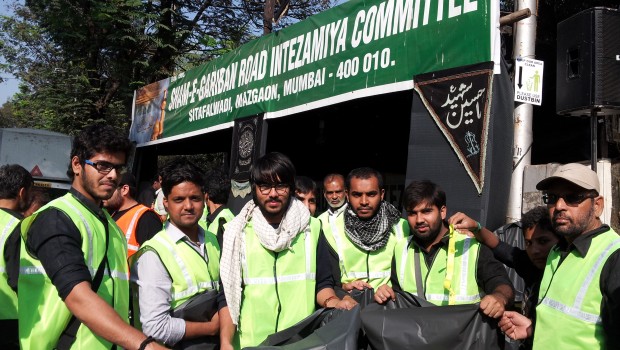 Published on January 5th, 2013
0
A clean juloos this year
A group of volunteers ensured that the recent Arba'een procession was a clean, almost zero-trash one, and were largely successful.
by Shezanali Hemani
Arba'een, meaning forty in Arabic, is a significant day marking the 40th day of Martyrdom of Imam Hussain, the Grandson of The Holy Prophet Muhammad. This day, 20 million mourners gather in Karbala, 110 km from Baghdad, Iraq on the Holy Shrine of Imam Hussain. Commemorated by Muslims all over the globe, this tradition of remembering Hussain on the 40th Day has its significance in historical events which occurred 1,400 years ago, as well as a part of the 40-day mourning period practiced by most cultures in the world.
However, a group of youths including Shias, sunnis and even a few Hindus, numbering to over 100 people, revolutionised the face of Arbaeen juloos in Mumbai this year. The idea to keep the juloos (procession) clean had actually taken root two years ago, but this year, it could finally be implemented.
Today, when we mourn the Prophet's grandson's death, for him who stood up in order to support the preaching of his grandfather, it seems very wrong for his followers to create a mess on the street and leave it for the BMC and others to clean. Also, ethically speaking, if we take so much care and effort to keep our own homes clean, why should we treat the city any differently? The city we live in we should retain its dignity, no matter what the occasion.
On January 3, the rest of the volunteers and I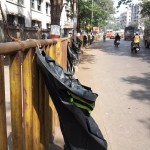 tied big trash bags at several spots along the juloos route, so that visiting pilgrims could throw such waste as glass, paper etc. The trash bags were laid all along from JJ to Mazgaon. More than one lakh people are believed to be present in this juloos from all over Maharashtra every year, most of them dressed in black clothes. The procession starts at 4 pm from Mogul Masjid near Bhindi Bazaar and ends at Rehmatabad Cemetery at Mazgaon.
Every year, a lot of waste is left behind on the road after the juloos ends. But this year, people noticed the difference. The owner of Greenfield restaurant (which falls on the route) said, "The waste this year have gone down by 80 per cent, compared to the previous juloos. This is a very good thing and it should continue. People think well about this kind of work."
Aliraza Namdar, well known TV and theater actor also appreciated the hard work done by the volunteers and wished them luck for future projects. Owais Rizvi, Tabish Mehdi, Mohsin Fallah, Akeel Abbas Naqvi, Sohel Ajani, Ahmed Rizvi, Ali Miya, Asad Mirza, Rohan Gopalan and others were part of volunteer group.
Arba'een  is marked on the 40th day of the martyrdom of Imam Hussain.  Prominent religious scholars and leaders from the community participate in the juloos.
(Pictures courtesy Shezanali Hemani)