Deal with it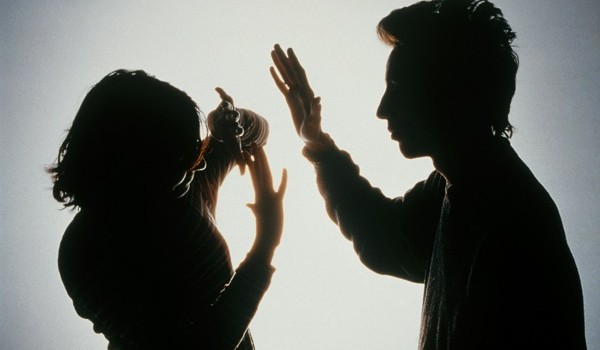 Published on January 5th, 2015
0
A band of men saying 'No'
The city-based Men Against Violence and Abuse (MAVA) is organising the 'Say NO, Accept NO' event for colleges located in Mumbai.
by The Editors | editor@themetrognome.in
A group of men and boys are talking to collegians in Mumbai to spread a simple but potent message: Say NO, Accept NO.
The brainchild of city-based gender rights organisation Men Against Violence & Abuse (MAVA), which has been working among the youth to prevent gender-based violence on women for the past 22 years, is organising 'Yuva Abhivyakti 2015', a two-day Inter-Collegiate cultural event between January 10 and 11, 2015.
The event, to be held at Amar Hind Mandal, Dadar West, would comprise poster making, essay writing, slogan writing, elocution, group singing and street play competitions on the theme of 'Say NO, Accept NO'.
"The competitions aim at stimulating girls to say 'NO' to Verbal Abuse, Unwelcome Hug, Forced Marriage, Sexual Harassment, Domestic Violence, Dowry or anything about which they are uncomfortable, and simultaneously tell boys how they should accept the 'NO' of a girl," explains Harish Sadani, Founder-Member, MAVA. He adds, "The competitions are open to all students studying in any college affiliated to Mumbai and SNDT Women's University."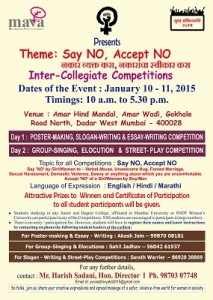 For registration, interested students should contact leaders of respective competitions on the phone numbers given on the poster alongside. Alternately, they can send an email at yuvaabhivyakti2015@gmail.com.
"We hope that college students will participate in the event and its competitions in large numbers," Sadani says.