Hum log
Published on November 27th, 2012
0
The objects of her affection
Shrutti Garg is a talented young photographer who doesn't like to capture people or nature – give her objects, instead.
by Vrushali Lad | vrushali@themetrognome.in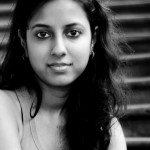 Shrutti Garg (25) is a Worli resident and ace photographer who doesn't like to capture people's faces, or nature. Her latest works – Objects as streets, streets as objects, and The Green Project are on display at Gallerie Max Mueller, and the two walls of the Gallerie that hold the exhibition's photographs are strong examples of how objects are central to Shrutti's imagination.
In a series of black and white pictures across half of one wall, there are glimpses of people carrying their belongings as they move about the streets –a woman's bundled several bags into one shopping cart, in another, a musician's put down his guitar on the sidewalk. In a third, you see squashy sleeping bags. The Green Project, meanwhile, has a series of colour photographs in which Shrutti's aimed for a contrast between life as it happens and a single object or piece of clothing or even a mark on the road, that is bathed in a startling shade of green.
"I went to Cologne, Germany in 2011 through Max Mueller Bhavan for a six-month artists' residency. Before my departure, I had discovered the word 'flaneur', which describes a person who walks through the city to explore it. I took this idea for the Objects… series, wanting to see how people moved from place to place with belongings they held dear, because there was maybe a strong memory attached to them. The first three months I was there, I simply walked everywhere and explored. During these walks, I saw several interesting examples of people moving from spot to spot with their belongings – some in one big bag, others in a shopping cart," she explains.
The Green Project, meanwhile, was an exploration of two contrasting symbols attached to the colour green – of new beginnings, and envy. "I started it in Mumbai; it explores the balance between these two opposites. It was fun working on it, because I only photographed this one shade of green which was the most eye-catching, and I had to find situations and items bearing this colour. I have not Photoshopped the colour in any of my pictures. I'm not a fan of Photoshop anyway," she smiles.
Shrutti, a Commercial Arts graduate who was attracted to photography very early in life, has always "worked in a series, I've rarely worked on individual pieces" – prior to this, she's worked on Mumbai in Motion, about how everything moves fast in Mumbai but how one still has to wait, Hidden Realities and Luxurious Life Of the Streets, among others. "I also showed the Objects series and The Green Project in Germany, and it was interesting for them to see my point of view in the pictures," she says.
She also heard a few interesting back stories of some of her subjects. "There were these two guys who met when they were living on the streets, and they would move everywhere in twos, because while one was away, the other would look after their belongings! Then I learnt that you can't live on the streets in Munich at all. Besides, the weather plays a big role in people staying out or going underground."
Her focus is always on objects, not on faces. "Your imagination must guide you to ask questions about the person you can't see," she explains. "Besides, I am very attracted to objects in the context of the environment they are in. I'm not into photographing people or nature."
She is currently working on a privately-commissioned series of photographs very much like The Green Project, but "the colour the client wants is blue," she says. She is also toying with the idea of a project where she asks you to part with a very precious object and substitute it with a picture of that object. "I'm also applying for a lot of residencies," she says.
Shrutti Garg's twin exhibition, Objects as streets, streets as objects and The Green Project concludes at Gallerie Max Mueller, Kala Ghoda, today.