Hum log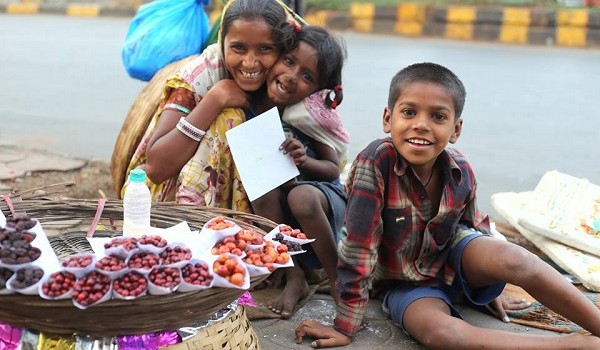 Published on February 3rd, 2015
0
Studying the humans of Bombay
The 'Humans of Bombay' Facebook page started a year ago, to roaring success – turns out, everyone loves to hear Mumbai's stories.
by Ritika Bhandari Parekh
This is one of the more interesting pages on social media currently, presenting micro-stories of people in Mumbai. Styled on the lines of the famous 'Humans of New York' page, the 'Humans of Bombay' page currently has 1,80,868 likes and is gaining popularity with each passing day.
The page was conceived by Karishma Mehta (22), a Mumbai resident. Today, she says that what started off as an experiment in capturing visual stories "slowly became a part of her routine" where she continues to soar higher with each passing stranger's tale.
With her team of photographers and a few social media interns, Karishma traverses Mumbai – she calls it Bombay – be it the town area or the suburbs. She recommends Maldives to her fellow travelers and believes all kinds of people stay everywhere.
In a chat with The Metrognome, the creative young person talks about her inspirations, how writing will always be her long-term activity, and what drives her to work on the 'Humans of Bombay' (HOB) page. Here are a few excerpts from the interview:
Tell us a little bit about yourself.
I grew up in Bombay and went to school till the 10th grade at Bombay Scottish School, Mahim. For my 11th and 12th  grades, I studied at The International School Bangalore (TISB). Three years later, I graduated as an Economics Major from the University of Nottingham, England. Once I came back, we started positive thinking classes. I take positivity and affirmation classes under the venture called Knoq. I wished to evolve my interests into digital magazines with written stories, photo stories and video stories.
As a part of a photo stories, I started the 'Humans of Bombay' page.
Since you take positive thinking classes, how do you stay positive and upbeat in a stressful city like Mumbai? Do you have a stress buster?
It's about being positive about anything that surrounds you, whether it is a difficult situation and making the most out of that circumstance. It's about being open to new experiences, new things and new people because life just keeps surprising you. So you should just step out and allow that to happen. I don't really have a stress buster, I don't get stressed that easily. At the end of the day, I unwind by listening to good music, chilling and doing my own thing. I make sure I don't get over stressed about anything at any point. If it is getting too much, I take a step back. I also work out at the gym, hang out with friends, read a book.
'HOB' must keep you on your toes. Any beauty regime you follow after the day's work?
Absolutely none. I am very casual when I go out to shoot, I just wear my jeans or leggings. The idea is not to stick out because at the end of the day, I am a human of Bombay too. I need to be a bit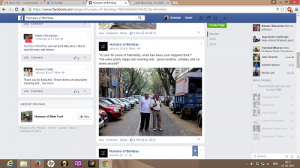 dressed down to make the people feel connected to me.
How do you zero in on your subject for 'HOB'?
I think over time you just pick the vibe of people and also at times, you have to take your chance. You know somebody that looks interesting, if they have a tattoo or a cool haircut – you just approach them because that is a striking feature. And more often, people are very willing to have their picture taken. A few obviously, say 'no', but in general people are very adaptive to share their story.
When you approach the subject, how do you break the ice?
We ask them general questions like what they do, or how old they are or where they have studied, or where they were born and brought up. This makes them a little comfortable and then you go into deeper conversations. Generally, we approach people who are sitting alone or are idle – because then they have the time to talk for 10 to 15 minutes. So you pick your subjects accordingly.
But how do you coax the strangers to reveal their most intimate experiences?
We keep building the conversation and we tell them the focus, which is the concept of 'HOB'. The page strives to make people feel more connected. So today if you share your story, there will be people around you who are going through the same thing. So you build a community where you don't feel alone at any point in time. You feel that there are others with you. And that's the basic idea of 'HOB' – to make one person feel connected to the next person.
How do you deal with the flak you receive for some images or experiences on HOB page?
If there are extreme comments, we delete them. But if it's a healthy argument, where even if one doesn't exactly agree with what the person is saying but the argument is fine, then we let it pass.
When did you know that HOB was going to be the thing for you?
It became a routine, a part of life. So now when I don't shoot, I feel a void. The concept really clicked and I love doing it, which is what pushes me and I like to shoot people I don't know.
If not working for HOB or positive thinking classes, what would you have been doing?
I see myself writing. I will write all my life – whether it is for 'HOB' or something else. I will do something people-oriented and something to do with writing and bringing stories to people.
If HOB were to meet you (as a subject), what would you say?
I have no idea. I would be terrified. It would be like, 'I don't want to do this'. I don't like being in front of the camera, I like being behind it.