Hum log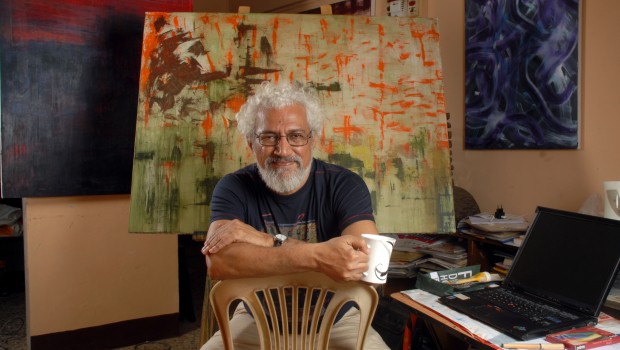 Published on April 26th, 2013
1
Mumbai artist to exhibit at Izmir
Artist, writer and former journalist Prakash Bal Joshi flies to Izmir, Turkey, tomorrow to participate in an international art festival.
by The Editors | editor@themetrognome.in
Noted self-taught artist Prakash Bal Joshi flies to Izmir, Turkey  tomorrow to showcase his work at the biennial international art festival to be held there. The 60-something Joshi, a Mulund resident, was chosen to participate with 49 other artists out of a total 2,500 in the festival that will be organised by the local university as well as the National Museum of Art, and will see the exhibition of select artists' works as well as debates and discussions on art.
Joshi is no stranger to international showings – he has previously shown at Europe's biggest art festival at Basel in 'Art Basel, Switzerland' in 2012 as well as done a solo showing at Colorida Art Gallery at Lisbon, Portugal, in 2010 and the Las Vegas International Exhibition of select artists in 2010, among others. He has also exhibited widely all across in India.
A former journalist with leading newspapers (he retired a few years ago from The Times of India, Mumbai), Joshi tells us that working with newspapers "widened his perspective". He says, "I was good at Maths and Science as a student, but I had a strange pull towards Arts. I finally chose the Science stream, but I would put down my thoughts and draw small illustrations as well, just as a hobby." Joshi is also one of the torchbearers of what he calls the 'golden period of Indian journalism' – the Emergency. "As reporters, we had unbelievable freedom to research stories and go to their absolute depths. This grounding helped me later as well, when I started painting as a hobby.
"Also, when we worked in newspapers, our written articles would go to the editing desk and come back only after an hour or more. In the mean time, I would sit and sketch." To this day, however, he confesses that the biggest challenge for him lies not in completing a painting to his complete satisfaction, but to empty his mind completely before he picks up the brush.
The 'natural' connect
Joshi confesses to a mysterious connect with rivers and nature, something which probably stems from his childhood tryst with swimming in a river and almost being drowned. He is known to use rivers as a visual metaphor to portray the flow of life, and his dismay at the loss of many rivers to the ravages of time. "I am sometimes asked about painting in a noisy city like Mumbai. But I am fascinated by the city's crowds and its travel patterns as well.
For the last 15 years, Joshi has actively pursued his passion for painting, despite the demands of a high-pressure job. "I made the switch to canvas several years ago, and I have followed a set routine despite my job – I would come home every evening, zone out completely, then paint for two hours," he says. He has set up a small studio in his house, and credits his family with astonishing levels of patience with his work. "Those around you begin by not understanding what you are up to, but they develop with you," he says. "As an artist, you take it for granted that most people may not understand your work, so you reconcile yourself to working without waiting for acceptance."
He is now waiting to experiment with oil pastels next, a medium he has never worked with before.
(Pictures courtesy Prakash Bal Joshi)