Hum log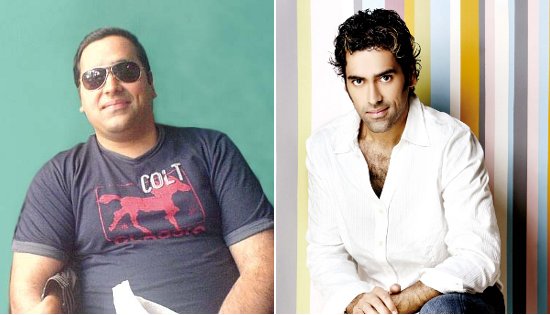 Published on December 12th, 2012
1
Meet a really big loser
Hunk Sandeep Sachdev acts in films and imparts fitness training – but a few years ago, he weighed 125 kgs.
by Vrushali Lad | vrushali@themetrognome.in
Sandeep Sachdev (30) is fit and hunky, just the kind of guy who would get a film offer. Sandeep, a Malad resident, has already done films in the South, and is gearing up for his next release, Inkaar, opposite Chitrangada Singh in January 2013.
Apart from films, Sandeep is also a fitness trainer, nutritionist and motivational speaker with Fitness First. "On the days when I have no shoots or anything else happening, I work out twice a day for an hour each session. On other days, I do a 90-minute workout," he says, explaining how he maintains his fabulous physique. "I am also careful with my diet, though I eat everything."
But if you think his good looks and stunning body were handed to him by an indulgent God, think again. Five years ago, the present-day Sandeep was fighting to get out of a fat, 125 kg body.
Biggest Loser
Sandeep was a passionate banker who wanted to try acting, so he shifted to Mumbai from Delhi in 2003. "I loved being in Mumbai, and as bankers, we would look for every opportunity to drink and eat outside. I soon put on a lot of weight, but I didn't do much about it till my doctor told me I had blood pressure."
Then Sandeep heard of the show Biggest Loser Jeetega, which was anchored by actor Suniel Shetty and which had 16 participants trying to lose the most amount of weight to win. "I applied for it and they conducted a psychological and physical profile on me to see if I was fit enough to be on it. I was selected and the show became a life-changing experience for me," he remembers.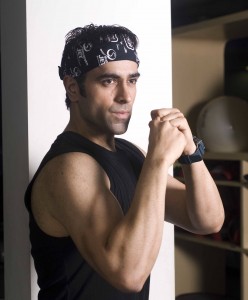 Participants were provided with the best trainers, nutritionists and medical experts. "We would work out for four and a half hours every day, with cameras monitoring us constantly. It was difficult initially, to go from a no-exercise lifestyle to gruelling daily workouts. We were totally cut off from the world for four months – we didn't even know what was happening with the World Cup that year."
Sandeep says he never entered "a demotivated zone" and never let the "mind games and politics" inside the house affect him. "I put all my energies into my workouts. The show was not like Bigg Boss; here, the harder you worked, the closer you came to winning. Every week, I saw that I was losing weight and that really gave my efforts a big boost," he explains.
He entered the show with the scales tipping at 124.9 kg, and left it at a cool 74.2 kg weight.
Had lost weight before
In 2002, when Sandeep was still at Delhi, he had lost a good amount of weight through jogging and sensible eating alone. "My brother was an actor in Mumbai, and I decided to get fit, too. I followed a no-cola, no-hard-drinks, no-fried-food diet and I would jog. Even though I was overweight, I didn't have a negative self-image and I wasn't embarrassed about my body.
I remember, I would jog past the Lady Irwin College every day, and these girls milling about outside would look at this chubby guy jogging past and laugh. That actually motivated me to work harder. In five months, I knocked off 25 kgs. Once I started losing weight, I would jog past the College with my middle finger raised in the air," he laughs.
After the show
He had a few film offers after winning Biggest Loser Jeetega, but nothing materialised right away. "I still did acting classes, and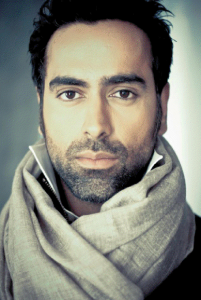 started maintaining my body. I did a few music videos and ads, as well," he says. Then he was approached by a film producer from the South, who asked if Sandeep would train and help the heroine of his project lose weight. "I worked with the girl, and in 45 days, she knocked off seven kgs. I realised I could become a fitness trainer," he says, explaining that training others to lose weight is tricky – you can work on yourself easily, but you don't know what will motivate someone else to work out diligently.
"I got associated with Fitness First in 2009 as a personal trainer. I now conduct the Fitness Ki Paathshaala here, and I am also a nutritionist with them," he says.
Set realistic goals
Today, as a fitness consultant, Sandeep talks of the importance of starting small and thinking big. "People make the strangest of excuses to not exercise. They also set some really big goals right at the start. While it's okay to have big goals, the problem is that if you don't achieve a fitness goal soon enough, it hits twice as hard," Sandeep says.
He adds that he gets letters from overweight people who say that they are embarrassed to step out of their homes because of their bodies. "Being overweight is nothing to be ashamed of. You have to accept the way you look. Only then can you do something about it." The trick is to set a small goal, work slowly at first, then pick up the pace as the days pass. "It is also important to work towards achieving something that you don't have because of your excess weight," he explains.