Hum log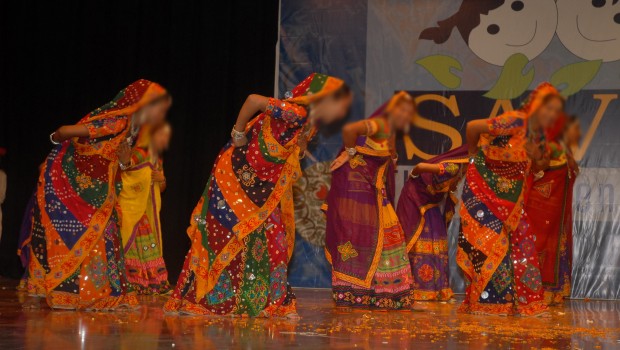 Published on October 18th, 2012
0
Dance that reconnects
Komal Lalpuria teaches folk dance to girls rescued from human trafficking. Dance helps them reconnect to the society they've forgotten.
by Beena Parmar | beena@themetrognome.in
Dance, when performed for oneself, is the most sublime of performing arts. But when wilfully used to create happiness for those less fortunate than one, it acquires a profounder dimension because it enriches the lives of both the learner and the teacher. This is brought home while watching students of Komal Lalpuria perform on stage.
"My entire body was shivering before I came on the stage. Then I saw Komal didi sitting in the front row, and my fear vanished. While I was dancing, I felt the stage and the world is mine", said Rakhi (name changed), a beaming 13-year-old.
Rakhi's smile is broader, her sense of achievement higher, because her back story is one of violence and severe trauma. One among several young girls, whose unfavourable social environment compels them to leave their homes in search of a better life for themselves and their families, Rakhi found herself, like so many before her and so many since, in the clutches of traffickers. If not for her subsequent rescue and time spent in rebuilding her life with Save The Children India's Sahas Kendra, Rakhi's story may well have been just a meaningless statistic.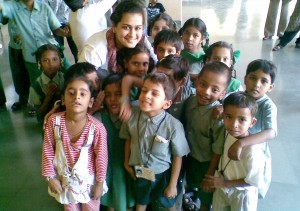 But several young girls have been fortunate to not just get livelihood training by the Kendra, they are lucky to be given the chance to regain a semblance of faith and trust in relationships and society. And Komal has had a big role to play in this process. As a trained kathak dancer who went on to hone her skills by training under Shiamak Davar, Komal would have continued choreographing dances for private groups until the opportunity to do an even bigger good came knocking.
Dance with me!   
Komal was 14 when she completed her visharad from Kalangana University at Allahabad. Five years later, in 2007, having learned the basic level of dance from Shamak Davar's Academy, she began to  choreograph dances for private groups comprising women and children.
A commerce student from NMIMS, Komal was "totally unaware" of the potentiality of her talent to transform her into a different level of consciousness, that of social commitment. "It all began when I attended a seminar for social responsibility at my college," she remembers. "Archana Rao, coordinator of Save The Children India, presented various activities of the NGO where students could contribute to society. But despite  eagerness to participate in these activities, there was nothing connected to dance. I was dismayed."
A few days later, Archana called Komal to enquire if she would train the girls at their shelter home. "They needed to perform for the annual day function. I agreed at once," Komal says. However, training the girls was one thing, and getting them stage-ready in just three sessions, was another matter.  "It was a big challenge, and I was sceptical. But once I met the girls, the bonding was instant.  We decided to do a Rajasthani folk dance."
But the task was not easy. "These girls were to perform on stage for the first time. From building their confidence, to taking care of their costumes and make-up was my job," she says. The days flew by, and on March 20, 2008, the day of the function, the auditorium at NCPA was packed to capacity. It was a testing time for both Komal and the girls – for the girls, it would help them reconnect with the world. It had to go well.
"But once the girls began to perform, it was magic. They may have missed a step or two, but they kept the sprit of the dance intact. My tension gave way to tears of joy. Their performance got a standing ovation," Komal smiles.
Buoyed by their success, Komal and Archana decided to continue the dance lessons. Till recently, Komal has been visiting the Kendra once a week and has trained at least 30 girls. "I teach them folk dances only, not Bollywood," she emphasises. "I've designed the dance sessions to expand the girls' cultural knowledge, and to help them develop self-confidence along with self-acceptance." Archana adds to this: "Learning dance has brought a distinct change in their lives. I have noticed this change in their day-to-day activities. Dance helps them tap into emotions that are required to feel free of all restrictions and emote seamlessly."
From 2009 to 2010, Komal also trained about 90 special needs students with the same NGO. The highlight of the project was that the students and their teachers performed a dance drama at The American School to a standing ovation.
A different bond
"I began with Gujarati folk dance and showed them where Gujarat is on the map ofIndia. I also informed them about the dress, food, lifestyles of its people and the festival of Navratri," Komal explains, adding that the girls are often enthusiastic about learning different Indian customs. "Since the girls come from different states, it also becomes an interactive session for them to discuss and understand each other's rituals.  This leads to further bonding," she says.
But the girls are a little shy, and it takes a while for them to shed their inhibitions. "Each session begins with a little discussion and inputs from the students, and ends with one of the students summarising the on- hour lesson," Komal says. But the girls enjoy the grooving sessions the most. "I begin by standing in the centre with about 20 students surrounding me. Then I do two or three steps, and call one of them to the centre to lead. This lets the girl understand how many steps she has picked up and builds each girl's confidence since each of them has to come to the centre and perform."
One of her students was so reluctant to dance, she would not even move her hands. "One day, after a month of learning, she surprised everyone – she came to the centre, started dancing and refused to stop. She had discovered the joys of dancing, and the joy of just being. It was a breakthrough."
Once this connection happens, it is easy for the girls to realise their self-worth, take pride in being a woman, and also respect other women. "I am blessed with the talent with which I am helping them, though in a small way, to break the mental and physical bondages and step into a real life. Honestly, it is a stress busting session for me too," Komal says.
She says that the experience has made her grateful for what life has given her. "If one wishes to contribute to a social cause, one does not need to possess a particular talent. Just give your time. Even a little talk is important to help someone restore their faith in life," she says.