grey space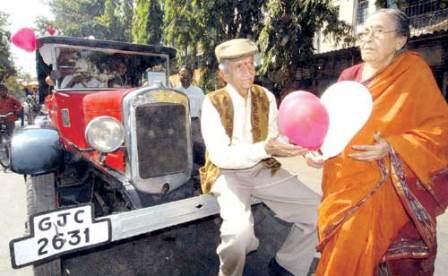 Published on November 2nd, 2015
1
Wedding season nears for senior citizens
The wedding season is upon us. Senior citizens, too, will get a shot at wedded bliss in a December event.
by The Editors | editor@themetrognome.in
It is every person's dream to find the right partner and settle down in matrimonial bliss. If we cannot find true love, our parents do the job for us! But what happens to those who are in the autumn of their lives? If they are alone and in need of a companion, where can they go find one?
This is where excellent events such as an upcoming 'wedding and companionship mela' for seniors comes in. Hosted by Rotary Club of Mumbai, Nariman Point and The Metrognome's content partners Silver Inning Foundation, the 'Jeevan Saathi Sammelan' is being held to encourage single seniors to find a partner for marriage or for a live-in relationship.
Singles will be encouraged to find a suitable partner and initiate a relationship on the spot. "They can meet at the venue, exchange contact details if they think they want to take things forward. It is up to them to get married in the future, or have a live-in relationship. We are also encouraging people to come find a companion at the Sammelan. Many people come seeking constant companions, not a romantic relationship," explains Silver Inning founder Sailesh Mishra.
Silver Innings had hosted a similar event in 2013, to stupendous success. "We had people coming from interior parts of Maharashtra, and there was a huge crowd at the gates. We insist on a proper registration process and the application form is pretty detailed. Applicants must also give supporting documents when they mention their status: divorcees must submit a copy of the divorce certificate, for example," Sailesh says.
His learning from the previous event was that women participants are more careful about choosing their prospective partner, and that they look for financial security. "The women mostly wanted marriage, while the men wanted live-in relationships," Sailesh says.
The Sammelan will be held on December 13, 2015 at Dadar. Watch this space for more details on how to register.  
(Picture courtesy www.mid-day.com. Image is used for representational purpose only)