Bombay, bas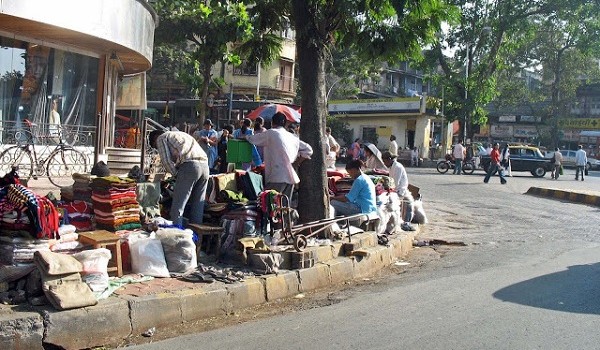 Published on December 11th, 2014
0
Trailing Mumbai's roadside businesses
All sorts of entrepreneurs abound in Mumbai – the most ubiquitous are the ones operating their business on the roads.
by Mamta D | @silverlightgal on Twitter
It takes all kinds of people to survive in a city that despite being already overcrowded, attracts migrants in droves by the hour from all over the country. The lure of making it big someday, the hope of feeding a family in a better manner, the irresistible pull of the city that never sleeps – there are varied reasons that bring a migrant to Mumbai. But once here, reality strikes in and strikes really hard. The rose-tinted glasses are cast off in no time and one settles down to the grimy, grueling existence.
One soon learns that nothing in this city comes for free, not even the tiny stretch of pavement where one can plonk a basket or a cart and hawk his or her wares. One learns the hard way that there is something by name of hafta to be paid to the cops to claim even that tiny stretch of pavement. But what if you are so hard up that you can't even afford to pay the hafta?
Here's where ingenuity kicks in, and several 'roadside entrepreneurs' are born.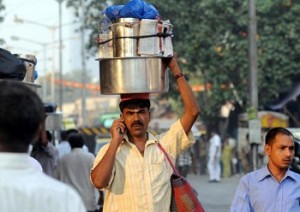 Murali, who sells idlis on the street corners of Andheri on his impromptu 'stall' set up on his bicycle says, "I live in Jogeshwari. I ride several kilometres to come down here because I can find office-going customers looking for cheap breakfasts. For me, this is a good business that brings quick profits. My grandfather owned a shop in the village. He used to cook and serve his customers. Here, in a city like this, owning even a tiny shop is difficult. I cannot afford it at present. I hope to slowly save money from this and eventually buy my own shop some day."
Other roadside entrepreneurs move on to become 'permanent' by establishing a fixed spot on the roadside, even paying the afore-mentioned hafta. But many others function along 'makeshift' lines. Thus, the city teems with shoe sellers displaying their wares on a cart with wheels, or the no-frills idli-wada seller who just brings a large aluminium dabba with a stack of paper plates and a rolled up bunch of polythene bags, or the woman with a large container of poha and some Styrofoam bowls.
Savitri cuts a lone figure standing at the corner of the road that leads towards SEEPZ. There's a small table in front of her and on it are placed two aluminum containers. One contains poha and the other sheera. A stack of paper plates completes the ensemble. A couple of young men head to the table and are soon munching away. "How much is a plate of poha?", I ask, "10 Rupees" is the reply. And sheera? "15 Rupees." she holds up a paper plate piled high with sheera enticing me. I take a bite and find it delicious. She lost her husband a couple of years ago and her children are in school. To make ends meet, she started selling food on the road, using the one skill she really knows well – cooking.
How many of these find customers, you wonder. But they do. Middle class office-goers who crave South Indian or Maharashtrian breakfasts but can't afford the prices of a restaurant roadside stuff that, though sold through such humble means, don't lack in taste. Likewise, the persons who can't afford visits to even a small barber salon throng the roadside barber stalls, where they can get a quick haircut or shave for as less as Rs. 20 or Rs. 10.
Nasir, who runs a roadside barber shop in Kurla, is in his 60s. He has been in this "business" for decades. He has had several scrapes with the local cops but being the sole bread earner of his large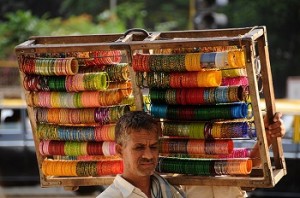 family, he finds a way to resume his trade again. Though these barbers' cuts are cheap, they are by no means untrendy. These barbers are known to tear out pages from used magazines featuring latest haircuts and see TV to keep themselves up to date with what's in vogue.
Likewise, in many areas of the city, you will also find roadside ear-cleaners, impromptu dentists, bone-setters, and so on. All these persons operate from the pavements but never lack customers.
Unlike people who can invest good capital into their business, these people start with almost nothing. There's no one to fund them, no means to pay off loans, and they cannot afford the licenses that would be required to set up proper shops. So they turn into roadside entrepreneurs and hope to fend for their families.
(Pictures courtesy www.stockpicturesforeveryone.com, www.thehindubusinessline.com. Images are used for representational purposes only)