Event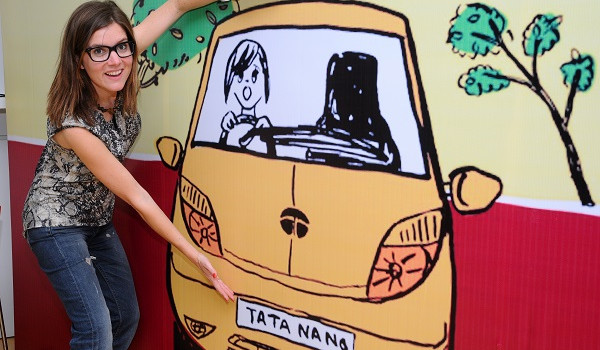 Published on December 9th, 2013
0
An Able woman in a Nano
An evening of discussion on Vanessa Able's book had the author lavishing praise on India, its people and the Nano.
by Nidhi Qazi
"There's a feeling that something is at stake."
"I met nothing but warmth."
"I felt a sense of emptiness when the journey ended."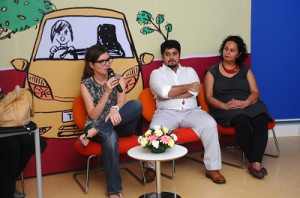 These and many more such experiences came alive in an evening hosted at the British Council, India Bulls, for journalist Vanessa Able, author of The Nanologues, a book about her experience of travelling more than 10,000 kilometres driving the Tata Nano across India. The discussion, facilitated by Rakhee Geelani, a writer, and Vardhan Kondvikar, Editor, Lonely Planet Magazine, India, made for a fun narrative of Able's journey.
Why did she choose Nano, of all cars, to undertake such a long journey? She said, "I had read so much about the car. From the fact that it was not just a car, but a piece of truly local engineering with a significant price tag; to the fact that it represented hope which cut across the social spectrum made this car worth driving."
Able chose to do a road trip in a car because she felt that a car drive gives a different kind of energy and "one sees a different level of life depending on the means of transport one chooses." The fact that she did the entire journey on her own did not make her feel lonely, because as she put it, "I am someone who enjoys my company the best. So I kept talking to myself." Probably that explains the title of her book.
The author also went on to describe her experience of being a woman driver unaccompanied on the roads. "I know that many women in India do face dangers when they travel unaccompanied, but it's not just in India. Incidents keep happening in Australia, USA , the UK and all other countries, too. You just got to be smart. But talking about India, I met nothing but warmth. We also need to see that a lot of people around do try to make you feel safe and protected, but unfortunately such incidents don't get highlighted."
What was the highest point of the journey? Able replied, "From the start to its end, this journey's been on a high. Though initially, coming from England, I did get shocked at the roads and driving culture and traffic did play on my nerves, but as time passed, I adapted, got into the journey fully and tried engaging with the landscape as much as I could."
With the journey's end, Able felt a sense of emptiness, desolation and not to forget, achievement.
And that signalled the end of the evening, hosted for the author who feels "it takes a little bit of gumption, a whole lot of patience, and the world's cheapest car, the Tata Nano, for one woman to drive in a land where bullock carts vie for space with SUVs on eight-lane super-highways, where GPS systems fail to give directions, and where a blessing from the gods is considered better road insurance than safer driving."
(Pictures courtesy Vandan Kajaria, The British Council)