Deal with it
Published on December 22nd, 2014
1
Young Parsis take up the mantle for the community
Parsi community to promote togetherness and camaraderie through a series of programmes to be organised by the Xtremely Young Zoroastrians (XYZ).
by The Editors | editor@themetrognome.in
The Parsi community is a riddle to all other communities in Mumbai: there are less than one lakh of them in the city, but they are mostly moneyed, highly educated and extremely revered as a community. The Parsis are intimately connected with Mumbai's history, and though they don't have the numbers, the community has left its mark on the city's social fabric.
In order to keep the flame alive and create a sense of belonging and pride amongst the youngsters of the Zoroastrian Community, the newly established XYZ (Xtremely Young Zoroastrians) organisation has devised several programmes in the service of the community.
The organisation was launched yesterday at a South Mumbai-based auditorium, with the motto 'Pursuit of Happiness'. XYZ would strive towards promoting togetherness and camaraderie through the series of programmes, to be conducted throughout the year.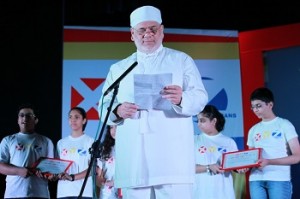 Children from the Parsi community presented various religious and cultural performances, while there were other community talks and the awarding of an achiever from the community. "The launch ceremony also observed formation of an executive council of young Zoroastrians and an advisory board of renowned dignitaries from the Zoroastrian community. Under the able guidance of their holy Priest, the young Zoroastrians, all in the age-group from 5 to 15 years took the pledge to keep the flame alive by devising several programmes in the service of the community. These young Zoroastrians who would act as office bearers for XYZ were named after their historic figures, such as Daraius' Daredevils from Colaba, Cyrus' Superstars from Tardeo, Jamshed's Giants from Byculla, Homai's Heroes from Parel, Behram's Battalion from Dadar, Rustom's Rockstars from Bandra and Tehmurasp's Titans from Andheri," explained Hoshaang Gotla, founder of XYZ.
He added, "The XYZ-organised programmes will begin on Christmas Day, whereby the young Zoroastrians will pay visits to orphanages and old age homes across the city and gift the destitute children and the differently-abled ones. This is an attempt to bring a smile on their face and give them a ray of hope. Further, XYZ would strive towards building a strong sense of belonging and pride amongst the Zoroastrian children for their community. The religious values are an important part of our culture and we want our children to start adhering to them from an early age. The range of activities that would be carried out by XYZ would include developing leadership skills like goal setting, decision making, team work, people skills and money management and ethics."
XYZ strongly believes that they would be able to create a sense of belonging and pride amongst the young Zoroastrians and preach the values laid down by the Zoroastrian Community.
What do you think of this initiative? Tell us in the comments section below.