Autism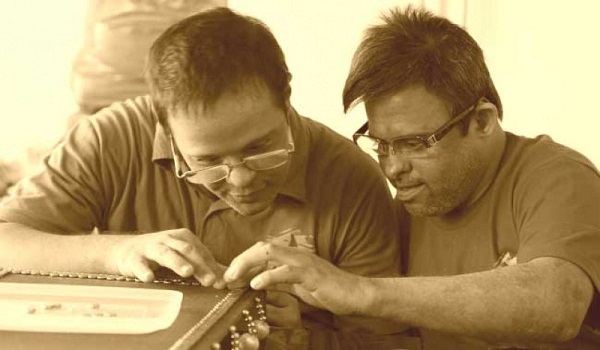 Published on March 4th, 2015
9
Does Mumbai really have a heart?
Why does the city with its fabled spirit treat the differently-abled as alien species to be isolated from mainstream society?
by Kamini Lakhani | saiconnections01@gmail.com
Part 9 of the Autism Diaries – Why Mumbai needs to be more inclusive.
This past week has been a totally revolutionary one at Sai Connections. The mothers on the RDI Programme have been on a mission – a mission to take their youngsters out into stores and supermarkets in the neighbourhood. The idea was to give them a chance to integrate their learning in the natural environment.
Some students have really surprised us. 20-year-old Shashank was taken to a cake shop for the first time. The whole RDI class watched his video with bated breath. He entered the shop and happily studied what was around him. He looked at the variety of cakes and pastries as if mesmerised. He eyed the drinks available in the refrigerator and got one out. When his mother asked him to put it back as they were there to buy pastries, he complied with her. There was no incident of grabbing. He looked well-regulated, paid for his cake (he chose this rather than the pastries) and walked out happily! You would appreciate this even more if you knew that Shashank had huge self-regulation issues related to food in the past. It was almost impossible to stop him from grabbing food.
Young Nafi pushed the trolley around the supermarket. He helped his mother to shop by picking up items that she wanted. This was great, as this was his first time too, in a supermarket.
I can't emphasise enough how important these experiences are for learning. After all, you can't learn about life, sitting at a table and identifying and labelling pictures. Both mothers reported that they felt so good taking their children out! They felt a sense of accomplishment and competence.
However, both incidents were marred by unpleasantness. Shashank and his mother were refused entry into the first cake shop they attempted to shop at, the McCraig at Pali Hill. This could have been due to the fact that the mother wanted to record the session. However, it clearly escalated into unpleasantness when things got a bit rough with Shashank. He sat on a chair at the store and refused to leave. On seeing this, the store personnel got upset and actually told his mother, "Inko yahan se le jayeeye (Please take him away)!"
Nafi's mom Zohra was first refused entry and permission to shoot at the supermarket. I'm not clear if the reason for this was the video recording. Let's give the supermarket the benefit of the doubt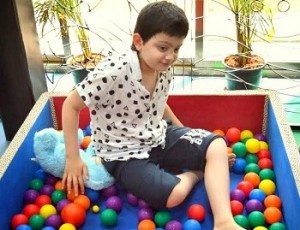 and assume the refusal for entry was the video shooting. However, Zohra is not the type of person to give up easily. She took Nafi back to the store and explained to the manager that she needed to help her child understand how to behave in a supermarket. Finally, they let her in.
But what I saw in the clip horrified me. Somebody actually walked up to her and asked, "Permission liya hai kya?" Mind you, this is a tiny supermarket with two aisles! My heart sank as I saw Zohra's expression. With a humble look on her face, she murmured a soft 'yes'.
Nobody needs to be treated this way. What was the crime? Taking your son shopping in a supermarket?
Her efforts should be appreciated! Later on the same clip, this bunch of twerps stare away at Nafi, as he wheels the trolley to the payment counter. Again, why?
Where exactly are we headed? Recently a youngster with Down's Syndrome was asked to leave school as he was not fit for the 9th grade. What is important for schools – giving students a pleasant, life-changing experience or just boosting their pass or distinction percentages?
A couple of weeks ago, the Goa CM made an absurd comment about, "Children with special needs being mistakes made by God." Seriously? What is the value of the life of children with special needs? Why is there so much stigma? And how long is it going to take for us to learn?
I can't help but think of an incident that had happened in the US several years ago. My son, Mohit, was about 10 years old at that time. Things weren't going well and he was having a meltdown in a mall. My husband and I were very uncomfortable and conscious of people passing by. We tried our best to get Mohit to calm down. It took us about 15 minutes. But here's the thing – not a single person looked or stared at us, or made any comment. They just went about their own business. How does this happen there? How come we collect a crowd of a hundred people all looking for a tamasha when our children are having a tough time on the streets in Mumbai? I'm sure that every parent of a child with special needs identifies with this.
In the US, every child with learning difficulties has a right to be in public school. Nobody can stop them from an education. So, these youngsters grow up with differently-abled class mates. Where as in India, differently-abled students are looked at as an alien species. I don't wish to generalise as I also know there are so many kind hearted souls here in Mumbai, too, but certainly nowhere near the numbers desired. Awareness and acceptance all stem from understanding.
When will this happen in India? My heart sometimes sinks thinking about how long this change will take, and if it will take place at all.
When Siri Ming, my mentor and guide heard about these incidents, she was shocked, too. On hearing that I was going to demand an apology from the supermarket, she suggested that the apology should be a 'meaningful apology' – basically an apology that results from an understanding of autism, rather than just mouthing words of regret. What a beautiful thought!
And by the way, a letter of appreciation is also going out to Birdy's ( the second cake shop that Shashank visited) for treating him respectfully and addressing him as 'Sir' – no differently from any other customer.
I have decided to take this on and educate people in and around my community. So have all the wonderful moms at my class.
How are you going to support autism and other developmental difficulties? Are you ready to step out of your comfort zone? The apathetic comfort zone of biased attitudes, hurtful words for the differently-abled and indifferent non-action? Are you going to push this under the carpet – like the good old 'resilient' Mumbaikar? Or are you going to make this a better city – a city with a heart?
The ball is in your court.
Kamini Lakhani is the founder of SAI Connections. She is a Behaviour Analyst, an RDI (Relationship Development Intervention) Consultant, Supervisor and Trainer responsible for RDI professional training in India and the Middle East. She is the mother of an adult on the Autism Spectrum. She is also a member of Forum for Autism.
Next: Slow down…to speed up.
(Pictures courtesy www.we4autism.org, autismcdc.com. Images are used for representational purpose only)