Do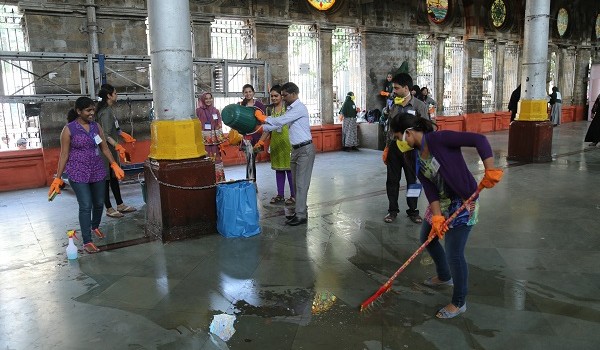 Published on October 3rd, 2014
0
Group of Mumbaikars takes up Modi's cleanliness challenge
CST Station receives a much-needed clean up on October 2, on Gandhi Jayanti, to observe cleanliness, sanitation and community health.
by the Observer Research Foundation and Triratna Prerana Mandal, Mumbai
As part of Gandhi Jayanti celebrations on 2nd October, the Mahatma Gandhi Centre for Sanitation, Cleanliness and Community Health, a joint initiative of Observer Research Foundation (ORF) and Triratna Prerana Mandal organised 'Shramdaan'— a clean-up drive at Chhatrapati Shivaji Terminus (CST), Mumbai.
Mahatma Gandhi dedicated his entire life so that India could attain 'Swaraj' but cleanliness was a cause that was even closer to his heart and above all he encouraged and promoted cleanliness of the surroundings, as he strongly believed that "if we do not clean our backyards, our Swaraj will have a foul stench." Therefore, cleaning public places, like the CST, is the highest form of tribute to pay our beloved Bapu, father of the nation.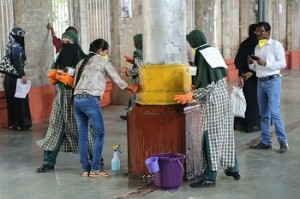 Answering the clarion call by the Hon'ble Prime Minister of India, Narendra Modi, all the enthusiastic participants followed in his footsteps by devoting their time towards the 100 hours of 'Shramdaan' to promote the 'Swachh Bharat Abhiyan'. On this occasion, Central Railways had called for public participation in their efforts towards honouring their commitment under the Clean India Mission 2019.
The staff of ORF researchers and interns, as well as volunteers that mainly included school students, teachers and many other citizens worked hand-in-hand to clean Platform No.1 and the adjoining entrance lobby of CST. Everyone contributed to the event with the sweep of a broom, the scrub of a brush and ardent words of appeal to keep Mumbai and our public places clean.
CST station, a UNESCO world heritage site — littered with garbage, posters on the walls and the splotches of paan stains — is not as welcoming to travellers and commuters as it should be. In an honest effort from all those who participated and without any hope or expectation of pats on the back, five hours were spent diligently scrubbing the station and to ensure that it was left in a better condition than before. Students and teachers from the Al-Muminah Girls School at Masjid Bunder participated enthusiastically in the clean-up and awareness campaign to encourage commuters to do their part towards keeping India clean. As the day progressed, commuters and curious onlookers also joined in. And, that is not all! Those who took a break from cleaning duties switched to spreading awareness by engaging commuters at the station.
On Independence Day 2014, Observer Research Foundation Mumbai and Triratna Prerana Mandal (TPM), one of Mumbai's best-run community-based organisations, launched a joint initiative − Mahatma Gandhi Centre for Sanitation, Cleanliness and Community Health. This Centre aims to take up research, policy advocacy, activism and leadership development in the areas of slum sanitation, waste management, waste recycling, water conservation and public health in Mumbai and the larger Metropolitan Region (MMR).