Whatay!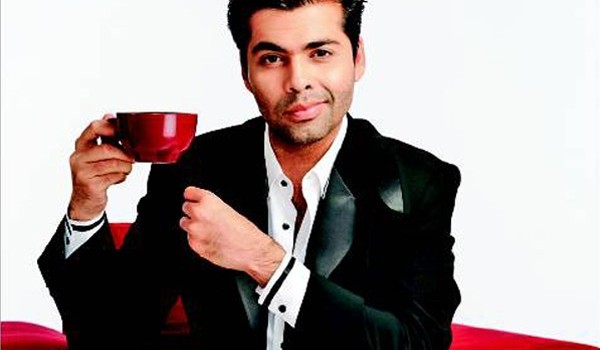 Published on April 11th, 2014
2
What we learnt from 'Koffee With Karan'
Some major learnings, none of them pleasant. Here's a list of 5 top reasons we're ditching this show's next season.
We all love a good dose of gossip, especially about celebrities. And what could be better than celebrities bitching about other celebrities? On the face of it, Karan Johar has a good formula on his hands – he invites the biggest names from the Hindi film industry to the show, he sometimes asks them about their love lives point blank, he laughs at himself and is generally a friendly presence.
And yet…Koffee With Karan Season 4 was an extremely shallow, bordering-on-pathetic attempt to make our desi stars appear more glamorous and more intelligent than they already are (not). If Karan was hoping to make a better impression this time around and lay the groundwork for the show's next instalment, we are sorry to say that this season has been terrible, and during the father and daughter Kapoor's last episode, we nearly stabbed ourselves in the eyes with a blunt pencil.
If this show comes up with Season 5, and it will, we are going on vacation and coming back only when the show's over. Here's why:
1. Karan Johar is homophobic.
We don't know about you, but Karan gave us a headache in every single episode with his 'At gunpoint, if you had to have a gay encounter…' question. At gun point? What's so gun point about having a gay encounter? Then he thought it was very funny that Aditya Roy Kapur 'admitted' to a gay relationship with Ranbir Kapoor. What's more, the question and the resulting giggles indicated that Karan, and his guests, wanted us to think that everybody in the room was straight.
Next time, Karan, if you must start a question with 'At gun point…', consider these endings:
– Which of my films would you watch on loop for a week?
– Tell me, what do you really think of the coffee hamper?
– Tell me, why does nobody remember the name of the dog in Hum Aapke Hain Koun?
2. The dumbest guests always make it to the show.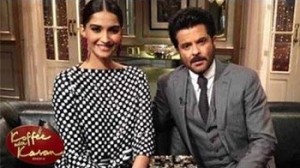 A case in point is Sonam Kapoor, who took top spot this season from such worthies as Alia Bhatt ("My GK is bad!") and Anushka Sharma, whose only response to any question about Virat Kohli was a giggly "Shut up, Karan!" Not only were Sonam's views on 'art films' and 'not good-looking people are not necessarily good actors' astonishing beyond anything else we've heard this year, she kept peppering each sentence with the word 'like'. Like, every four words, she would say 'like'.
And then, like, she said, "Robert deNiro!" to the question, 'Who said, 'An eye for an eye makes the world blind?' Like, really, Sonam. Did you leave your brains in your other fashionista suit?
3. Karan invites very boring guests with nothing to say.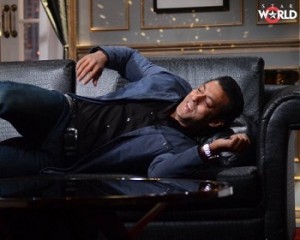 For all its so-called 'fun and candid' quotient, our celebrities are remarkably boring on the show. Most of the guests this season made us yawn with their responses to questions – we're not saying the likes of Aamir Khan and Madhuri Dixit are boring people, they probably get like that for Karan. The only exception to this parade of yawn-worthy guests was Salman Khan, who was merely an ass. What's more, the show does not invite anyone outside of Mr Johar's immediate clique – why not invite Kangana Ranaut, Richa Chadha, Huma Quraishi, Randeep Hooda, to name a few? Maybe they're too intelligent for this show.
4. The coffee hamper is getting increasingly tacky.
What was that thing, really? We swear that picnic basket thingy is so tacky, if it met Sonam Kapoor in a dark alley, she would first have hysterics and then comment on how 'not good looking hampers are not necessarily good hampers'.
And why do Karan's guests pretend to fall all over themselves for the chance to win it? More to the point, what is in it? Why are the contents so secret? We're dying to get our hands on the hamper, so that we can set fire to it.
5. This show is a cesspool of lies.
So. Many. Lies. On. One. Show. Either these people really believe their own deluded statements or they think viewers are nuts. The following is just a small list:
| | |
| --- | --- |
| What they said | What they meant |
| "I never read gossip magazines or papers." | I gloat over gossip written about others. |
| "We've never been friends, but we've always been cordial to each other when we meet." | Except for the times when I look through her/him, which is always. |
| "I don't have any enemies in the industry." | Only frenemies, because I'm a bitch that way. |
| "I'm not insecure. There's place for everyone." | I will do whatever it takes to sabotage my rivals' projects. |
| "He's never given me a reason to not trust him. We love each other too much to cheat." | So what if I caught him 12768 times? At the end of the day, he always comes back to me, like a homing pigeon. |
| "Finally winning this hamper is a monkey off my back." | Only a monkey on crack would actually want to win that thing. |
| "I didn't marry a hero because I was not interested." | Also because the hero I was seeing then suddenly got himself arrested. What a bummer. |
(Pictures courtesy www.india-forums.com, www.in.com, www.indiatimes.com, idiva.com) 
What did you think of Koffee With Karan, Season 4? Tell us in the comments section below.