Uncategorized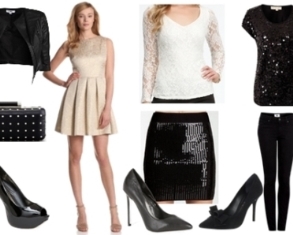 Published on September 18th, 2015
0
5 tips to ace your cocktail party look
Fashion designer Monica Garg dishes out the secrets behind putting together a good look for every kind of cocktail party.
One of the trickiest things is to choose the right dress for a cocktail party. Though there are no fixed dress codes for such events, you do not want to end up under- or over-dressed. Start by finding out the nature of the cocktail party – this will help you decide on the acceptable dress code.
1. Cocktail parties are normally formal. Conventionally, the appropriate dresses would be those which are mid-thigh to knee length. You can always try a little flirty cocktail frock, metallic embellishments, cropped jackets, embellished tops, slim black pants, and black party dress teamed with metallic pumps. Whatever you choose to wear for the night, do not forget to jazz it up with an eye catching handbag and statement jewellery to complete the look.
2. Do not hit cocktail parties in tailored outfits, or dull corporate clothes teamed with day bags. You might end up being out of sync with the rest of the crowd.
3. If you don't have time to buy a new dress, mix 'n' match the dresses that you already have in your wardrobe. You can combine a skirt in a solid colour with an embellished top. If you have to go directly from office to the party, just nip in to the ladies' room and exchange your suit for something more glam, such as a sequinned tank top.
4. If you are headed to a dinner party, you can choose from either Indian wear or Western clothes. You can choose harem pants, printed tank tops, or solid tops with ankle boots for your friends-only dinner party. You can also try a flowy dress with a leather jacket, dark skinny jeans, chiffon maxi dresses, pumps, chain bracelet, beaded sandals teamed with cocktail rings and chunky necklaces.
5. It is always a tricky balance between under-dressing and over-dressing at formal dinner parties. To be on the safer side, set aside a pair or two of funky earrings or scarves in your bag to change your look at the last moment, if need be.
Monica Garg is the Director, International Luxury Academy, Delhi.
(Picture courtesy creativefashionglee.com. Image is used for representational purpose only)