Places
Published on April 30th, 2013
0
So, I took Richard Parker for a walk
Spend a weekend in Bangkok and avoid the usual tourist activities – take a tiger for a walk, for instance.
by Salil Jayakar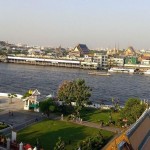 For a first-time visitor, Bangkok, much like Mumbai, can shock and delight in equal measure. There's more to the city than sex-on-the-streets (well, not literally), ping-pong clubs and 'happy ending' massage parlours.
If you thought 'queuing up' for what seems like eternity is an India-only problem, think again. At Bangkok's Suvarnabhumi International Airport, long lines can sap the life out of you. I spent at least an hour for my visa on arrival and then another hour just to get a local SIM at the airport. Yes, call it being stupid but getting the SIM at the airport means you're less likely to be conned.
Local transport in Bangkok is fairly manageable thanks to the Bangkok Mass Transit System (BTS), the world-famous tuk tuks, cabs (air-conditioned, thank you very much!) and motorbike taxis that zip you in and out of traffic. The Airport Express connects well to the BTS and all you need to do is find the nearest station to where you're staying. If you want to experience the fun (in more ways than one) and gritty side of the city, I'd totally recommend the Sukhumvit (Bangkok's longest road) area around Nana or Asok BTS and the Si Lom area.
Stay safe
Since my first solo backpacking holiday in 2011, I've been hooked on to staying at budget hostels that offer clean and safe accommodation, and the opportunity to meet fellow travellers. In Bangkok, I stayed at the delightful Che Qinn on Sukhumvit's Soi 4 which made BBC Travel's 'Bangkok's hippest hostels' 2012 list. While I didn't spend much time there, my Swedish roommate's incredulous "You're in Bangkok for the weekend?" comment did leave a smile on my face. Yes, we're Indian and we do it different!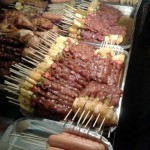 Sukhumvit and Si Lom, with their street shops, malls, massage parlours, cafés and clubs, international hotels and banks, are a heady mix of the best and worst (possibly) of Bangkok. Don't hesitate to bite into chicken or lamb skewers (see pic on left) from the street-cart vendors. The pad thai is lip-smacking, finger-licking delicious served with oodles of noodles, shrimp and love. And for just about 30-40 baht (approx Rs 80), it's a steal!
As you manoeuvre through the crowds, you'll have all sorts of wares thrust under your nose and even a photo album of boys and girls you can pick and choose for that famous Thai massage. And please try not to stare (that annoying Indian habit) when you see old Caucasian men with young Thai girls and boys. It's rude! Unlike some other major cities of the world, Bangkok doesn't have a dark underbelly. It's in your face, and what you see is what you get.
Temple run
Take time out to visit Bangkok's temples. Dedicated to Lord Buddha, some will give you the much-needed peace of mind in a crowded, noisy city. I made my way to The Grand Palace, the official residence of the King of Thailand but the long entry line (once again) deterred me. And as sexy as my shorts were, I wouldn't be allowed entry as you can't show off your legs and arms – for men and women, covered knees and no sleeveless tops or tees!
Take a detour and head to Wat Pho, home of the Reclining Buddha (see pic below, right), which at 150 feet in length is one of the largest in the world. Wat Phra Kaeo (Temple of the Emerald Buddha) and
Wat Benchamabophit (The Marble Temple) are a must-visit too. The Ratchanatdaram Woravihara (Loha Prasat) is the only existing building in the world which has a metal roof. Made from iron, the roof has 37 spires that signify the 37 enlightenment virtues of Buddhism, and it is also home to the Buddha's relics.
Mind you, there's not much to do in these temples than marvel at the scale and complexity of the craftsmanship. My personal favourite was Wat Arun (Temple of Dawn) which is a cruise away, down the Cho Phraya River. Wat Arun has a 70-metre high spire that can be climbed up from steep stairways (see pic on left). Not recommended for the weak-legged or those with a fear of heights. From the top, you have a stunning view of Bangkok across the river. Interestingly, the spire is decorated with millions of pieces of coloured glass and porcelain.
Tiger talk
Much like its roads, the waterways at Damnoen Saduak floating market a little outside of Bangkok are overcrowded with boats as they navigate the narrow canals. The market has nothing unique to offer, so give it a miss and head onwards to Kanchanaburi, home to Wat Pha Luang Ta Bua or the Tiger Temple. Here, tigers (about a 100) roam freely (well, almost) and tourists not only get a chance to walk them but also to feed them, play with them and exercise them. All for a price, of course! 
The tigers are full grown adults and it's a bit intimidating at first to be near these magnificent and ferocious creatures. But their keepers and monks have a firm hand on them and you can safely approach the animals. The floating market + Tiger Temple route is a day trip offered by most local travel agencies.
Weekend fun
Over the weekend, head to Chatuchak market (see pic on left) and shop till you drop. From cheap designer imitations to vintage leather bags, clothes and shoes, to food, drinks and more clothes – name it, Chatuchak has it! Not done? Head to Patpong's legendary night bazaar at Si Lom Soi 4 and buy some more designer fakes that you fancy.
Wrap up the day with a night out at one of Bangkok's many clubs and bars. My pick? The Sky Bar at the The Dome at the Lebua Hotel! Perched on the 64th floor, it offers a stunning view of Bangkok at night… begin with dinner at Sirocco and then nurse your tipple as you relax at a dizzying height!
There's much you can and cannot do over a three-nights, four-day trip to Bangkok. But wherever you go in the city and whatever you do, don't forget to drive a hard bargain – be it with the tuk tuk drivers or the street vendors. It's the only way "they be happy" to make you happy.
(Pictures courtesy Salil Jayakar)