Places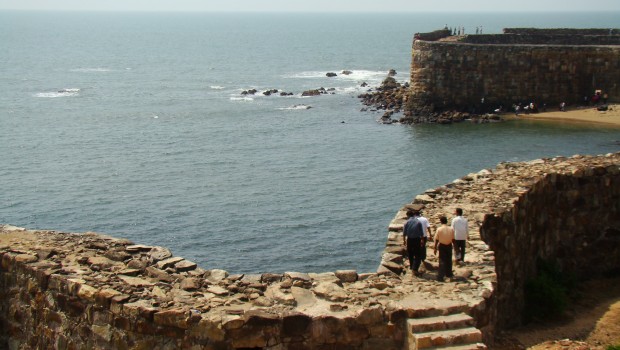 Published on September 29th, 2012
4
So I can't swim, okay?
If you're not a swimmer, don't snorkel. I tried it, and returned with ears full of water and mocking laughter.
by The Traveller/thetraveller@themetrognome.in
It was a bright morning, and though it was ridiculously hot, there was also the occasional cooling breeze. I was at Tarkarli, a lovely little village-town nestling with one of the most popular beaches in Sindhudurg, and our cottage owner had arranged for us to go snorkelling.
"But I don't know how to swim," I declared the moment the snorkelling guy came into view, but he brushed all objections aside. "Humare log hain na," he said helpfully, and I thought, Okay, there are people to help, it's not like I'll drown. The guy took us on a long walk to a little beach where his boats were stationed and his people ready to roll with the morning's first snorkelers. In the off-season (we went in February) the man charged us Rs 250 per head for an hour of snorkelling near the Sindhudurg Fort.
First, he guided us to his house, where a changing room had an assortment of swimming trunks and bathing suits in bags. Picking out our swimming regalia, (I've always felt legwala bathing costumes are foolish) we hopped on to the boat and went away with four other guys towards the snorkelling site, near the famed Fort. All the men handling these boats are fishermen, and they take up these jobs when they're not out fishing.
Within minutes, we were there and instructed to insert the breathing tube in our mouths and clap the goggles over our heads. So far, so oh my God. My heart was thumping as I stepped off a little ladder into the blue water, my toes touching the freezing ocean. As my skin goose pimpled and my breath came out in short rasps, the guy helping me down the ladder dropped a bombshell.
"Put your head underwater and come out inside the orange ring," he said helpfully, and silly me thought that was nothing. But here's the thing – when I put my head underwater, a large amount of the ocean entered the breathing tube directly into my mouth.
Sputtering, I cleared out my breathing tube and tried again. This time, I felt like I was about to die – the water was so deep, I had no idea how to even keep myself afloat if the guy let to of my hand to scratch his nose, and anyway, all of this was in aid of what? To spot a few stupid fish?
Shaking my head, nose inches away from the water, I said, "No."
"No?" he said, puzzled. "Are you afraid?"
"Yes," I said without shame. The shame came moments later when a passing boatload of tourists, who had been interestedly watching my progress into the water, burst into hoots of laughter when I climbed back in the boat and sat there as if cast in stone. I didn't look around at them, didn't even scowl. I just reached for my camera and pretended like I had hired a boat on that glorious morning just to take photographs.
Do you have an interesting travel story? Write to thetraveller@themetrognome.in and describe your experience.