Places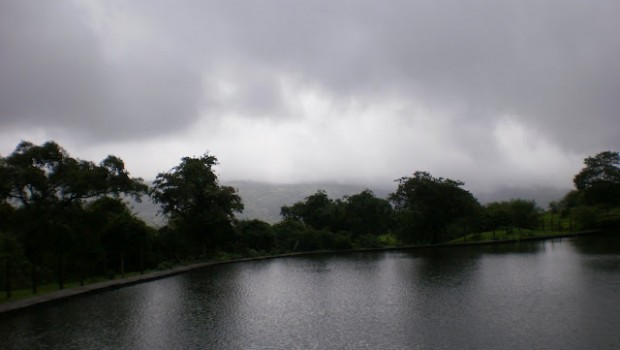 Published on October 13th, 2012
4
Out with the X-Men
A scenic Rajmachi trek became a screaming free-for-all as Prashant Shankarnarayan shared his trip with the loudest people on Earth.
So I went to Rajmachi recently. It's a village situated on a hill that is part of the Sahyadri range. The itinerary was clear – Mumbai to Lonavla by bus, then an uphill trek from Lonavla, reach Rajmachi, roam around and stay overnight in a villager's home, next morning trek downhill to Kondivade village where the bus would wait for us, head to Mumbai.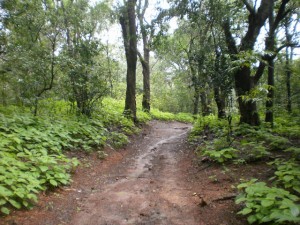 Everything would have gone as per plan had it not been for one aspect, a pretty important one – the company. When my friend told me to hop on with him, his wife and just a few friends – the reason why I even tagged my girlfriend along for the trip – I never realised that his definition of 'a few friends' meant a cluster of families who will henceforth be referred to as X. (Hint to decode X: the loudest families to frequent Mumbai's restaurants and theatres).
Anyway, we set out from Mumbai to Lonavla in a private bus and no, I am not going to share the details of my bus journey, lest you mistake me for a 16-year-old girl armed with a dairy in one hand and her teddy in another. So what hits you first in a bus filled with X? The sheer noise, damn it! How could someone be so loud?
All the way, X maintained that we will 'trake' from Lonavla to Rajmachi. Soon enough we arrived at the spot in Lonavla where our trek  and their trake would begin…with a prayer! Let's not even go there – I have stopped commenting on people's religious beliefs, but I couldn't help but stand at a distance from the prayer session. So we started walking uphill around 2 pm. It was the usual out-of-Mumbai-everything-is-green-and-we-should-do-this-often experience. But soon I realised that it wasn't a trek. I tried correcting the Xs by explaining the difference between a hike and a trek, but eventually trake won hands down.
After an easy hike that lasted a few hours, we reached Udewadhi village in Rajmachi at around 6.15 pm. The lone toll-collecting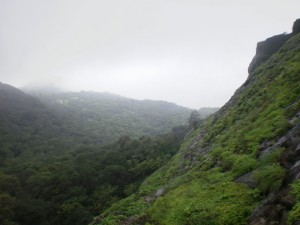 guy (still don't know why you need one there) said that it was better to trek to Shrivardhan Fort atop the hill the next morning. Although I wanted to go on, I opted to stay with X just to thwart unwanted attention.
Udewadhi village has accommodation arrangements, provided that sleeping on bare floors without sanitation facilities counts as arrangements at all. Being a regular trekker, I had no issues with this aspect of the matter, although the women in our group were soon mumbling about how they wouldn't feel comfortable about defecating in the open. Thankfully, our room owner has constructed one toilet just for women. The villagers provide homemade Maharashtrian staple food and you can have pure vegetarian as well as Jain variants, provided you inform them as soon as you reach.
So after a tiring hike, just when my girlfriend and my friend's wife thought it was time to doze off, the X-Men uncorked their bottles and started yelling. In some parts of the world, they call it singing. Then the X-Women joined in. Then the X-Kids. Not a single person could sing in tune, and there were around15 of them. Their unflinching loyalty to Kishore Kumar songs for almost two hours moved me…to the next room. By the way, did I tell you that a bunch of youngsters from another random group were sharing the house with us, and yet the Xs kept bawling without a thought for the poor strangers?
Post a decent dinner at the villager's home, we crashed for the night. This is where you make a note – get your own sleeping bags, bed sheets and mattresses. Post dinner, the Xs continued howling Kishore Kumar hits, while the others tried to sleep in the  heat. The great Kishore Kumar's soul could finally rest in peace as the X-Men went to sleep.
And then…it happened. In the dead of night, we awoke to strange noises. We were exclusive witness to an orchestra featuring natural wind percussion, or farts. The X-Men just went on with their fartestra without even considering that they were sleeping in a room filled with strangers (Hint #2 to decode X: the loudest in Mumbai's local trains.)
Anyway, let's cut the crap and talk about the one that everyone takes. Like the early bird that gets the worm, the early riser gets to take a crap in the loo reserved for women, instead of defecating in the open. So if you are staying overnight at Rajmachi, the trick to evade defecating in the open is waking up early. As X stayed put in the rooms, some of us trekked to Shrivardhan Fort, and needless to say, it's a must-visit. It just takes around half an hour to reach the top of the Fort and the view is like that from any other fort, but it is still something the serious traveller must do.
After clicking few photographs we came down and headed for a dip in the nearby pond and it was serene, especially without a single X-Man, Woman or Kid in sight. It was soon time to head back.
The 'real' trek – the descent to Kondivade village, is not easy. Okay, it's pretty tough, and really tough if you are a novice. The downward trek includes manoeuvring uneven rocks, random thorny plants as you pass by streams and waterfalls. Do carry enough water, unlike us – we set off with just one bottle between us. Every trekker worth his/her salt would love this part of the trip.
We were trekking silently, when an X-Kid repeatedly started shouting for her papa. We trekked faster just to avoid that kid, then we added pace to avoid the entire X cluster and soon enough we were way ahead. We trekked in peace for about four hours to Kondivade, where the bus was waiting to drop us back to Mumbai.
I used to cringe on hearing clichés about how its not about the destination, but the journey and blah blah blah. But this is the first time I understood it. I am someone who prefers to trek in silence, observing keenly whatever meets the eye and exchanging gyaan with other trekkers. But on this trek, I was put outside my comfort zone, and that changed the entire perspective of my trip. Maybe if I had been with a different group, this account would have turned out different. Maybe if someone from X had written this, they would have branded me a misfit because I was aloof and never mingled with them. I guess that is the idea behind any journey – knowing where you fit in.
Do you have a travel story to tell? Write to us at thetraveller@themetrognome.in and we'd love to feature your experience.