Places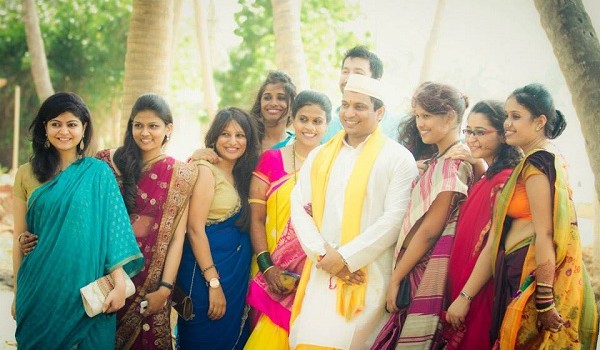 Published on August 20th, 2013
2
Of destination weddings and road trips
What's hot, green and great fun on the beach? A road trip combined with a Konkan beach wedding, that's what!
by Salil Jayakar
Destination weddings have always fascinated me. Imagine taking your vows at a sunny, beach side ceremony on one of Goa's beaches or kick-starting a new life adventure among creatures of the wild at the Kaziranga National Park in Assam. While such a wedding does throw up questions like who will foot the bill – for the more expensive ones – they nonetheless are a great experience for the couple-to-be and family and friends. Throw in a road trip, a bus load of family and friends, the scenic beauty of the Konkan coast – and you have the perfect ingredients for adventure!
In May this year, my friend – the bride – decided to tie the knot at Chivala, an almost sleepy, beach side village in Malvan on the Konkan coast of Maharashtra. I was among the fortunate few friends invited. A bus was arranged for 20-odd people who'd make the overnight 12-13 hours journey and rooms were booked in a comfortable hotel with air-conditioning. The summer months in Maharashtra (and most of India) can be unfailingly cruel. Yes, AC rooms are a must.
On the evening we were to depart, I met the other invitees from the girl's side. I was the only boy in the entourage. An otherwise privileged position to be in, but not when you have to share a room with two girls whom you barely know! For someone who finds travelling with and sharing rooms with friends problematic, this was a challenge of mountainous proportions to say the least. The finer details of sharing-a-room etiquette will be dealt with later.
As far as bus journeys go, I've done very few long-distance, overnight ones and I was woefully unprepared. Words of wisdom – wear comfy pyjamas and if you must wear shorts, don't forget to carry a blanket to keep you warm. For the long-legged, grab a solo seat at the back so that you can stretch in comfort. I had a bruised knee from the constant bumps as my knee knocked into the seat in front. A 12-13 hours journey turned out to be over 15 hours long, thanks to a longer route and a breakdown.
It is here, in a nondescript village, that I was surprised over and over again: at a wine shop where we bought some beers and drank on the road (girls included) and no one batted an eyelid, on spotting a canary yellow Vespa parked in front of a green shuttered shop door by the dusty village road that said "this is India" and that elderly woman who cleaned a bike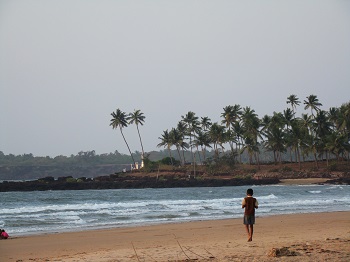 with jet-sprayed water with much gusto for nearly 30-odd minutes! Surely, India never ceases to surprise…or is it just the city-born-and-bred me who is delightedly fascinated by what must be everyday occurrences in a rural setting?
We finally reached Chivala as the evening sun was setting. Roofed houses dotted the landscape and its people went about their work, throwing a cursory glance at what must seem to them yet another tourist busload. Tired as we were, we set out for the first of the wedding ceremonies – the haldi function. We walked towards the beach enclave where a shamiana had been set up. Harsh halogen lights threw shadows of the tall palms all around and the gentle waves of the Arabian Sea made a soft whispering sound as they gently beat against the sandy beach. When was the last time you saw a night sky filled with stars in Mumbai? At Chivala, the night sky was littered with a million stars! We lay flat on our backs on the sand and tried to spot our favourite ones…in the revelry, surrounded by people, I had never felt more alone, so fortunate.
The traditional Maharashtrian wedding ceremony the next morning – at the same beach enclave – was beautiful, to say the least. The bride looked stunning in her traditional lemony yellow saree while the groom made for a dashing figure in a matching yellow dhoti and kurta. We, the bride's entourage, made heads turn – shades of blue and red dominated and were stand out colours against the sand, sea and sky! The ceremony went off well, we giggled our way through a series of photos and made our way back to a sumptuous traditional lunch with aam ras, too!
Post lunch, half a day at our disposal, it made perfect sense to head to nearby Tarkarli with its sandy white beach and promise of water sports. The local rickshaw driver gladly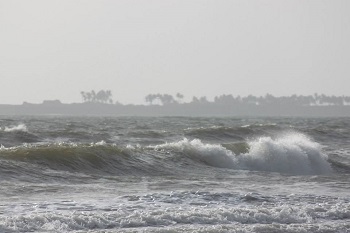 accommodated all four of us – one in the front next to him – as he made his way through meandering village lanes towards the MTDC resort, a sort of entry point to the beach. I'd heard a lot about Tarkarli's beach and it did not disappoint. Looking out towards the sea, I could just about make out Sindhudurg Fort, a mere 30 minutes away by boat. I don't know what to say here…a beach side walk is exhilarating! There's something about sun, sea and sand… it brought a smile to my face and warmth in my heart I can't explain.
As far as road trips go… this one did not have many stops along the way. But the journey was memorable, nonetheless. Strangers became friends along the way and new bonds were formed. On our way back, as the bus's headlights shone down the twists and turns of the Western Ghats, my mind was a whirling dervish of the smells and sounds along the way…from the roadside beers and moong dal pakodas at the village where our bus broke down to adrakwali chai and kanda bhajia at Chivala market…not to mention the intoxicating aroma of the local garam masalas that I bought along the way.
For what is any road trip without car or bus trouble, roadside food and memories?
(Pictures courtesy Salil Jayakar)