Places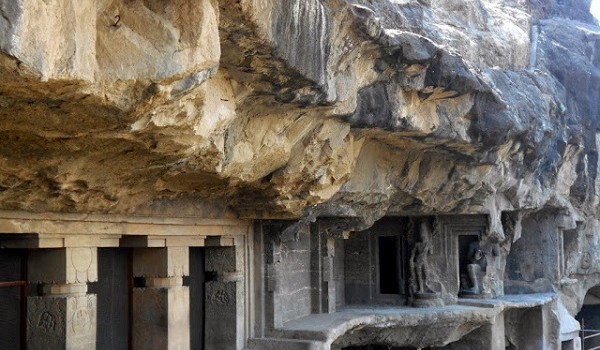 Published on April 15th, 2014
1
In the pursuit of the Buddha
An overnight train journey, the stunning beauty of the Ajanta and Ellora Caves, and some excellent company. What a trip!
by Salil Jayakar | @Salilicious on Twitter
The caves of Ajanta-Ellora in Aurangabad (Maharashtra), both World Heritage sites, have been on my must-visit list for some time now. With a long weekend in March this year, thanks to a pending casual leave (Friday) and the Gudi Padwa holiday (Monday), I finally made the trip.
Having already booked Mumbai-Aurangabad return tickets on the Devgiri Express early February, I was also excited to accomplish my first solo overnight train journey! The approximately seven-hour train ride was incident-free and I arrived weary and sleepy in Aurangabad at about 4 am. Thankfully, my hotel was just two minutes away and I was soon tucked in for a quick nap.
Early next morning, at about 8.30 am, I made my way to Aurangabad's Central Bus Station from where buses leave for Ajanta at frequent intervals. While I was tempted to go on one of those AC Volvo buses, I eventually chose to take a seat on a Maharashtra State Transport (ST) bus – a Government-run inter-city bus service. And with that, came another first for me – my first ST bus ride! On the bus I met the delightful Debbie from Belgium, and we became travelling companions. On a month-long India holiday, she had decided to spend the last two days of her trip visiting Ajanta-Ellora.
The ST bus ride was not as bad as I had imagined. At some point at the beginning of the journey, the conductor asked me to sit in the driver's cabin, which was fairly comfortable. The driver drove like he was in a Formula 1 race, the summer sun was hot (about 40 Degrees Celsius) but the wind in my face kept me quite cool. Since the Ajanta Caves are about 100 km from Aurangabad, it's a good idea to leave for them as early as possible since it takes about three hours to get there. Let me add here that Ajanta and Ellora are two different cave sites, away from each other. You need two separate days to visit them.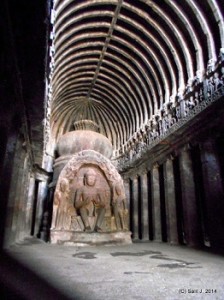 Oh, Ajanta!
Forgotten by time for thousands of years, the Buddhist rock caves of Ajanta were discovered by accident in 1819. And what a discovery it was! It is hard to believe that these monastic sanctuaries – hand carved in sold rock – were created at a time when none of today's modern tools were at the disposal of the creators.
The architectural and sculptural beauty of these rock temples is surpassed, perhaps, by the addition of a third art form – painting – which has only added to Ajanta's fame. Excavated between the 2nd century BC – the oldest cave dates back to pre-Christian times – and the 6th century AD, the nearly 30 Ajanta Caves were carved in an isolated ravine, which is almost horseshoe in shape. From a guide book I bought, I learnt that the central theme on the walls of these magnificent caves come under two heads – narrative scenes from the Buddha's life and illustrations of the Jataka fables. Most of the caves have beautifully carved pillars, a large hall and a row of cells on the side, which was where the monks slept.
At the back, framed by a doorway beyond the ante-chamber and opposite the entrance is a huge Buddha. The walls and ceilings illustrate tales from the Buddha's life. While most of the paint has peeled off, some of the panels have been well preserved and their beauty is there to see.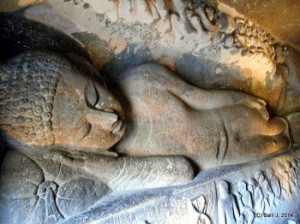 The colours are still quite bright and the detailing is exquisite. Stunning, to say the least! For me, caves 19 and 26 were the most awe inspiring of the lot. Cave 19 has a beautiful and exquisitely carved façade and arched windows that add to its grandeur. The outside walls have several Buddha figures in various positions. Cave 26 has a large reclining Buddha that is nearly 25 feet long. I believe the reclining Buddha at Wat Pho in Bangkok has been inspired by the one at Ajanta, but I can't verify this. All in all, walking in and out of the various caves at Ajanta is a journey of discovery.
On to Ellora
On day 2, Debbie and I met at 8.30 am at the bus station for breakfast and chai. Debbie enjoys Indian food and we happily tucked into kande pohe and a batata wada before we began our journey. The Ellora Caves are about 30 km from Aurangabad and it takes about an hour to get there. Unlike the Buddhist Ajanta Caves, the Ellora Caves are the product of three religious systems – Buddhism (caves 1-12), Brahmanism (caves 13-29) and Jainism (caves 30-34).
As you enter the Ellora Caves site, cave 16 is the first cave you see but it makes more sense to walk down to your right and start from cave 1. The Buddhist caves at Ellora are quite unlike the ones at Ajanta. Some of them are large, almost three storeys high, and have Buddha figures in the main shrine. Of the 16 Brahmanical caves, the most stunning is cave 16 or the Kailash Temple. Regarded as one of the greatest monolithic structures of the world, the Kailash Temple was cut top-down from a single rock! I think we spent half of our time at Ellora at the Kailash Temple – marvelling at its beauty and grandeur. At this juncture, I must tell you of my love for elephants – and I was fascinated by all the elephant sculptures here. Ganesh or Ganapati, my favourite elephant-headed God also makes an appearance. It also has a Shivaling.
Cave 29 is also a must see. It is one of the largest caves and has three separate entrances with wide columns. On the left, as you enter is a huge Shiva with eight arms (in the form of Kali) killing a demon. On the right, is a huge intricately-carved scene of Shiva-Parvati sitting on top of Mount Kailash even as Ravan tries to lift it. Last, but not the least, are the Jain caves, which have to be accessed by road.
The most prominent ones are caves 30, 32 and 34, of which cave 30 is the chhota Kailash as it is considered to be a smaller version of the Kailash Temple. Cave 32 is known as the Indra Sabha, the assembly hall of Indra – the king of the Gods. It has a huge hall with pillars, each of which has a different design on it! I'd been told that the Ellora Caves can be seen in about two hours but I think we easily spent about four hours seeing all the important ones at length.
Since Debbie had to catch a flight back to Mumbai and then onward to Belgium, we decided to take a rickshaw back to the city (approximately INR 1,000). Our driver, Anees, was born in Ellora and was eager to show us some other sites on the way back. Our first stop was Aurangzeb's tomb. Aurangzeb was the sixth Mughal Emperor and I expected his tomb to be grand, but the nondescript one I saw was disappointing. Next up was Bibi-ka-Maqbara, the mausoleum of Aurangzeb's wife. Inspired by Agra's Taj Mahal, it's known as the Taj of the Deccan or the poor man's Taj. If you've seen the original Taj, give it a skip. We also decided to give Daulatabad Fort a miss. Walking up 750 steps to reach its top in the scorching heat didn't excite us!
My weekend trip to the Ajanta and Ellora Caves was more than I could have hoped for. I accomplished a couple of things along the way, saw magnificent works of architecture that are a symbol of what we humans are capable of, and had some friendly company along the way. What more can one ask for?
(Pictures courtesy Salil Jayakar)