Places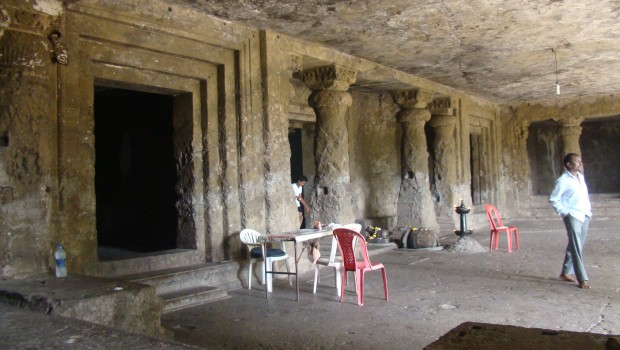 Published on September 28th, 2012
0
Disused, neglected and forgotten
The Mandapeshwar Caves in Borivli have a rich historical past. But there's a huge slum right outside it and nobody visits except on Mondays
by The Traveller/ the traveller@themetrognome.in
It's not every day that you have a protected heritage monument in close proximity to your house. The Mandapeshwar Caves in Borivli are a short walk from my home, and as we are wont to do with valuable things that we have easy access to, I hadn't given it much thought in all the time I was growing up in the area. In fact, a few of my friends had been to see the caves before me, and they live in south Mumbai.
So last week I decided that I would check what the Caves were like. My friends had said that the ruins were lovely, which didn't make any sense t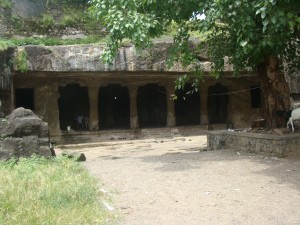 o me. I have never found ruins lovely. I have never understood the poetry in broken rock. Call me a mundane, limited intellect. If I visit a place, I like to see it clean and whole.
The Caves were certainly clean, but obviously not whole. To give you a brief historical insight into them, they are said to have been built in about 550 AD by Buddhist monks. As per information on Wikipedia, 'During the occupation of the Kanheri caves (at Sanjay Gandhi National Park), these monks found another location were they created a hall of paintings. The cave was created by the Buddhist monks and then they hired travelling Persians to paint. The Buddhist monks asked the Persians to paint the life of Lord Shiva. This makes this cave interesting as it brings many religions together. Buddhist cave, Persian painters and Hindu God. (sic)'
There are, of course, no paintings there today, but even the briefest of glances will reveal that the Caves bear the stamp of Shiva. There are stone carvings of Shiva in different forms, and not a single placard anywhere to explain the various poses of the statues. In fact, I was left to come up with my own theories about the statues and the placement of inner rooms, since there is no sign board anywhere to explain the Caves' history.
A funny thing happened when I was there. Armed with a camera, I asked an authoritative-looking man seated on a plastic chair just outside the Shiv temple inside the cave, "Is it okay to take pictures?" He gave my camera a bored glance, then said, "Haan haan, le lo."
So when I started clicking, I was surprised to see a harassed-looking man run up to me. "Madam, agar photo lena hai toh Sion se permission lena padega," he said very politely.
"Aap kaun hain?" I said, slightly defiantly.
"Idhar ka chowkidar," he said, equally defiantly.
The authoritative-looking man had, meanwhile, disappeared.
To sum up, despite a few spots inside the Caves, such as the Shiv Temple, which is cool and quite lovely, I was very disappointed. Not with the ruins the place is in, but because there is no worthwhile restoration and upkeep. "Monday ko hi bahut bheed hoti hai," the caretaker (his name was Ghani, he said) told me. "Aur raat ko? Poori khuli jagah hai, log aake sote honge," I remarked, casting an eye on one of the Caves' two inner sanctums.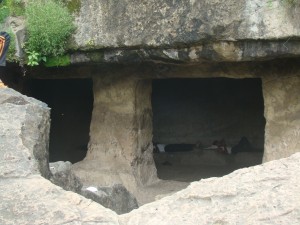 "Nahin nahin, raat mein security hoti hai," Ghani said firmly. I couldn't believe him, though – even on his watch at 12 noon, three men were fast asleep in an alcove off one side.
Outside, in another telling incident, a barber was shaving a customer seated on a high rock outside the cave. There is a sprawling slum opposite the Caves, one of the largest in this suburb. A little guide book that Ghani showed me failed to mention that the Dahisar river used to run by the Caves, or that the ruins of an old Portuguese Church stand above it. The book also failed to mention that these Caves were one of the four Buddhist caves in the city, the others being Jogeshwari, Elephanta and Mahakali Caves. "Aap Sion se (where the Archaeological Survey of India office is located) permission leke aaiye Madam, main aap ko saare photo lene doonga," Ghani promised.
There's no need for permissions. I'm not going back. I can do without being disturbed over gross neglect of history.
Know a good spot in Mumbai with an interesting history? Tell The Traveller about it at thetraveller@themetrognome.in.