Places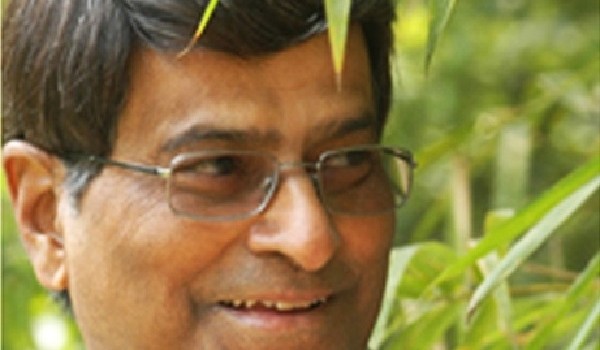 Published on March 22nd, 2015
1
'Blind copying is not exemplary or inspirational'
Veteran architect Dulal Mukherjee talks about his exciting new project – it is the country's biggest convention centre in Kolkata.
by Subhasis Chatterjee
All good artistes have a strong inspiration, and Kolkata-based Dulal Mukherjee is no different. The famous architect confesses to designing from the heart and being inspired by the vastness and the majesty of nature. His designs, he says, have always tried to be "embellishments in the wide canvas of the Earth's natural beauty."
The Metrognome caught up with Dulal on the sidelines of his firm's current project – the State Convention Centre in Kolkata, the country's biggest such centre thus far. Over a freewheeling chat, Dulal talks of his work ethic, his wonderful journey since the upheavals of the 70, why nature matters in his work and what future architects need to watch out for.
Excerpts from the interview:
Tell us about your firm and its journey.
An award won for the interior work of the International Terminal of Kolkata Airport at the National Design Competition served as a catalyst in setting up the firm Dulal Mukherjee & Associates (DMA) in 1968.
Those were the times of great political turmoil in Bengal, which affected the architectural fraternity also as there was hardly any scope for any significant work. The firm survived its initial years by
undertaking various interior designing projects. The situation, however, started changing for the better from 1972 as building activity in the city slowly started regaining its footing. DMA, which had so far been a fledgling firm, started branching out, although mostly in ownership apartment designing.
After the 70s, we did a lot of Government and institutional projects, and the building boom of the late 80s and early 90s gave us an opportunity to grow and further spread our wings. We have done prestigious projects like the State Legislative Assembly Complex in Dispur, Assam, and the State Convention Centre in New Town, Kolkata.
While running your firm since 1968, you must have seen and experienced a lot of change in the Indian architectural scenario. How would you explain these changes?
During my formative days as a student of architecture and as a young practicing architect, the Indian architectural scenario was ruled by the ilk of Charles Correa, BV Doshi and Achyut Kanvinde. Though influenced by international stalwarts like Le Corbusier and Louis Kahn, Correa, Doshi and Kanvinde brought in an Indian flavour that left an indelible stamp of creativity and spawned a new modern Indian architecture.
Use of concrete in its bold, majestic form and softened by use of Indian elements like jalis, hanging balconies and punched out courtyards were there to stay for decades to come and was carried forward on the able shoulders of Raj Rewal, Uttam Jain and Ajoy Chowdhury. These were examples of inspirational architecture in the late 60s and 70s. Side by side, a mundane match box like architecture with use of hackneyed screens was mushrooming out in a desperate bid for urbanization in India.
From 1990s, a new style gradually emerged, that were more contemporary and international though with an individualistic stamp in the works of Sumit Ghosh, Sanjay Puri and Sanjay Mohe. The styles of Shirish Beri, Dean DeCruz and Gerard Da Cunha had infused a sense of local flavour typical of a region that was wholly individualistic.
The new age of 'camouflaged architecture' was brought in from the new millennium with extensive use of curtain walls, glass screens and aluminium cladding. Broken and sculptural forms found importance but the entire trend is very international that transcends all geographic barriers and culture. Use of cutting edge technology both in the constructional system as well as in the designing of the engineering services has found more predominance.
You are a firm believer in celebrating Earth's natural beauty and that is always reflected in your work. Considering today's demands, how far can you stick to your architectural philosophy?  
I grew up amidst lush green rural settings of the Dooars in North Bengal which infused in me a deep sense of reverence and inspiration from nature. Even in the present day, with the need for maximum utilisation in the face of plummeting land cost, I try to create my buildings in harmony with nature. The site constraints with regard to existing trees and natural contours are respected in my solutions, and I try to create my designed spaces around the existing flora. Natural contours are respected to preserve the quality of the top soil and in the absence of existing flora; greenery is created both through ground level and terrace level landscaping.
Which one of your projects is closest to your heart? What kinds of projects you are handling these days?
I am really excited about the current projects we are handling. A project, close to my heart, is the Assam State Legislative Assembly complex in Dispur, which I've won in a competition. It is a State icon and we're taking pains to research the local architectural style, the materials and culture such that they are reflected in the design.
Another inspirational project is the proposed State Convention Centre in New Town, Kolkata. The design boasts of the largest convention hall in the country with a sizeable hospitality facility.
I do not have any particular preference while choosing a project as I find all solution process a great stimulus.
Can you share details of the state convention centre project in New Town?
With a built-up area of 64,360 square metre, the State Convention Centre for HIDCO at New Town campus comprises the main Convention Hall of 3,000 seating capacity, two smaller capacity
auditoriums, four large exhibition halls including a State banquet, spacious pre-function areas, extensive food and beverage facilities and a garden food court (in pic on right).
The business hotel will comprise a business centre, 100 twin-bedded rooms, a business club and a spa with a roof top pool. The convention centre will have a multilevel parking block.
The Rs 250 crore project is being developed as a 'green' building project with all modern amenities and services like HVAC, illumination with LED fixtures and auto control, dual plumbing, audio visual systems, fire detection and suppression system, CCTV, security and surveillance and IBMS.
While executing a project, what are you keen to concentrate on?
I am very sensitive towards an environmentally-conscious architecture and feel it's a predominant factor during scheme development. My designs strive to establish a relation between the interior and exterior such that there is complete harmony between the built and unbuilt. Respecting the local climatic and environmental constraints helps in the seamless co-existence of man's creation with nature.
Have you ever noticed differences working in Kolkata, compared to other parts of the country or abroad?
My experience is restricted within this country though I've executed projects in Nepal. The experience in Kolkata is very similar to those in other parts of the country where construction technology is limited and restricted to a very limited number of agencies working at a national level. Sluggish work culture is prevalent everywhere, though it has definitely improved in recent years. We are definitely lagging behind our counterparts in the West with respect to technology adaptation and discipline.
How are you inspired at this age to design and create landmark structures one after another?
I am never content or satisfied with what I do at present. My intrinsic dissatisfaction nudges me towards something better in future. I am of the strongest opinion that whatever I have created in the past can be always improved upon and this conviction drives me for greater perfection in the future.
Any message for young architects?
There are quite a few talented architects making their mark in the profession to whom I could only say that there is no end to learning and no shortcut to success. The remarkable creation of our forefathers may be adopted with individual interpretations and local flavours, but blind copying is neither exemplary nor inspirational for the future generation.
 (All pictures courtesy Dulal Mukherjee Associates)