Wellness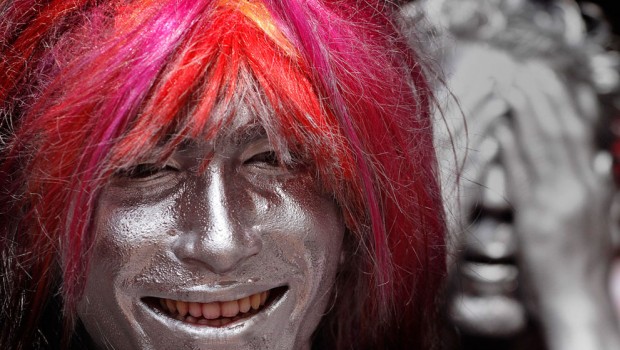 Published on March 27th, 2013
0
Holi hai!
Heading out to play Holi? Presenting some before and after-the-revelry tips for you to remain safe from Holi's ill effects.
by Dr Ajaya Kashyap and Dr Abha Kashyap
Part III of III
It is Holi today, and if you're reading this, chances are you're looking for safe ways to play Holi. Or it's possible that you've got colour all over yourself and nobody, including yourself, recognises you.
Either way, we've got some tips that will help.
Try to dissuade people from applying colour all over your face with their hands. If you fail to do so, be especially careful in keeping your eyes and lips tightly shut. Always request the person not to smear the colours near the eyes.
Apply cold cream around your eyes and make a thick coating of it over there. This would ensure that the colours can be easily removed when you wash your eyes. When trying to remove the colours around your eyes, keep your eyes tightly shut and use warm water.
You can cover your hair with a dupatta/bandanna and a polypeptide-based gel can be applied to partially repel colour.
Caring for your eyes is equally important while playing Holi. People wearing contact lens should take them off before they begin to play with the colours. When somebody is spraying water colours on your face, keep your eyes shut to prevent damage to the pupil, cornea and iris.
After you're done playing Holi:
– Don't sit in sunlight after playing Holi. It makes colours difficult to remove and harms the skin as well. Sit in the shade even when playing outdoors.
– Don't remove colours by scratching your skin with your nails. Use a granular scrub on the body and face to get rid of the colour.
– Wash off colour from your hair two to three times with shampoo and remove the colour completely. Apply a lot of moisturiser on the body and face after taking a shower.
– Wash the colour off your body at the earliest. Use a basic body wash and if the colour doesn't go off after the wash, try the aforementioned remedy.
– Make a paste of gram flour (besan), juice of lemon and heavy cream or some milk and apply it on the stained area, let it sit for few minutes and then remove it by taking it off with olive oil.
– Hair should be deep conditioned after the wash. Make sure your hair is clean. Apply a hair mask after two-three days to cure the damage.
– Remove the colour from your face by using a light oil like jojoba or grapeseed. Wash off with face wash and lukewarm water. Follow up with lots of moisturiser.
– Do not bleach, shave, wax, go for facials or clean-ups the following week. Give your skin and body some time to recover from the damage.
Have a happy and safe Holi 🙂
Dr Ajaya Kashyap is Chief Surgeon in Cosmetic and Plastics from Fortis Hospital; Dr Abha Kashyap is an aesthetic image consultant, MedSpa.
(Picture courtesy theatlantic.com)