Guest writer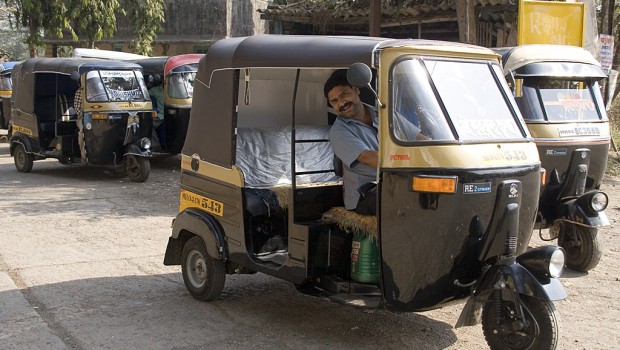 Published on December 12th, 2012
0
The autowallah knows my caste!
An autowallah selects those he deals with, passengers included, based on their 'upper' caste – even his wife's a Brahmin.
by Nidhi Qazi
After taking a look at the long queue of passengers waiting for an autorickshaw outside Ghatkopar station, I set out to find my own autowallah. After a few misses, I finally come across a smiling bespectacled man – an autorickshaw driver. Seeing him ignore a few other passengers relieves the hurried soul in me, because I have to rush to college ASAP. I dash into his vehicle and thank him for waiting for me. Here begins a 20-minute long conversation till I reach the destination.
Me: Thank you, bhaiyya.
He: Thank you for what, madam? I had to wait for you. You see I couldn't just let any lower caste people enter my rickshaw.
Me: But how do you know they were lower caste?
He (chuckles): What are you saying, madam? I am in this auto business for quite some time now, I am wise enough to know who is who.
Me: So according to you, which caste do you think I am from?
He: You could be a Gujarati Brahmin.
Me: No, wrong. I am not a Gujarati Brahmin.
He: Whatever you may be, you surely are not a lower caste person.
Me: Which caste do you belong to?
He: I am a Roman Catholic married to a Maharashtrian Brahmin.
Me: Why this aversion towards the 'lower' castes?
He (laughs): What madam, what a silly question to ask! Don't you know how dirty these people are? They eat all sorts of meat, don't take bath properly. How can I let them enter my autorickshaw? Moreover, they are nothing but a panauti (inauspicious). I don't let them on board or else my entire day goes bad.
Me: Who told you these things?
He: Even though I am a 60-year old father of a girl, I have been listening to what my parents have to say. They have seen life, met people. It is their education and values that I abide by. What in life can one achieve if he doesn't pay heed to their parents' given ideals and principles?
Me: Yes right, bhaiyya. But here when we are talking about human beings, aren't all of us the same?
He: Madam, let me ask you something. Are you working or studying?
Me: I have done my graduation and am studying further.
He: Okay, so tell me what's a pig's purpose of existence?
Me: I don't know.
He: Your education is a waste if you don't know the answer to this. A pig is born to clean the shit of this world. Similarly, everyone including humans have a certain purpose of their existence.
Me: That doesn't really answer my question, does it?
He: Leave it, madam. You are immature to understand all of this.
Me: How come you got married to a non-Catholic?
He: She's a Brahmin and that suits me well as we were also Hindu Brahmins before conversion .
Me: You are a convert? But why?
He: That again is what my parents had in store for us. Don't really know why we converted but it is good.
Me: What is good?
He: That we are Catholics. You see, madam, we are one of the best religions. I don't really like the other religions. They have so many negatives. Leave it, let's not get started now.
Finally, the journey comes to an end and so does the lecture on caste and religion.
Nidhi Qazi is a student at Tata Institute of Social Sciences. She writes because it gives vent to her ideas and helps her explore and experience people.
(Picture courtesy thecityfix.com. Picture used for representational purpose only)