Guest writer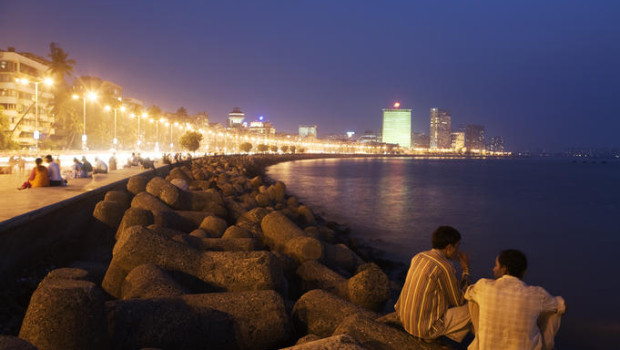 Published on May 30th, 2013
0
Midnight at Marine Drive
A whole ecosystem springs up at Marine Drive in the hours when Mumbai sleeps, and a day begins for others.
by Shama Arif Patel
1 am.
While it's time for most of us to call it a day, the day begins for many at this hour. Right here at Marine Drive.
The day begins for a flower girl who gets a smile on her face after seeing the couples sitting hand in hand, for now she knows that it's her time to earn her living. The day begins for her right then!
The day begins for an artist who hits Marine Drive at 11 pm every day. After keeping his belongings aside, he makes himself comfortable. Laying on the stretch, facing the sea, staring at the sky, he closes his eyes to let his exhaustion settle down. He takes drawing classes for children during the day and makes live sketches for people at night. After a good 45 minutes' nap, he calls it a morning. Grooming himself and carrying drawing sheets in his hand, he gets going to earn his share of money.
A mimicry artist is thrilled to see a potential audience by the sea. He spots a group of people and begins an impromptu show right there. While some shower genuine praises at him, the others take this as their chance to mock him. While some offer him money, the others, like me, pray for his dream to come true. His hope begins right there!
It's a new day for a chaiwallah who rides up and down several times carrying chai along with other eatables, making his bicycle a mobile basic grocery store. And this store manager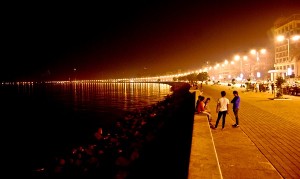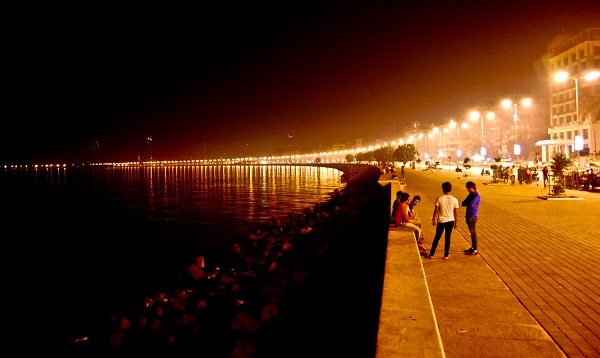 seem to know exact need of the crowd visiting this place because this need becomes responsible for his family's daily living.
The strength of tel-maalish (oil massage) men doubles as they seek to work their hand's magic and release the tension in a lot of people sitting on that pavement! The onlookers may feel that people getting the maalish are stressed and tired with working hard and they remain completely ignorant to the life of that massager who is capable of relieving the stress despite his own stressful life. That maalish session which he executes with his whole heart becomes his blessing and earnings for the next 24 hours.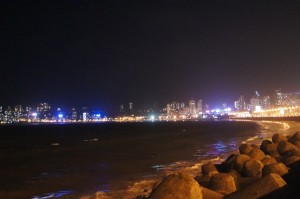 It's daybreak for those innocent street children and their mother, who roam around in search of food and money with a hope to get blessed with someone's leftover snacks that becomes their only meal for the entire day. It's a new day for another group of homeless children who walk around with naughty smiles and a twinkle in their eyes, accepting anything and everything that's offered to them by people around – from a half-filled water bottle to the left over chana-chor garam.
Then, amidst these people are those who are filled with complains and whine about how nothing is going right in their life! People who are so engrossed in their problematic world that they become ignorant to these needs around them. And despite not having any of those fancy luxuries, these mid-nighters seem happy and content compared to those people who visit Marine Drive just to release their stress!
Would you trade your life to live someone else's life? Would you be happy living the life of that flower girl or the artist or that stand-up comedian or those street dwellers? You may not want to live their life but you become a part of their life always. 'You' become a part of their new beginning every single day! And how wonderful would it be, if you offered a smile to these mid-nighters and gave them a happy start to their day!
We all are dependent beings trying to live independent lives. The kind of person you choose to become not only affects your life but also affects the life of people around you and that's when you become the indirect support of many who begin their day at midnight. Life has many facets to it and each human being, I guess, is given a part to play. Make sure you play your part well, because now you know that you are touching lives every second just by playing your part in this life.
Shama Patel is a marriage and family counsellor by education, a writer by passion and a celebrity co-coordinator by choice. She also works part time for a telecomm company as a media and communication manager. In her free time, she loves to read, write and sketch. She gets enthralled by everything that nature has to offer. 
 (Pictures courtesy blog.jilllenafordart.com, www.lonelyplanet.com, www.hg2magazine.com)