Guest writer
Published on January 23rd, 2013
0
Back from Bharat bhraman
Two Mumbai men toured India, wishing to plant trees in all 35 States and UTs. Hari Chakyar tells the story.
by Hari Chakyar
It's been two days since we got back from our 'Bharat bhraman' (the duo were out on their pet project, Project 35 Trees). I have been treating my weary traveller's stomach to some ma ke haath ka khaana and sleeping in my own bed. It feels good to be back.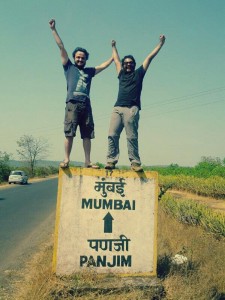 When we set out on October 10, 2012, the dream was to plant trees in all the 35 States and Union Territories of India and to encourage young Indians to do the same. Now, almost four months later, we are happy to announce that we have managed to do that in 32 states and Union Territories. The three that are left are Mumbai, Arunachal Pradesh and Lakshadweep.
We'll do the Mumbai leg of the session soon. Plus, we'll identify locations and guardians and plant a lot of trees in Mumbai and Pune.
We tried going to Arunachal Pradesh twice but both plans got squashed thanks to the Arunachal Pradesh Students Union elections. No host, no rooms in hotels or lodges, struck up public transport systems and no contact person; it didn't seem like a risk we could take with expensive crowd-funded and crowd-sourced equipment.
The next ship to the archipelago of Lakshadweep leaves on February 27… that i,s if you take the tourism department's package. Alternatively, if someone from the island invites you over with an attested letter that goes to the administrative office in Kochi, you can go on an official visit. We had neither the invite nor the time to wait till the next ship. Even if we did, there is no way one can break away from the package and do their own thing. One can take a flight to Lakshadweep too but would you really spend 17,000 rupees per head one way if you were us? We decided we would rather plant trees worth that much in places that need them the most.
Technically, we did not achieve what we had set out to do but then we feel we've got a lot more done. We feel fitter, probably from the regular routine of lugging heavy bags around. We've greater respect for time…we realise there is so much to do in life but there's so little time. We met a lot of amazing people who are doing amazing work. We saw the country we call our own on every Republic Day and Independence Day, but which we had never seen with our own eyes. We heard languages never heard before and vowed to return when we could speak some of them.
We loved every moment of it. Now, while I can sit back and think of the amazing India tour, Anthony and team will be working on the film part of the project.
Honestly, I can't wait to do this again!
Hari Chakyar and Anthony Karbhari left on their tour, which they call Project 35 Trees, on October 10, 2012. Read about the project here.
(Pictures courtesy Hari Chakyar)