Deal with it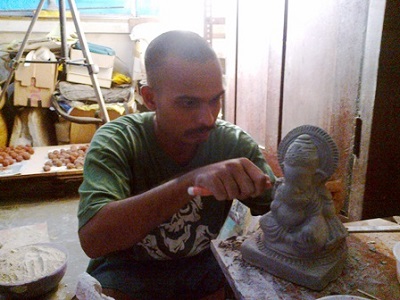 Published on September 8th, 2015
3
Worship, immerse and protect the seas
City based environmentalist Anand Pendharkar's Ganesh idols stuffed with vegetable fish food are finding many takers in the State and country, too.
by Ravi Shet
Ganesh Chaturthi is one of the largest festivals celebrated in our city. But the festival creates havoc in our seas – the post visarjan (immersion) of Ganesh idols made of Plaster of Paris (POP) pollute the water significantly and also impact the marine environment badly. Nothing changes year after year – huge Ganesh POP idols are immersed in the seas, jeopardising the marine life at an alarming rate.
The answer, then, is to make eco-friendly idols. Thus, the Sprouts Environmental Trust and the good folks at Ogilvy and Mather (O&M) came together to create Ganesh idols made from corn and vegetable powder. These can be consumed by fish and other marine organisms. Anand Pendharkar, founder of Sprouts, has completed his M. Sc in Wildlife Science from Dehradun, and tells us that he has been cleaning the beaches in Mumbai post-Ganesh visarjan for the past 12 years. "Girgaon chowpatty has been on our radar, since huge idols mostly come there. People also flock to Juhu beach because celebrities come there," he says.
For the past 6 years, Sprouts has been preparing Ganesh idols from clay and papier mache as a healthy alternative to the usual POP idols. However, when O&M's team (comprising Elizabeth Dias, Srreram Athray, Calvin Austin, Kunal Dangarwala and Farid Bawa) joined hands with Anand, the concept of stuffing vegetarian fish food along with clay for preparation of Ganesh idols was discussed. "The idols dissolve in water within 4 to 5 hours. The journey was full of learning and we went through a lot of research and testing," Anand says.
The team created a standard size of 9-inch Ganesh idols priced at Rs 900, which are coloured using natural materials such as Fuller's Earth, geru, kumkum and turmeric. It takes around 3 days to complete an idol and their target is to prepare 200 idols for this year. As of now, 8 artisans on a part-time basis are working in Mumbai with Anand, while some more are working in Nagpur.
Anand recently conducted a workshop for Margam (a programme of NGO Vidya), a self-help group for women in Powai, and taught them how to make this unique Ganesh idol. He says, "People who normally get Ganesh home or in pandals every years have purchased our 9-inch idol this year." He further adds that his family has been a huge support for his journey.
(Pics by Anand Pendharkar and Ravi Shet)