Deal with it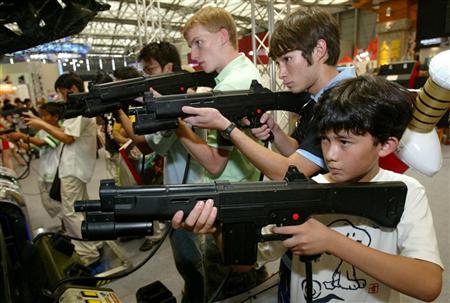 Published on October 11th, 2012
0
That game's got your child
Survey conducted in the nation's metros and major cities shows that children playing violent computer games are becoming increasingly aggressive.
by The Editors | editor@themetrognome.in
If your child is hooked on to his computer or mobile phone, playing away to kingdom come as a variety of bangs, screams and explosions rock the house through his screen, yank the device away from him immediately. He may be playing a game that is potentially blunting his sensitivities to aggression and what constitutes aggressive behaviour.
At a time when school kids are not thinking twice before picking up the nearest sharp weapon and stabbing another in the wake of an argument or minor scuffle, the increasing amounts of time that adolescents and teenagers are spending playing violent video games is a cause for worry. As per a survey conducted by the Associated Chamber of Commerce (ASSOCHAM) under its Social Development Foundation (SDF) in May 2012, violent video games are fuelling a rise in aggressive behaviour among children. As per the survey, "Due to the absence of parents at home, over 75 per cent of metropolitan kids between the ages of five to 17 years exposed themselves to violent video games, which lead to severely desensitivity to aggression and violent behaviour amongst them."
The survey findings are grim – 60 to 80 per cent of the children surveyed displayed real-life aggressive behaviour owing to prolonged exposure to violent video games. The survey included over 1,000 teenagers and 1,000 parents in the major metros such as Mumbai, Delhi-NCR and Chennai, apart from Goa, Cochin, Ahmedabad, Hyderabad, Indore, Patna, Pune, Chandigarh and Dehradun. An interesting fact observed was that 65 per cent of the children surveyed had a computer in their bedroom, and thus, plenty of opportunity to get to a game.
Said D S Rawat, Secretary, ASSOCHAM, "Exposed to violence, the child loses his emotional connect [with others] and it becomes much easier [for him] to engage in violence." Echoing this sentiment, Dr B K Rao, Chairman of the ASSOCHAM Health Committee said, "Increased exposure to violent video games leads to compulsive behaviour, loss of interest in other activities, and association mainly with other video game addicts. Parents should provide educational information [to their children] rather than violent games, encourage playing in groups rather than as a solitary activity, and set time limits on children's playing time." He added that young children often had difficulty distinguishing reality from fantasy, which made them more vulnerable to the effects of media violence. "They may become more aggressive and fearful if they are exposed to high levels of violence in video games," added Dr Rao.
The survey added that parents felt that the most violent games were Grand Theft Auto, Mortal Kombat and Modern Warfare. Most games were either played online or were easily downloaded from sites such as Newgrounds and eBaum's World.
Another interesting finding was that boys played violent video games more often than girls.  Also, of the children surveyed, those under age six played an average of about one to two hours on the computer a day, while pre-teens and teens spent nearly four to six hours a day in front of a  computer screen. The survey data also showed that boys became more desensitised towards the videos the longer they watched them.
Highlights in numbers:
– 62 per cent play almost every day
– 68 per cent play for excitement
– 52 per cent get restless and irritable if they can't play
– 68 per cent sacrifice social and sporting activities for video games
– 42 per cent play instead of doing their homework