Deal with it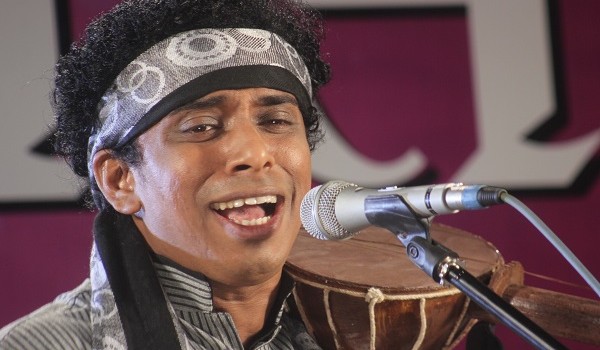 Published on November 19th, 2014
0
Take note of Indian folk artistes, Bollywood: Santosh Sawant
Noted folk music artist and now film director, Santosh Sawant wants Bollywood to feature more folk music to popularise it.
by The Editors | editor@themetrognome.in
Maharashtra has a rich tradition of folk music but many popular forms of folk music entertainment such as Bharuds, Gondhals, Lavanis, Povadas, Bhaleris, Palanes and Artya have slowly gone off the radar, and are now on their way to extinction. It is a sad state of affairs indeed, that people have forgotten the folk forms peculiar to their home States, as Hindi film music pervades our collective music consciousness.
Actor, filmmaker and music composer Santosh Sawant, aka 'Pawa' (meaning 'flute' in Marathi), wants the new BJP Government in Maharashtra to save folk singers in the State who are struggling for survival. 'Pawa' is a gifted folk singer himself, who tried, unsuccessfully, to gain acceptance in Bollywood – owing to his non-mainstream voice. He is known as a foremost exponent of 'jhamela', a form of folk song that throws light on the complexities and tragedies of life. "But I persevered and cut an album with the help of T-series in 2010," he says. "It was called Voice of The Heart. I am now ready to launch my debut Hindi feature film project titled Jhamela which will showcase the life of a folk singer." The film is inspired by Sawant's own life and details jhamela as an art form, among other things. "I hope to make folk music more popular through this film. I shall first show it at 45 renowned international film festivals before showcasing it in India," says Santosh.
Why the spotlight on folk music?
'Pawa' is an engineer by qualification who was born in Ratnagiri but who came to Mumbai for higher studies and stayed on. He had a successful career in the machinery exports business, but his love for music often made him restless. "I was born in the idyllic Kolisare in Ratnagiri, which has lush green hills on one side and pristine virgin beaches on the other side. People here were totally disconnected from the modern world, and I grew up in a culture of folk music, folk dances and folk plays which were displayed during the Jalsa, a local fair prevalant in Konkan," he remembers, adding that his performances at these fairs earned him the 'Pawa' nickname.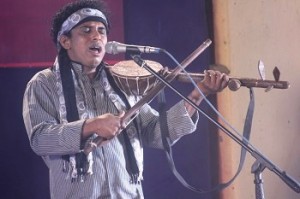 He claims he has an acting degree from London, and speaks with bitterness of how Bollywood shunned him because "they didn't want to take a chance with an actor who dabbled in folk music." Today, he says he works to further the cause of folk music in India and abroad.
Incidentally, during the recent State Elections, the BJP was said to employ around 200 folk singers to campaign for it. Says 'Pawa', "I want the BJP to continue its association with folk singers through scholarships, donations and other forms of support.
"Maharashtra's zestful folk music has the power to hold the audience spellbound. Folk songs have often formed an important part of Indian movies and some of them are memorable to the day. They are melodious, tug at your heart and often end up having repeat value. While folks songs from different regions have gained mass popularity, it is the original folk singer who somewhere down the line faded into oblivion. Rarely has Bollywood rallied around any folk artiste to give them mass coverage and publicity. I think Bollywood should stop neglecting folk singers."
At present, folk music is being practiced in the approximately 50 Kala Kendras across Maharashtra, most of them in the Marathwada region. There are around 130 travelling Tamasha troupes that perform seasonally and approximately 15 full-time troupes that perform all through the year. Nearly all of them are fighting for survival.
"The modern film viewer has a warped and skewed notion of folk music as most of it is fed by what various regional and national movie industries are churning out. For example, for the viewer, a Lavani is just another item number adding masala to a movie. To add insult to injury, these dances are performed by mainstream actresses, as no one wants to cast the women who have lived and breathed this dance for centuries," 'Pawa' fumes.
Any takers?
Ask him if anybody's really interested in folk music these days, and he says, "Of course people are interested, they just need to be exposed to folk music. I have my own band, and we have taken Jhamela all across India and even abroad. We use traditional instruments like harmonium and dholki while staging our folk songs and plays. People love the simplicity associated with our songs which we use to denote the great complexities that human life deals with regularly."
'Pawa' says he hopes his film will find resonance even among the urban viewers. "We need to make our folk music, and our folk artistes, more mainstream," he says. "It is unfortunate that so many are living in oblivion and poverty."