Deal with it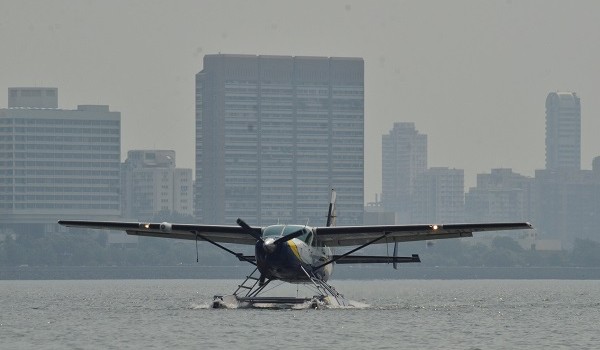 Published on October 24th, 2014
0
Juhu to Girgaon in 10 minutes soon?
Intra-city seaplane flight between Juhu and Girgaon chowpatty was successfully tested very recently, while crucial clearances were obtained for operations.
by The Editors | editor@themetrognome.in
If this flight becomes operational soon, Mumbaikars are in for a really pleasant ride.
The city's wait for intra-city seaplane flights between Juhu and Girgaum Chowpatty is soon coming to an end. The city witnessed a successful trial of the Juhu to Girgaum-Chowpatty flight on October 22, 2014. MEHAIR, along with Maharashtra Tourism Development Corporation (MTDC), has been working on the project for nearly two years and has already obtained crucial clearances from several authorities, including a nod from the Ministry of Defence, Coast Guard, Indian Navy, Mumbai Police, Urban Development Department, BMC, Mumbai Port Trust, Environment Department and the Airports Authority of India.
MEHAIR is already operating daily seaplane flights between Mumbai and Pawna Dam and has successfully conducted trial landings of its seaplane in Mula Dam (Meherabad/Shirdi) for which the commercial operations are being launched from early next month. The seaplane to be operational within Mumbai is the company's Cessna 208A amphibian aircraft, which will take off from Juhu Aerodrome in Mumbai and touch down in Girgaum chowpatty about 10 minutes later. By road, the estimated travel time between the two points is approximately 1 hour and 30 minutes.
Speaking on the occasion, Siddharth Verma, co-founder and director, MEHAIR, said, "With the commercial launch of the service, Mumbai will become one of the few cities in the world that have a seaplane service originating in the heart of the business district. We are confident that the public at large will see the value of the service and take full advantage of it."
He added that a seaplane offers the public the "last mile connectivity". He said, "Essentially a seaplane service begins where normal airliners end, and therefore, offers connectivity from the last airport to areas even beyond which are remote but have suitable water bodies that can accomodate seaplane operations."