Deal with it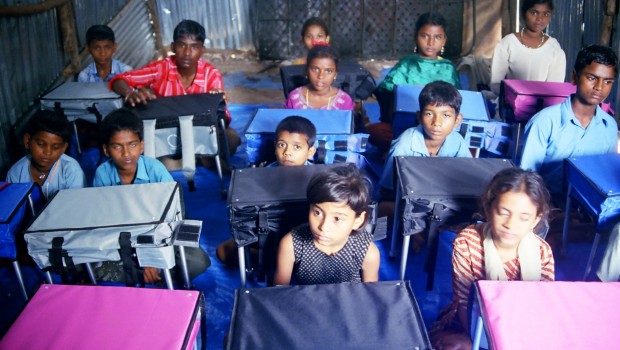 Published on February 12th, 2013
0
How about a library for slum children?
Artist Sharmila Samant's 'Nidus', a mobile library for slum children, will provide free books for those who can't buy them.
by Nidhi Qazi
Sharmila Samant is truly a people's artist, and a very humble one, to boot. In fact, she refused to share pictures of herself, asking us instead to focus on her current project – she is building 'Nidus', a mobile library in Annabhau Sathe Nagar, a slum area in Mankhurd.
Sharmila is an artist who got involved with the Ghar Bachao Ghar Banao (GBGB) Andolan in 2005. At the time, the last thing she had thought was that her association would last so long; not only has it lasted till date, and with several projects to her credit, she is back to doing what she does best – making people's lives better through the arts.
And now, Nidus, The Mobile Library is waiting to start.
Nidus – the word literally means 'seed', but Sharmila's plan is to make it a seed of learning – will serve the children living in the slum and "will operationalise as soon as possible," says Sharmila. "I am in talks with the inhabitants of the area and they have been receptive to the idea. The kids of the volunteers of the GBGB Andolan have also welcomed the idea of a mobile library van as they do feel the need for a library."
How did she come up with the idea? "The problem is that BMC school kids get free books till Class 10, but once they are through, they have to buy books. Now that for most is not affordable, so we have kids dropping out of academics. Identifying this gap, I thought of starting a library which would stock books – both academic and non-academic," she says.
The mobile library will run inside a van and will be full of windows and displays. Sharmila is also involving other artists in her brainstorming for the design of the mobile library. She has started getting books for the library, most of them being contributed by the people she networks with. The books will be for academic purpose and leisure reading.
"A mobile library is a beautiful means of sharing of knowledge which transports and then transforms people," adds Sharmila. Looking for funding, she is also in search of a team to run the initiative. In her words, she needs both – insiders, i.e. community people as they can provide proper need-based analysis, and outsiders as they can provide resources and help to implement the idea effectively.
Sharmila adds, "There has been a lot of emphasis on roti, kapda and makaan but what about shiksha? Had education been given due focus, the former three essentials could have been easy to acquire."
The ultimate success of this initiative is its closing down, feels the artist. "I want that one day, the kids of the area should take control of this library and eventually it should close down. That day I will feel I have succeeded."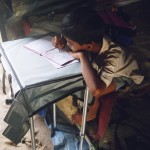 Prior to this, Sharmila has designed the very innovative 'bag desk', which is a bag-desk: it is a  bag that unfolds into a desk for the classroom, and a charpoy at home.
"The proceeds received from Busan Biennale helped me manufacture the product I had designed.  Around 45 such bag desks were made and distributed to the students free of cost," says Sharmila. Busan Biennale is an international arts festival intended to present contemporary art in a more accessible way to the general public.
The bag desk also had adjustable legs of aluminium, which could be adjusted according to the seating a student took; i.e. from low floor to a height. Are students using these desks still? "From what I heard, many parents sold the aluminum legs of the product to as that would have fetched them good money," says Sharmila.
Her other project was the 'well lamp' in 2010, which she successfully sold at the Kala Ghoda Festival and used the proceeds to address the problem of lack of fresh water. She helped people dug up four wells and the water thus generated could be used for daily chores. "The initiative came at a time when politicians were busy wooing the vote bank. Thus the positive outcome of the initiative was that the BMC came up with as many as 150 taps for the people to use. Our project ended its utility, paving the way for better drinking conditions for the community," says Sharmila.
To help Sharmila with her mobile library project for the children of Annabhau Nagar Slum, send us an email at editor@themetrognome.in and we'll ask Sharmila to contact you.
(Pictures courtesy Sharmila Samant. Featured image is a file picture)