Deal with it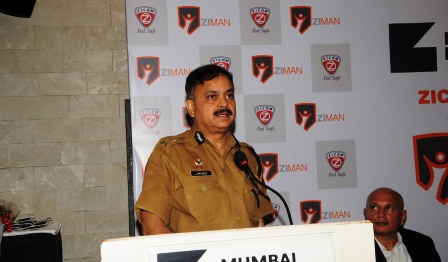 Published on November 6th, 2015
0
City police chief unveils security gadget for women journos
Zicom has created an alert that the user can press, generating real time location info and photos that will be immediately analysed.
by The Editors | editor@themetrognome.in
Women journalists face many threats in the line of duty. Added to the list of late nights, rounds of courts and police stations, going to unsafe places to report a news item is the threat of predators. In the recent past, there have been incidents of women journalists in Mumbai being targeted and attacked while on duty.
The electronics security company Zicom has now launched a security alert system, Ziman, that acts like a 'personal bodyguard'. The device was launched at the hands of Mumbai Police chief Javed Ahmed in the city yesterday.
Explaining the need for the device, Zicom's Managing Director Pramoud Rao said, "The job of a journalist is really commendable. They accept great risk to unravel the truth and get the story for people. But they need to travel at odd hours and go to unsafe places to cover a story, which puts their life at risk. There have been several unfortunate incidents of attacks on in the recent past. The device gets to work when there is a risk. All the journalist needs to do is trigger the alert installed in her mobile phone and our response team gets in action."
When the trigger is activated, the mobile phone starts sending pictures and videos to the Zicom Command Centre which is immediately analysed. "We alert the family at once and even contact the authorities and the emergency services if needed," Rao adds.
Javed Ahmed added, "On several occasions, even if we catch the culprits, there is no proof against them. With this device, the pictures and videos of the attack taking place are immediately captured. Not only can the attack be prevented but immediate action can also be taken.