Deal with it
Published on February 4th, 2014
0
Apni Shala: Where children see life
A city-based start-up works with children of BMC schools to impart important, essential life skills through games, stories and drama.
by Nidhi Qazi
That life skills are important, we all know. We can proudly look back at our schooling and say, yes, we did have a platform to show our potential. But wait – do all of us get a chance to see our life skills at work in school? Did all of us get a chance to really know ourselves? If these questions disturb you, read on.
Eleven-year-old Nilesh studies in a BMC school. His classmates stay away from him. There was a time when he didn't talk in class, was withdrawn and showed physical aggression towards his classmates. His father is an alcoholic, while his mother passed away. Being the eldest child, he has to take care of the rest of his siblings. Then 'Apni Shala' happened to him.
A start-up, 'Apni Shala' started working with Nilesh's school since January 2013. Since then, Nilesh is a changed boy. He participates in class, his self-esteem has improved and his classmates are much closer to him.
More such stories of children and their problems, is what Apni Shala aims to address. A team of three – Amrita Nair, Anukriti Goyal and Swetha Ranganathan, all passionate about education and all three being alumni of TISS, Mumbai – came together and formed Apni Shala in 2011. Initially, the team started with the idea of setting up a library and building skills through stories, when they realised the potential of other potent media such as games and drama. "Our project was to set up libraries and we did that. But once we did the need assessment, schools expressed a need for Life Skills Education (LSE). And thus, we have now started providing the same to the schools we work with," says Anukriti, who looks after finances and fund-raising for the start-up.
Apni Shala's LSE programme has modules based on various life-skills prescribed by the WHO, such as making responsible decisions, teamwork and co-operation, solving problems, understanding emotions etc. These modules are facilitated by all three team members; even while each of them looks at separate aspects of the programme like design, content, fund-raising, strategy, communications etc.With the LSE programme running in three BMC schools and three community centres, Apni Shala works in Sion, Chembur, Oshiwara, Colaba, Worli and Reay Road. Their team also consists of an advisory board of curriculum consultants, psychologists and experts. They get funded through various grants.
Why Apni Shala?
Why do we need life-skills building in the first place? "In theory, life skills help build positive attitude. And thus, when we take it to practice, the skills learnt can be used in behaviour. So, we are aiming to provide an environment where a child can get better skills to face situations. Thus, LSE becomes important as more skills in a child's environment can have a better and positive impact on his or her life," says Swetha, who looks after communications, monitoring and evaluation of the programme.The need for LSE also stems from the fact that mainstream education overlooks the need for children to express and enjoy learning. Take the story of Sunita, who studies in a BMC
school and who lives in a hostel, away from her parents. "Sunita was always disinterested in our programme, she was also shy and would not participate. But now she has become so expressive and enjoys drama," says Swetha.
She adds, "Yes, some of the schools do give a platform, but kids from many schools do not gain enough experience and exposure. These schools do not teach much about these life-skills. And thus, we want LSE to be incorporated well in pedagogy. Even though there are separate books now on life-skills, how much of it being used in schools really?" 
The challenges
As a start-up, they are looking for more manpower, on all three fronts – administration, front-end and organisation.
Also, one session in a week for one school is a frequency that worries the team. "Although something is better than nothing, we still have to make our programme spread over a week rather than just a weekly one," says Swetha. This becomes a challenge as "many of the schools do not consider the programme as 'academic' and thus it becomes a challenge to convince them."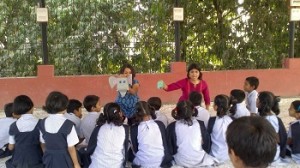 The team also feels that it becomes challenging to quantify the impact made by the programme, in front of funders. "To what extent can we quantify? Moreover, our assessment is based on observations. We try being as objective in our observations as we can, " says Swetha.
In the pipeline…
Though the LSE programme is their core offering, Apni Shala plans to get into training teachers for facilitating life-skills and delivering the same through the existing modules.
They have also launched merchandise comprising bags, mugs and diaries which have quotes on life skills printed on them, and Do-It-Yourself (DIY) kits for children. "Besides fund-raising, these products are aimed at creating awareness among the general public about life skills and their relevance in the lives of children," says Anukriti.
While they are based in Mumbai, Apni Shala is also looking for collaboration in remote areas. It recently conducted a life skills workshop in Anandwan School, Chandrapur district in Maharashtra.
To understand the impact of their work better, Apni Shala is also thinking of ways to engage with the parents of the kids, to get a better sense of their work.
Apni Shala will conduct a workshop on 'Interactive theatre' for children at the Kala Ghoda Festival on February 7 from 5.30 to 7 pm at The Museum Gardens. To volunteer, share ideas or give expertise on building the start-up, visithttp://www.apnishala.org or call them at +91 8454822690.
(Pictures courtesy Apni Shala)