Deal with it
Published on June 9th, 2014
0
A dream football space in Borivli's backyard
'Feet For Foot' initiative seeks citizens' help in setting up artificial grass for young footballing talent to train on, at Borivli.
by The Editors | editor@themetrognome.in
It sees several budding footballers train on its premises regularly, and is a popular sporting hangout for children and adults alike. But now, the Vintage Football Club ground at IC colony Link Road, is embarking on a very special mission – to install artificial grass on about 4,000 sq feet of the ground's surface for young footballers to train on. This, believe its patrons, will go a long way in training young talent to play on an international stage.
The initiative, titled 'Feet for Foot', is asking for donations of Rs 999 per square foot of the proposed area to be developed, and is slated to be fully operational by December this year. Once operational, this will be Borivli's only international-level football training space.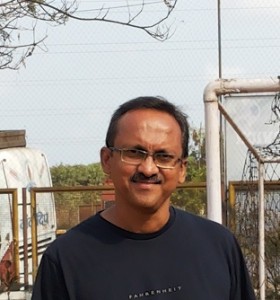 Says Conrad Pinto (50), one of the coaches at the ground and part of the initiative (in pic on left), "The ground currently has natural grass, which is not very good for playing on. What's more, the grass dries up and withers away in the summer months, so the surface becomes very hard, especially with the gravel lying exposed. It is essential to train young talent on artificial grass, which will help prepare serious footballers for the international stage."
What's at stake
Children from the neighbouring Ganpat Patil Nagar slum play at the ground, as do others from adjoining areas. "The Club runs free training camps for children in the 6 to 9 years age group, with one coach catering to about 25 children per camp," Conrad explains. "We are especially tuned in to children from underprivileged backgrounds – if the child is willing to play, we ensure we put a ball to his foot."
The ground was initially in a shambles – it doubled up as a debris dumping ground and parking space for buses. "We got it cleared up in phases and then covered it with mud. We needed about 290 trucks of mud to layer the 8,155 sq metres of total area," Conrad explains. "We formed the Vintage Football Club about 10 years ago. There are four trustees and currently 200-odd members, but over 1,000 parents are also active supporters. We impart training for free, and only charge corporates or professional teams wanting to train at the ground," he adds.
Once ready, the ground will cater to the suburb's urgent need for a world-class training space. "The costs of preparing such a facility are enormous," says Wilfred Fernandes (44), also associated with the Club. "India needs training at the grassroots for football. See the current condition of football training in the country – it's pathetic. Our children should be trained to represent India. Football instills confidence and team spirit, and we are always working towards reaching more and more children. Our activities here are driven by passion, not commerce – we never let the ground out for events or weddings or rallies. We are proud to say that since we have been associated with the ground, it has been used only for sporting activities," he beams.
The costs involved
The cost of installing artificial grass is enormous, and they've worked out the total cost to about Rs 40 lakh for about 4,000 sq feet of area. "We cannot possibly cover the entire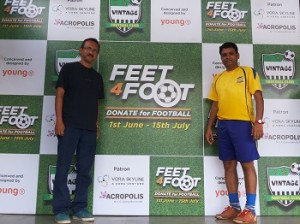 ground, because that would be too expensive," Wilfred says. "Besides, we plan to develop the other portions of the ground for separate activities – a tennis court at the back, a walking track, a senior citizens' space, a small play park for children. The football area will be at the centre, and will be cordoned off with nets," he explains.
But why launch the initiative now? "We started the project on June 1," he says. "Currently, there is a lot of hype around the upcoming football World Cup in Brazil, and interest in the sport is at an all-time peak. We will wind up the collection (of funds) process by July 15, when the World Cup will end," he adds.
Already, donations have started coming in. "We've got donations from all over Mumbai, as well as from Delhi and even Muscat. Till date, we've managed over Rs 3.2 lakh from June 1, when we launched the initiative," Conrad says. "Several more people have committed funds for the cause. One gentleman works in a company that manufactures lighting equipment, and he has pledged that the lighting for the ground would be done by his company. Even our trustees are donating money. Help is coming from everywhere," he says.
The Club will shortlist a vendor by a tendering process in August this year, and the actual work of preparing the ground and laying the grass should be finished by November. "We hope to be fully operational by December 2014," Wilfred signs off.
Do you want to donate for 'Feet for Foot'? Log on to vintagefeet4foot.com or check out their Facebook page at www.facebook.com/VintageFootballClubMumbai for details. Call 9022420053 for more information.