Beauty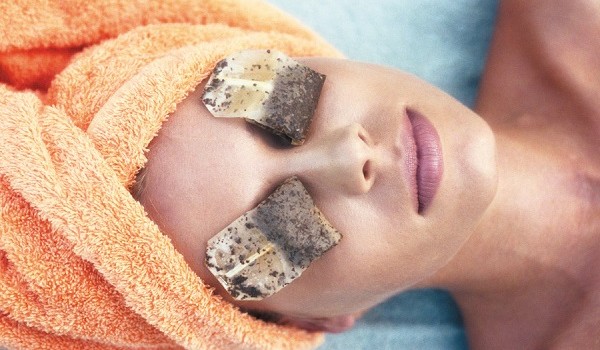 Published on May 10th, 2013
2
Six home remedies for puffy eyes
Wake up looking like you spent the night in a pub? Take our six-step home cure to treat your peepers.
by Beverley Lewis
Swollen eyes can not only alter your looks, but also cause others to misinterpret your lifestyle. A little insight, however, can help determine the cause for marshmallow eyes, and the six home remedies outlined here, can make them very simple to treat.
Bag 'em: Teabags can help soothe puffy and irritated eyes as they not only contain powerful antioxidants, but they also contain anti-irritant properties. To get rid of the puffiness, place moist tea bags over your eyes.
For this, first soak the teabags in hot water for a few minutes and then take them out. Allow them to cool down to a warm temperature. Then, lie down on your couch or bed and place the tea bags over your eyelids (as shown in cover pic) and cover them with a soft cloth. Leave on for about 20 minutes, after which you will notice that the swelling around the eyes has reduced a bit. Do this every day and watch the puffiness disappear.
Grab some H2O: The easiest way to get rid of puffy eyes is to drink enough water. Try and drink at least eight to ten glasses of water each day. When the body is well hydrated, there is less chance of water retention, which can cause your eyelids and other parts of your body to swell. Water will also help flush out toxins from the body. Along with increasing your intake of water, also try and reduce the amount of salt you eat and avoid sodas and coffee, as they cause dehydration. Coconut water is also a great for curing puffy eyes, as it keeps the body well hydrated and flushes out the kidneys.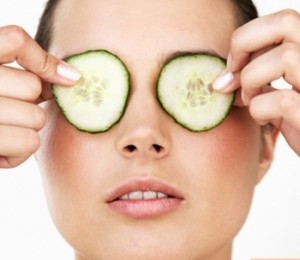 Be cool: Chilled cucumber slices are perfect for treating puffy eyes. The enzymes and the astringent properties present in cucumber help reduce inflammation. Chill slices of cucumber in the refrigerator for about 10 minutes. Then, place the cold cucumber slices on closed eyes for around 10 minutes or until the cucumber becomes warm. Repeat the process several times a day. This remedy will also help you get rid of wrinkles around your eyes.
Mrs Potato head: Grate a mid-sized potato and place it in a clean cheesecloth and tie it up. Now place this makeshift eye pack on your eyelids and leave it on for 15 minutes. Do this several times a week and you will notice a marked difference.
Get egged: Egg whites have got skin-tightening properties that can help reduce puffiness. They are also good for preventing wrinkles. Place two egg whites in a bowl and whip them until they get nice and stiff. Next, add a few drops of witch hazel to the mixture. Witch hazel is not only good for reducing puffiness, but it also acts as a natural skin-tightening astringent.
With the help of a brush – or you could use your fingertips – gently massage this mixture under the eyes and allow it to dry before washing it out. This remedy will not only tighten the skin around the eyes, but it will also make them look less puffy.
Spooning works: Take five to six metal spoons and place them in your refrigerator for 10 minutes. Next, take out a cold spoon and hold the rounded portion against your eye for a few minutes until the spoon becomes warm. Then, quickly replace it with another cold spoon from the refrigerator.
Keep repeating this procedure until you go through all the spoons in the refrigerator. This will not only help to tighten the skin around your eyes, but will also help relax the blood vessels in the eyes and decrease puffiness.
Beverley Lewis has written for beauty magazines and has amazing tips to share. If she's missed a tip you've tried for puffy eyes, tell her about it in the comments section below.
(Pictures courtesy hudabeauty.com, www.healthyskinsolutions.com)