Beauty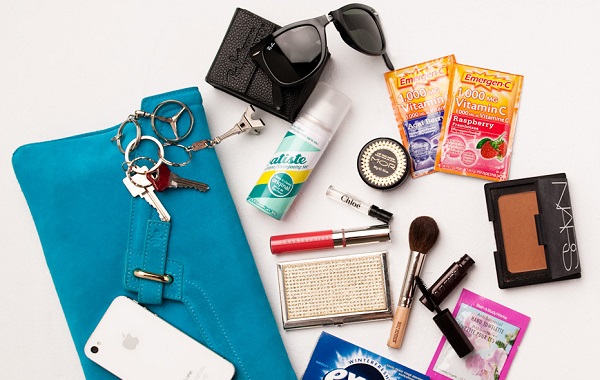 Published on December 13th, 2013
0
10 must-haves for your clutch
A handy list of 10 beauty essentials and practical items that your clutch must have, especially in the party season.
by Ankita Pathak
This is the season for holidays and parties. But hours of eating, drinking, and making merry can have an ugly side—smeared mascara, smudged lipstick, unflattering shine on the face. So how do you repair the damage quickly?
We've found a pretty solution: ten beauty essentials tiny enough to tuck into your clutch, perfect for retouches, refreshes, and any fashion or beauty emergency.
Concealer: If your concealer fades before you do, stash this easy-to-use stick in your purse. It camouflages dark circles, redness, and zits in just one swipe.
Perfume:  After a night of dancing, it's perfectly natural to want to reapply your perfume. And we love anything that comes in a small package or is a solid perfume!
Band-Aid: Are those high heels of yours giving you a blister? You don't need to sacrifice style if you have the right first aid materials.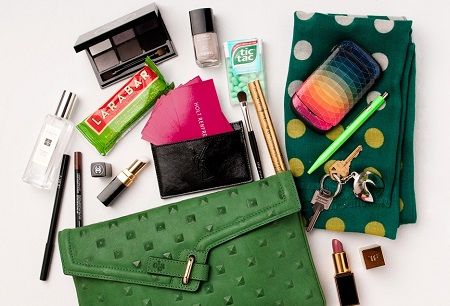 Compact: Want to check your eye make-up in a pinch? Make sure you have a compact handy. There's nothing worse than oily skin, but luckily, compacts will take care of it with one quick swipe. Just make sure you don't cake it up!
Lipstick:  When you're busy having fun, you don't have to worry about your lip colour rubbing off. Carry the lip colour you're wearing that night for an instant dash of fresh colour.
Bobby pins: Flyaways, sticking-out strands and out-of-place bangs can ruin your look, and your evening. To keep this from happening to you, toss a few bobby pins into your purse – they're easy to carry and extremely useful in a hurry.
Comb: A mini pocket hairbrush is just as effective as its full-size counterpart. The boar and nylon bristles     tame static and smooth snarled strands. You can opt for a foldable one to make extra room!
Gum: Because it tastes good and smell good, too. A little spearmint is a nice way to offset the smell of your martini-soaked tongue, or the garlic stink after a Chinese takeaway.
Quick snack: It could be a chocolate or some salty biscuits; they are perfect to carry around in case of a hunger emergency. It's instant energy and a yummy fix for all hunger games!
Emergency cash, ID proof and business card: Carry some extra cash in case you need to take a cab home. It's worth having back-up cash in case you can't find an ATM. An ID proof is a must-carry. At the very least, so that whoever finds your clutch that you left at a party can track you down and return it the next day. Carry your business card with you because you never know who you might just bump into!