Achieve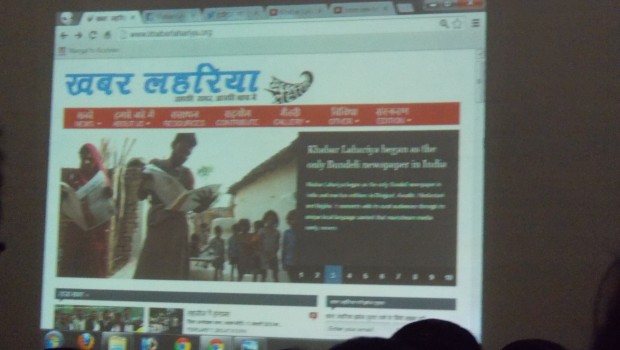 Published on February 14th, 2013
0
Rural journalism goes Web 2.0
The Khabar Lahariya newspaper, born in the Hindi hinterland and run entirely by women, launched its website in Mumbai yesterday.
by Nidhi Qazi
What happens when a group of 40 women journalists come to the city for the launch of online edition of their newspaper Khabar Lahariya? A platform full of experiences, energy and enthusiasm opens up for discussion.
Wednesday witnessed women empowerment when the all-women's team of the publication travelled from the districts of Uttar Pradesh and Bihar to Mumbai. From impact journalism to personal histories and journeys, they all had something to say.
Take the case of Meera, Editor of the paper, and who hails from Banda district, UP. She narrated how she is now at ease with the big machine that is the computer. In her own words, "I never thought I could operate this machine. In fact, I always used to think that something would go wrong if I touch it. But that fear is gone. We use computers to search for information, making pages and what not."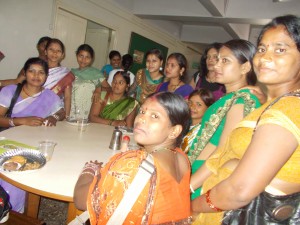 For the uninitiated, Khabar Lahariya is a weekly newspaper produced by women from the marginalised sections of society. It is the brainchild of Nirantar, an organisation that works towards empowering women through education.
Launched in 2002 in Chitrakoot district of UP, the newspaper has expanded to Bihar and today runs six editions. The editions are from five districts of UP – Chitrakoot, Banda, Lucknow and Benares and Sitamarhi district in Bihar. The newspaper is published in regional languages such as Bhojpuri, Awadhi, Bundeli, Bajjika and Hindustani. With a readership of 80,000, the paper has its presence in 600 villages and sells for Rs 2.
With its print edition well in place, what made the newspaper launch online despite the fact that villages don't have easy Internet accessibility? "The idea behind the online edition is to not just spread the newspaper, but the phenomenon that Khabar Lahariya is," said Meera. "Apart from visibility, the online edition will also provide information on various rural developments and news which the mainstream media doesn't report much," she adds.
Khabar Lahariya uses social media marketing as a major tool. From Facebook to Twitter, they use it all. And all this is managed by the women themselves. The reporters are given an ICT workshop which includes training in the use of the Internet.
The newspaper depends mainly on funding from such sources as the Dorabji Tata Trust and UN Democracy and Equity Fund, though a sustainable model is what they aim for in the long run. Their margin for advertising revenue is low and they also get funded through the various awards they win.
As for the recruitment of staff, the team gives out ads. "The prospective reporters are selected after a formal interview process. We then train them for a week in writing, editing, video-making, photography and page-making," says Kavita, who joined the paper in 2002.
Short stories
For Shanti, one of the paper's oldest reporters and who has been associated with the publication since its inception, "It's a privilege to have travelled so far when all others from my community (she belongs to the Kol tribe of UP) haven't even dreamed about it." She also takes pride in the impact the paper's stories have made. "Our efforts for three months resulted in the suspension of a police officer who refused to entertain us 'women' in the case of violence against a woman," informs Shanti. It is this attitude of 'How can women be journalists?' that bothers people around, she adds.
Susheela, a Benares-based reporter, talks about personal issues. "My mother-in-law didn't approve when I decided to work in 2012. She boycotted us and eventually I, my husband, three kids and husband's grandmother had to leave our family house. But mother-in-law imposed a condition that if I give her Rs.3,000 every month, she would accept us back in the house. I refused." For Susheela, her husband has been a big support.
For many, reporting gives a chance to explore and experience all that is around them. From MNREGA payment issues, pension hassles to civic problems, women's issues and success stories, these women report it all.
Khabar Lahariya is now live on www.khabarlahariya.org.
(Pictures courtesy Nidhi Qazi)