Achieve
Published on February 6th, 2013
0
'Onida devil' creator felicitated
Maharashtra State Government felicitated veteran ad man Gopi Kukde yesterday for his contribution to Advertising in 53rd State Art Exhibition.
For several years starting from the 1980s, Onida TV sets were synonymous with the devil. The devil featuring in their ads, that is. Apart from the catchy 'Neighbours envy, owner's pride' tagline, the devil really made the product stand out amongst its peers back then.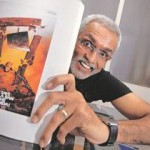 The creator of the Onida devil, Gopi Kukde, also dabbles in ceramics. Taking into account his immense contribution to the field of advertising, the Maharashtra Government felicitated him yesterday at the 53rd edition of the State Art Exhibition. Gopi was felicitated at the hands of the Minister for Higher and Technical Education, Rajesh Tope.
Every year, the Government of Maharashtra conducts a competition within the art circle of the State, in two categories – professional, and student. The awards ceremony felicitates a senior artist from any of art disciplines – Gopi was selected this year.
Gopi has worked with such ad agencies as Everest, Clarion, JWT and Chaitra, and also founded 'Advertising Avenues' in 1982. He has worked with such brands as Asian Paints, Glaxo, Paan Pasand and Hawkins. The tagline he created for Paan Pasand, "Shaadi, aur tumse? Kabhi nahin!" became an instant hit in the country. He is currently a Committee Member on the Communication Arts Guild and owns and runs a ceramics studio in the city, named Useless Ceramics.
(Picture courtesy livemint.com)