Achieve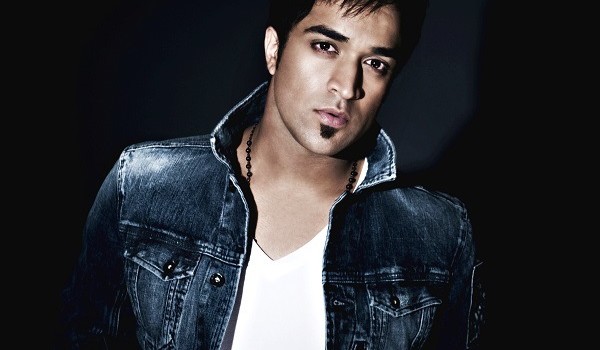 Published on November 7th, 2013
0
Navin Kundra sings for British Royalty, Bollywood next?
As Prince Charles and Duchess Camilla tour South Asia, singer Navin Kundra shares the excitement of singing for British Royalty.
by Salil Jayakar
British singer and songwriter Navin Kundra is a huge name in the UK – his remarkable career thus far includes performing with (and in front of) the Who's Who of the Indian and international music scene, setting a Guinness Book Record by raising £10,000 for the British Asian Trust, and most recently, performing for Charles, Prince of Wales and Camilla, Duchess of Cornwall at the St James Palace on October 24, 2013.
It was about this latest performance for the British Royals that Salil Jayakar spoke to Navin about. Excerpts from the interview:
Salil Jayakar (SJ): Performing for the Royals… what was the experience like?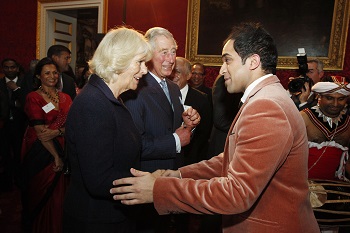 Navin Kundra (NK): It was a dream come true! Being invited by the President of the British Asian Trust to perform for Royalty is just one of those things that you never expect to happen to you, and it happened to me. Definitely the biggest highlight of my career so far! It was a stunning experience and one which I will treasure for the rest of my life. Yes, I was extremely nervous.  I think anyone would be, and perhaps more so because I knew I was going to be singing in Hindi and Punjabi which are languages they aren't most familiar with.
SJ: How did the opportunity come about?
NK: In 2011, I was invited to become a celebrity ambassador for the British Asian Trust (BAT), a charitable Trust founded by HRH The Prince Of Wales. That year I helped the Trust raise £10,000 by breaking a Guinness World Record for the biggest Bollywood dance to my song 'Mehbooba'. Ahead of their tour of South Asia, the Royals held a reception party at St James's Palace and the President of the Trust asked if I would perform for them.  My first reaction was, 'Is this for real?'
Then the President casually added, "Navin, I don't mean to add any pressure but last year the Royals did a tour of Australia and we got Kylie Minogue to perform at their pre-tour reception party…" Yes… I felt the pressure at that point, but I also knew that an opportunity like this only ever comes round once in a lifetime so I said yes as I jumped up and down with excitement!
SJ: You asked Prince Charles to call the Duchess of Cornwall 'Mehbooba'. Were you worried at all about how they'd react?
NK: (Laughs) This was not at all planned so I had no time to think about how they would react. It was completely spontaneous and happened because I saw that they were enjoying my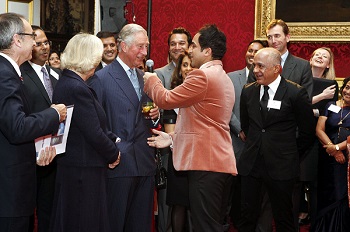 performance and responding positively to the music, particularly during my rendition of the Kishore Kumar classic, 'O Mere Dil Ke Chain'.  I chose that song because it is a Bollywood classic, and as the first British Asian artist to sing in St James's Palace, I was representing both my South Asian and British roots so I wanted my performance to capture the versatility and riches of our culture and music, too.
After that song I offered to add to Prince Charles' Hindi vocabulary saying it would help him whilst on tour. Indeed, everyone at The Palace burst into laughter when I said the word 'Mehbooba', and when Prince Charles said the word back with perfect pronunciation, everyone cheered (see pic on right).
SJ: What did the Royals say to you post the performance?
NK: They were very complimentary and told me that I have a stunning voice and enjoyed my music. They then asked me what 'Mehbooba' meant to which I replied 'beloved'. I could see the relief on the Royal couple's faces after I told them the English translation and I joked, "See… it's not as bad as it sounds!"  They were very charming, thanked me for entertaining them and their guests, said they hoped to see me perform again and wished me good luck for my career. A few days ago I received a 'thank you' letter from them, which is now my prized possession!
Watch 'Mehbooba' here:
SJ: Many British Asians have made their mark in Bollywood over the years. Do you have any Bollywood aspirations?
NK: Bollywood is one of the biggest foundations of my music base and I would love to work in the industry and have my music featured in the movies. If I was to get the right opportunity, I would definitely take it up and am confident that I can bring a new fresh sound and voice to the scene. I plan to visit Mumbai in early December this year, so watch this space.
SJ: Famous last words…
NK: 'Dare to begin' because I am living proof [of the fact] that anything is possible. Five years ago, I never thought that I would have the opportunity to represent South Asians all over the world and sing for Royalty, I never thought that I would achieve six number one singles and break a Guinness World Record, or that I would be awarded the 2013 'Entertainer of the Year' in the Houses of Parliament. All of this has happened because I took those first steps towards building on my dream and anyone can do it.
You don't need to have a huge record label behind you, tonnes of financing or be related to the industry you want to break into, you just need laser focus – and that applies to any industry, not just music or entertainment.
Navin Kundra's new single 'PA NA NA' releases on November 7, 2013 and is available to download on iTunes and other digital stores. For more on Navin, check out his digital presence at www.navin-online.com or visit his FB page at www.facebook.com/navinfanpage or tweet to him @NavinKundra.
(Pictures courtesy Navin Kundra)