Achieve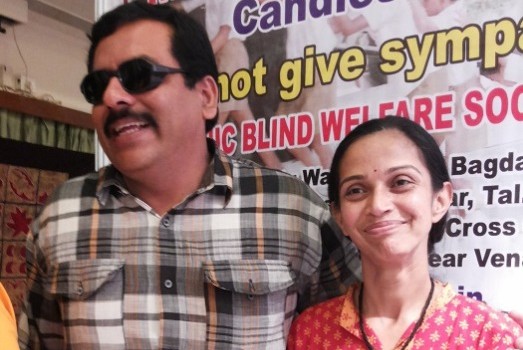 Published on September 30th, 2013
1
Love by candle light
This visually-challenged man won over a sighted woman and together, they run a candle-making business that employs other blind people.
by Vrushali Lad
They met over 10 years ago, when he was peddling scented candles that he made himself, in a corner of the market at Mahabaleshwar. A Mumbaikar on holiday to the tourist spot, she promised that she would come to help him sell candles while she was still there. Eight days later, she asked him to marry her.
"I was stunned," says Bhavesh Bhatia (43), founder and proprietor of Sunrise Candles, an enterprise that began in a small room in Mahabaleshwar and is today headquartered in the same town in a professional manufacturing setup. "Several sighted people would come and help me out of sympathy, but this brave girl wanted to spend her life with me because she believed in me."
The girl in question – Neeta (40), a Bhayander resident who had to work on convincing her family to let her marry Bhavesh – is today the backbone of a flourishing candle business and wax museum that employs 85 visually-challenged persons from the State and outside. "It was hard work at first, but I never lost sight of the fact that this was a man who was making a living despite his disability. He wanted to reach out to others like him, and I wanted to share that dream," she smiles.
Small beginnings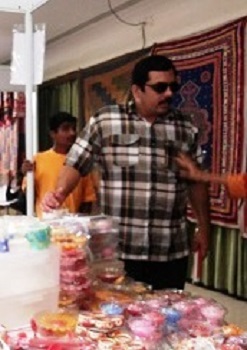 Bhavesh was not born blind, but lost his eyesight gradually after a childhood illness. Not one to sit and lament his fate, he worked odd jobs to make money, but it was his stint at the National Association for the Blind's (NAB) candle-making course in 1999 that changed his life.
"I learnt how to make plain white candles at NAB. Dyes and scents were extremely expensive," Bhavesh remembers, revealing that in those days, he didn't even have the money to buy himself a pair of slippers. "I saved Rs 25 every day from selling candles. I had a small board on which I set up candles and sold them at the market every day."
This was how he met Neeta, and after their wedding, the couple lived in his small home in the hill station town. "We took a Rs 15,000 loan from Satara Bank, where NAB had a special scheme for blind people," Neeta says. "From this, we purchased 15 kilos of wax, two dyes and a hand cart for Rs 50."
Bhavesh would make candles all day, and there weren't enough utensils to even melt the wax in. "I began to worry that the same vessels I cooked food in were used for candle-making," Neeta laughs. Ever the optimist, she procured a two-wheeler to ferry her husband and his wares across town. Bhavesh first set up a table, then a larger stall. She later learnt to drive a van, which made things much easier.
World of light
Today, Sunrise Candles purchases wax from the UK, and has developed over 9,000 designs of plain, scented and aromatherapy candles. "We train blind people so that they can understand the work and not just help us at our unit, but some day go back home to set up their own business," Bhavesh explains. "Neeta trains a lot of blind girls, and does all the work for the enterprise such as banking, handling the paperwork and managing our workshops and demonstrations." With his team of helpers and volunteers, Bhavesh travels across India for exhibitions, delivering motivational talks, taking candle-making workshops and even imparting free training in places such as colleges and cancer associations. The couple has also set up a wax museum and a gymnasium for blind people at Mahabaleshwar.
From the days when Bhavesh didn't have the money to purchase wax and dyes, to today, when "even 25 tonnes of wax is consumed in a day," Sunrise Candles has indeed come a long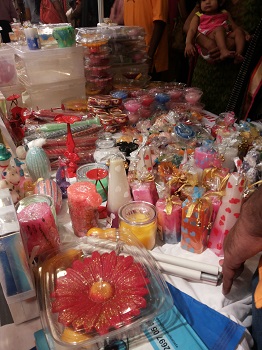 way. "It has been a wonderful journey with Neeta at my side," Bhavesh says. "I wanted to prove that being blind is not the end of the world. It is not just about being employed – it is about having a sense of achievement through one's work."
Bhavesh is now working on creating the world's tallest, unbreakable candle – to stand at 45 feet – for a world record. "The current record is for a 22-feet high candle made by a sighted person in the West. Our candle will be made entirely by my visually-challenged brothers and sisters. There is no question of whether we can do it – the question is, how are we going to do it the best possible way?" he grins.
If you want to order candles, or learn candle making, or wish to invite Bhavesh Bhatia for a motivation talk, contact Sunrise Candles at +91-98506 00634/94220 34729. You can also look up the company at www.sunrisecandles.in or write to them at info@sunrisecandles.in.