Achieve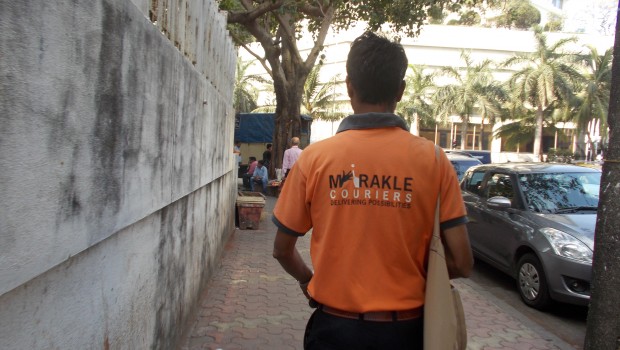 Published on January 4th, 2013
0
It's a Mirakle!
This courier company employs hearing and speech impaired persons, thus giving them a good shot at building a stable future.
by Nidhi Qazi
It's a pleasant morning. Mumbai is in its usual busy mode – office-goers rushing to their respective workplaces, food vendors  serving breakfast, taxiwallahs ferrying people to work, youngsters chirping at kiosks. A lot of early morning energy that the city bustles with is at display. Amidst all this, there is another place that's as busy – the office of Mirakle Couriers.
Cut to its Churchgate branch office and one finds all the employees busy sorting couriers, Googling destinations for delivery. These are employees busy making their lives meaningful and busy building their lives by overcoming their physical weakness: hearing impairment.
Started in 2010 with just one employee, Mirakle Couriers today employs around 44 hearing and speech-impaired adults in its centres at Andheri and Churchgate. While men are allocated areas for delivering in Mumbai, women look after the sorting, data entry and record-keeping. Although there is no qualification needed, the company looks for those with a basic understanding of English.
I meet Rinku, a young chap who hails from Gorakhpur, Uttar Pradesh, who is in his late 20s. Rinku's designated area of delivery is Nariman Point. So I set off with him on his rounds.
The moment we step out of the office, he uses sign language to explain the surrounding areas. After his explanation, I now know the LIC building, the Air India office, Nariman Point, Fort city, the various public parks, prominent office buildings, and other landmarks. In between, I offer him a pen and paper when I'm unable to understand certain things, but he makes it a point to not use the proffered materials. Instead, he tries and succeeds in expressing his point using sign language.
We reach our first destination. The receptionist and Rinku exchange smiles. The former accepts the package from Rinku, and we move to the next destination. Rinku walks swiftly, and it becomes difficult to keep pace with him. I take a deep breath and follow him. "You like Mumbai?" I ask, and Rinku nods an excited 'yes', explaining, "I can't go back to my village. There is nothing to look forward to there."
The company follows Indian sign language for all its daily transactions, ranging from pick-up, sorting according to pin codes, and delivery. The management and operations are also sign language-based.
An arts graduate, Rinku works with Mirakle six days a week. How has Mirakle changed his life? He smilingly replies, "I am confident now. I feel good about what I am doing."
From there, we walk to some more places in the Nariman Point area, amid the hustle bustle, amid the sound of silence between Rinku and me. "When do you plan to get married?" I ask, and he chuckles. Using the signs which spell out 'love', he expresses, "When I find love."
We reach some more destinations with ease. At one point, Rinku gets stuck, but only to find help in the Google Maps. He takes out his mobile phone and finds the directions to an office where he has to deliver the last courier.
Done with all the deliveries, we now head back to the office. And it's time to say goodbye to Rinku and his colleagues.
What about the competition in the market when big players like Blue Dart, DHL exist? "We do have a very strong competition," says Nimesh Pawar, Operations Manager, Churchgate branch. In fact not all is hunky dory when it comes to dispelling clients' cynicism towards deaf and mute. "People do doubt if deaf people can deliver on time; whether they can deliver at all," he adds.
But all this cynicism is countered and myths are broken as Mirakle does what it really stands for – Delivering Possibilities.
(Picture courtesy Nidhi Qazi)