Achieve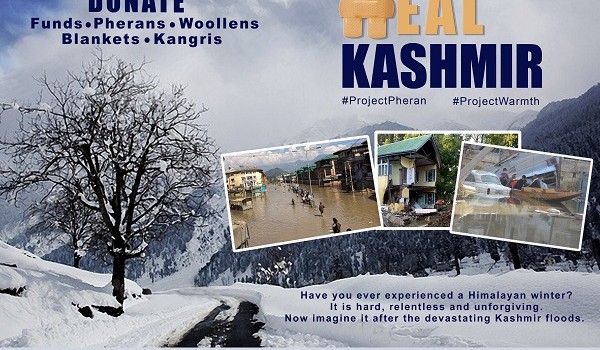 Published on October 23rd, 2014
0
How a few youngsters are looking to heal Kashmir
A group of youths initiated 'Project Pheran', to help those devastated by Kashmir floods deal with the impending harsh winter.
by Mamta D | @silverlightgal on Twitter
The natural beauty of Jammu and Kashmir is known all over the world. Movies, books, songs, poetry – all of these have celebrated its charms and scenic landscapes.
But the Kashmir of today is vastly different. Following the floods that wrecked havoc in the region September 4, 2014 onwards, the valley has been a site of devastation. Villages have been washed away, homes submerged, lakhs of people rendered homeless and property worth hundreds of millions has been destroyed.
In the last month, rescue and relief efforts by various local and non-local groups have managed to save many a life in the flood-ravaged state. It will be a long time before the former glory of Kashmir is fully restored. What is of immediate concern now is the impending winter.
Hence, to combat the challenge of providing warmth to the flood-affected people, a group of enterprising youngsters have come forward and set up an initiative 'Project Pheran/Project Warmth'. Through this project, they are collating funds from all over the country and abroad and providing needy persons with warm clothes, pherans (long cloak-like Kashmiri garments), blankets, coal and so on.
The group is quite small, comprising six persons who are not even based in the same city but who scattered across India. All of them are students of higher education in India and abroad, but their hearts and willpower are enormous and their conviction that they will make this project succeed is commendable. The group, which calls itself 'Heal Kashmir' connected through social media after the floods, is now a close-knit group and collaborates excellently.
The motley crew comprises Anup Achuthan, a senior finance professional based in Mumbai, Zayd Qureshi who takes care of on-ground distribution in Srinagar, Ruhan Naqash (from Chennai, Burhan Mir (Punjab & Haryana), Armish Riyaz (Punjab), Yasir Khan (Delhi, NCR) and Saqib Nazir (Bangalore) – they are the coordinators in various States across India, garnering funds and necessary materials.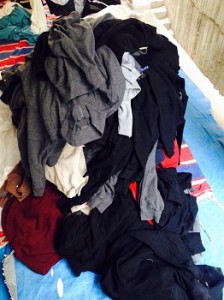 The estimated initial expenses of the massive project is around Rs. 8 lakh using which they will  purchase the fabrics and get it stitched by local tailors who know the requirements of the region well. A textile factory in Sonipat has been identified which offers fabrics at concessional rates.
Says Anup, "We must do all we can to make sure people who survived the devastating floods do not succumb to the harsh winter due to lack of warm clothing and bedding." He hopes that people of Mumbai will come forward with generous contributions to this project in monetary donations and kind. With lack of godowns and storage spaces, these student volunteers are storing the collections in their own apartments at the moment.
For Yasir, who is also the founder of J&K Disaster Helpline and Relief Organisation, it was a call for rescue that changed his fate. He and two other Kashmiri youths were working in their air-conditioned offices in Delhi when one of the team members, Iqbal Buchh, received a call from his friend who was stranded in his house due to rising flood waters. Yasir overheard the conversation and decided to call one Mr Singh to rescue the youth. After arranging for the youth's rescue, Yasir had a brainwave – if he and his friends could manage to save one life, they could also try to save many more.
By then, phone lines on ground zero in Srinagar were almost dead, and network connections had fizzled out. Rescue operations had faced stumbling blocks at many areas. That's when Yasir Khan, Iqbal and a third boy, Rouf Bhat, took two months unpaid leave from their jobs to start a helpline. The idea was to pave the way for smoother rescue operations.
"We started with a makeshift helpline in our apartments by posting our numbers on Facebook so that people could get in touch with us to rescue their families and friends. Within 10 days, we attended to over 45,000 calls, Whatsapp messages, and text messages. We were so engrossed in receiving and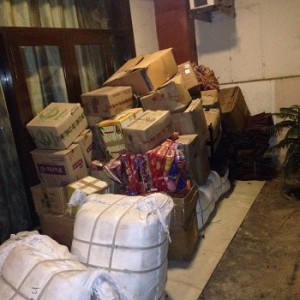 attending to rescue calls that we even forgot that our own families needed to be rescued. Fortunately, we soon learnt that our families were safe and sound," recalls Yasir.
From rescue ops, the group has now progressed on their next mission – to provide warm clothes to the needy for the looming cold months.  As of today, J&K Disaster Helpline and Relief Organization is working in collaboration with Heal Kashmir for Project Pheran.
Armish says, "Mainly, we are collecting woollens, but if people donate other stuff, we accept that too. We have hired transport through a company in Delhi. They will deliver the materials to Srinagar by road. We are planning to put up collection centres in major colleges and universities across Punjab." The team is hopeful of starting distribution by early November.
The team coordinator from Bangalore, Saqib, has been in touch with the Kashmiri diaspora in the city. Long before 'Project Pheran' started, he coordinated with various others to arrange for relief collection and dispatch to Srinagar.  With time, he became part of the Heal Kashmir team.
If you wish to support Project Pheran/Project Warmth, write to healkashmir14@gmail.com, or on Twitter @healkashmir, or Facebook: healkashmir.