Achieve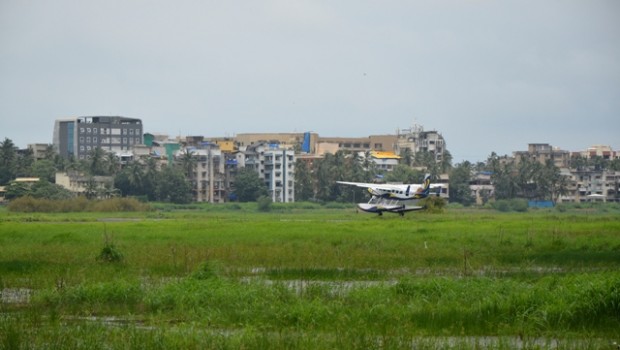 Published on August 26th, 2014
0
First commercial seaplane flight takes off from Mumbai
The Mumbai to Pawana dam flight is operated by MEHAIR in cooperation with the MTDC; multiple destinations are also being planned.
by The Editors | editor@themetrognome.in
Today, August 25, 2014, the Maritime Energy Heli Air Services Pvt Ltd (MEHAIR) and Maharashtra Tourism Development Corporation (MTDC) flagged off the first commercial seaplane flight from Mumbai to Pawana dam (in Lonavala). The seaplanes will eventually connect Mumbai with multiple state tourist destinations adjacent to four suitable water bodies, even though there are no runways at these destinations.
As of now, the flights from Mumbai to Pawana Dam are priced at Rs 2,999 per person, one way.
Speaking at the launch, Siddharth Verma, Co-Founder and Director, MEHAIR said, "It gives me great pleasure that the first seaplane service in the mainland of India is taking off from Mumbai. It is the first step towards covering India with a seaplane network over the next three to five years. I am sure Mumbaikars will find the service extremely useful and exciting and the service will become a vital cog in the tourism initiative of the State and both tourists as well as pilgrims will benefit from it given that its connecting tourist as well as religious centers."
The service is expected to save a lot of travel time for users, given that the aircraft will take far lesser time to connect two points, as opposed to road or rail journeys. The MTDC has entered into an understanding with MEHAIR to launch the service in the State by extending its full support. Jagdish Patil, Managing Director, MTDC, said, "These services will boost tourism greatly. Seaplanes will turn vacation destinations into weekend destinations. The fatigue involved in reaching these destinations will also come down drastically."      
The seaplane service is being launched in Maharashtra with Cessna 208 Amphibian aircraft (9 seater) and Cessna 206 Amphibian (4 seater). These two models can accommodate 9 to 4 passengers respectively. "This is a new and exciting mode of transport which will provide the last mile connectivity to those areas where there is no airport but are popular tourist destinations," Verma added.
(Pictures courtesy MEHAIR)