Achieve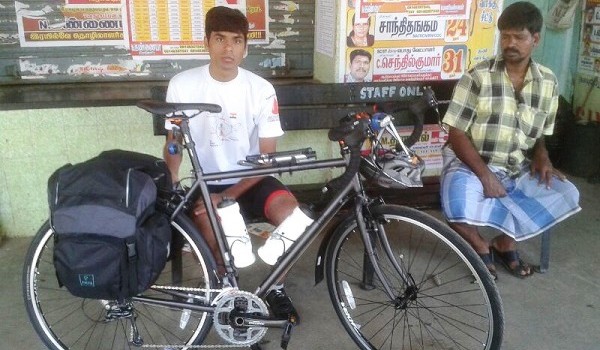 Published on November 22nd, 2013
0
A ride for a cause
There are bicycle riders and then there is Rahul Kumawat, who is riding all over the country for a cause.
by Mamta D
Rahul Kumawat (25) is a young design engineer at RNTBCI, who is undertaking a rather unusual, self-funded project: from November 20 to mid-December 2013, Rahul will go on a solo cycle expedition from Chennai to New Delhi, covering as many as 25 locations.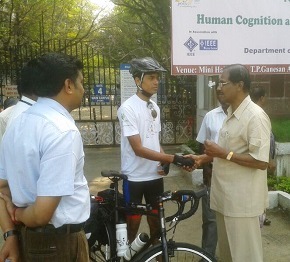 Why? Not to prove anything to himself or the world, or even to test his own endurance. Rather, the goal of the expedition is to promote awareness of several social causes that he feels deserve attention. From blood donation appeals to promoting palliative care for cancer patients and spreading awareness about a little boy, Arian's battle against Hunter Syndrome, Rahul Kumawat (or @Pedal_India as he is popularly known on Twitter), hopes to do them all.
It's not easy for a working professional with no additional funds and no sponsor to embark on such a mission. "But I have made up my mind and regardless of the fact that till the last minute no sponsor has backed me, I will fulfill my goal. My project is a self-funded one and all I have with me are the blessings of my well-wishers and friends," Rahul says.
Rahul will also be passing through Maharashtra. If all goes as planned, he will reach Mumbai on November 30 or December 1. Mumbaikars can meet him on his Mumbai leg as he cycles from the Gateway of India to Bhayander – they can meet, motivate, and if possible join him on his expedition.
Says Rahul, "I have been an active member of the Tamil Nadu cycling club and Chennai trekking club and Madras Randonneurs. Cycling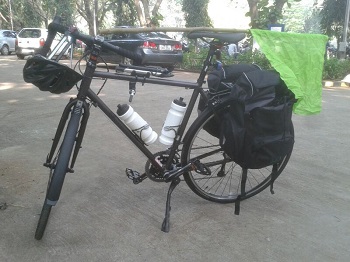 is one of my biggest passions and over the years, it has kept me healthy. Today I wish to channelise my passion for cycling into doing something good for society." Earlier, in 2012, he completed a ride of 800 kilometres in four days to raise funds for cancer treatment. Later, he completed BRM 200 km organised by Audax France. A BRM (Brevet des Randonneurs Mondiaux) is a long-distance, free-paced cycling event.
His solo expedition, which started two days ago, is aptly titled 'Ride Inside Bhartiya States' as he will be covering major Indian states during his epic journey. Though the full ride is primarily a solo one, Rahul wants to make the experience a participatory exercise by inviting people to sign up for a part of the ride. A boy has signed up with RIBS to ride from Bangalore to Tumkur. In the last one week, several others have signed up to ride along with Rahul.
While Rahul will be doing the actual physical task of cycling, supporting him behind the scenes is Team RIBS comprising Kuheli and a few others. Team RIBS will monitor and update his progress on various social media networks including Twitter and Facebook.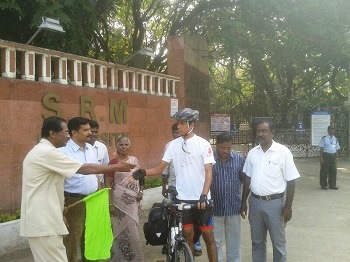 Route map:
– Beginning from SRM University, Chennai, Rahul first set out to Guduvancherry, then Vellore.
– From there, he will make his way to Karnataka, followed by Maharashtra and then Gujarat.
– From Gujarat, Rahul heads to Rajasthan and finally culminates his journey in the North of India.
If you are keen to participate in this mission, or know more about the cause Rahul's promoting or just want to ride along for fun, visit https://www.facebook.com/ribsbharat or get in touch with Team RIBS at ribsbharat@gmail.com.
(Pictures courtesy J Vijaykumar)