Hum log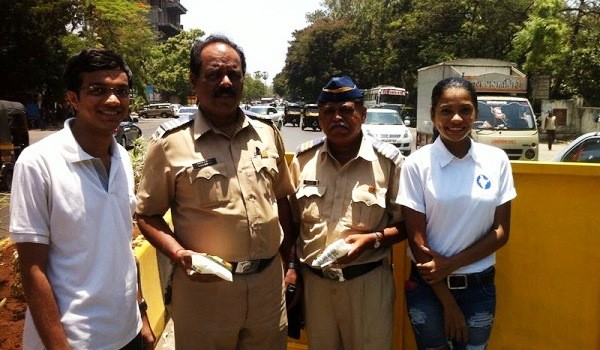 Published on June 4th, 2014
0
You know what they did this summer?
Discover Operation Pyaas – a small act of kindness that goes way beyond offering a stranger a pack of buttermilk.
by Mamta D | @silverlightgal on Twitter
Summers are normally harsh in Mumbai. This year, however, it seems like it's going to surpass all past records and go on to be the hottest summer in recent times. The blazing sun, the scorching heat, the sticky sweat that threatens to envelop you as soon as you step out into the outdoors is enough to make you reconsider your decision and head back into the cool interiors of your home.
Many of us reach air-conditioned cubicles well before the sun has started to show its muscle and leave after sundown and thus are spared the torture of facing the sun. Not all though, are so fortunate.  Traffic cops, postmen, gas delivery men, petrol pump attendants and their like have to be on their toes most of the day in the severe unrelenting heat. It is while thinking of these people that Operation Pyaas came to be born.
What it's about
SNEH Foundation, a Pune-based NGO looking to make a foray in Mumbai, initiated 'Operation Pyaas' as a kind and caring gesture for those who have no choice but to suffer the heat all day. The idea was to gather a few volunteers, purchase buttermilk (chaach or chhaas in Hindi/Marathi) in bulk, arrange for ice to keep them chilled and finally distribute them to these people.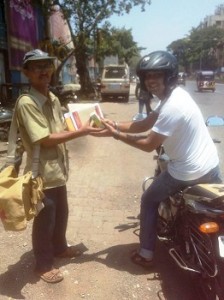 The idea sounded great – but its execution took time, effort, and hard work. Eventually, around 50 volunteers assembled at various points in Mumbai on a scorching Saturday morning, on May 24. They formed groups, discussed routes, divided the crates of buttermilk packets and tetrapacks amongst themselves and left on their mission. A mission of kindness. Of caring.
All this was not without glitches, for there were plenty.
Like, at the last moment, one of the key members of the group fell prey to a fever and couldn't even leave home. The others had to reach him to collect the crates from him. Another glitch was that though they'd been hoping to avoid buttermilk pouches (due to their possibility of leaking) and instead carry tetrapacks, their supplier let them down and could provide only pouches to them. Also, the number of volunteers was far less than the expected volume. Undeterred by these hassles and spurred on by one another's contagious enthusiasm, this motley crowd went to fulfill their day's mission.
While some groups were formed to cater to Central Mumbai areas like Thane and travelled up to Mulund, the other groups spread out on the Western suburbs of the city.
The traffic cops, roadside sweepers, and other men and women who were recipients of the pouches and packs were overwhelmed by this simple yet caring gesture. Some of them spoke to the volunteers with moistened eyes and offered them lunch, such was their feeling of gratitude. Because they understood this wasn't just about one day, it wasn't just about a packet of chilled buttermilk on a hot day, it was far beyond that. It was the thought that somebody cared about them, that they weren't invisible workers, and that we don't take them for granted though it may have appeared so until now. This was a token of appreciation and for that these people felt overwhelmed.
Spreading the joy in two phases
Eventually, the first phase of Operation Pyaas was a grand success despite all the initial setbacks. Buoyed by this, SNEH Foundation began plans for the second phase of Operation Pyaas which was held at various areas of Navi Mumbai on May 31, between 11 am to 2 pm.
All they did at first was to ask a few persons who had participated in Phase 1 of Operation Pyaas whether they would be willing for another such event at Navi Mumbai. The answer was a unanimous 'Yes'!
Next, they had to arrange for funds and more volunteers and take care of sundry other things like transportation and so on. It is here that they found an angel, in the form of Pravin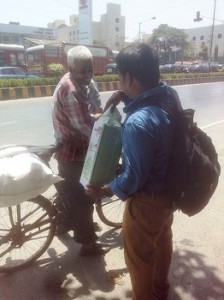 Tulpule, who likes to be known as Clown Pinto. He was just one man but with the energy and enthusiasm of a thousand. With his quick thinking and prompt planning, the vehicle and volunteer arrangements were put into place.
Next came the question of sponsorship. Here too, luck was in their favour. June 1 was being commemorated as World Milk Day. And when one of the friends of the President of the Mumbai Chapter of SNEH who had contacts with AMUL India got to know of the event, AMUL India quickly stepped up to sponsor as many as 300 chhaas packets for the noble cause. Thus, it was that for Operation Pyaas Phase 2, Clown Pinto facilitated a sponsorship of 300 chhaas packets and boundless enthusiasm of the volunteers.
The event on May 31 went smoothly, covering a wider reach than before, with the chilled chhaas packets being distributed to garbage workers, sewage cleaners and construction site labourers. Some of the spots where these workers worked were difficult to reach, yet there was never a moment's hesitation on the part of the volunteers. Accompanied by the AMUL personnel, the members of SNEH reached out to offer a cool sip of relief to Mumbai's hardworking people.
More such events are on the block for the near future. If you are keen to participate or contribute in cash or kind, please contact Abhijeet Prabhu 09833144949 or Swati Nanda 09561181831.
(Pictures courtesy Operation Pyaas)