Hum log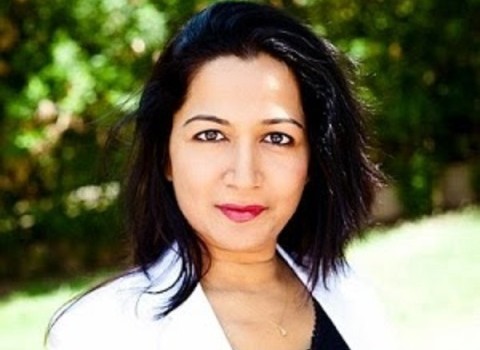 Published on May 7th, 2014
0
The not-so-reluctant social media maverick
Kiran Manral is everything at once – literally. We chat up the popular blogger, author, activist and volunteer network founder.
by Mamta D | @silverlightgal on Twitter
Unless you've been living under a rock, you would surely have heard of Kiran Manral – at least if you're using the digital medium. Maybe on a blog, maybe on a Twitter feed, maybe you've seen her on a panel discussion. But as they say, there can be so much to a person that sometimes one lifetime isn't enough to know them. Kiran is one such person.
Kiran Manral worked as a journalist before she quit to be a full time mother. Her blogs, www.thirtysixandcounting.wordpress.com and www.karmickids.blogspot.com, are both in Labnol's list of India's top blogs. She often blogged at Tehelka Blogs on gender issues. She is also considered a 'social media star' on twitter by the TOI and IBN Live named her as among the '30 interesting Indian women to follow on Twitter' and among the 'Top 10 Indian moms to follow on Twitter for 2013'.
Post 26/11, she founded 'India Helps', a volunteer network to help disaster victims and has worked on long term rehabilitation of 26/11 Mumbai terror attack victims and 13/7 Mumbai bomb blast victims, amongst others. IndiaHelps began with helping the 26/11 disaster victims and now works with all disaster victims, depending on reach and access of volunteers to them.
Apart from this, she is part of the core founding team behind CSAAM and Violence Against Women Awareness Month, two very well-received social media awareness initiatives across Twitter and the blogosphere. Her debut novel, The Reluctant Detective, was published by Westland in 2012.
The Metrognome shot some gentle salvos at her to get some more interesting information on what she thinks of her Twitter celebrity status, her thoughts on the CSAA initiative and doing her bit to generate awareness about violence against women, among other things.
Excerpts from the interview: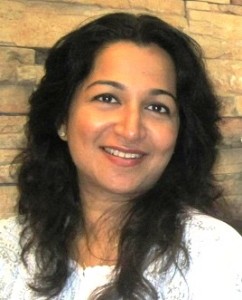 From joining Twitter/Facebook to becoming one of the top social media influencers, the journey on social media must have been surely exciting. How did you accomplish this?
To be very honest, I don't really know how or why this happened. I think I was just very opinionated, and it has been a fun ride so far. What is good for me is that the reach helps me tremendously when it comes to issues close to my heart.
Tell us something about the CSAA (Child Sexual Abuse Awareness) initiative that you have been spearheading since 2011, and is now going strong in 2014.
I am part of the core founding team of CSA Awareness Month. It was founded by a group of bloggers concerned about the growing incidents of CSA and our head-in-the-sand approach to it. In the first year, we did receive a lot of resistance for even daring to talk about CSA; people said we were propagating child porn, we were talking about something that didn't happen in India, that we were corrupting morals. Today, thankfully, people are much more receptive and vocal about CSA.
We think we have been able to get the stigma about CSA erased, and made people realise that they must know, get informed and talk to their children about this very real and present danger. We work across all social media, blogs, Twitter, Facebook and this year, with the help of parenting portal Yowoto and the NGO Arpan and Podar Educational Foundation, we were part of a very successful offline event where parents interacted with speakers and experts on this subject. Hopefully, there will come a time when we won't need to do CSAAM at all. That would be our true vindication.
Besides being involved with CSAA and also managing the Indiahelps blog, you are often vocal about gender issues and violence against women. How did this come to be?
I've always believed that one has to give back a bit to society, that if every single person does their bit, this world could be a better place, in whatever way one can, however small, however insignificant one might think one's effort or one's voice is. True effort will always get amplified. So, I try to do my bit, generate awareness through the mediums I know the best-social media, and writing. That is what I can offer.
You also write often on fashion, jewellery, accessories, parenting, and food, on your blog. Cliched though this may sound, how do you manage the time and keep the enthusiasm alive?
Ha ha ha! I am quite a vain puss and terribly fond of clothes and accessories, not so much of food. I could call myself more a glutton than a foodie, to be honest. Parenting, well, I do describe myself as a school gate mom first and over all other definitions.
How do I manage the time? I don't work full time. My son goes to school from 7.30 am to 2 pm, and I have a good chunk of time available to me to do my writing and other things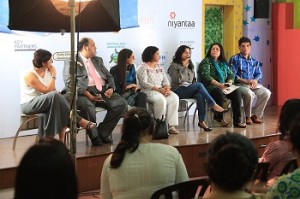 that matter to me. I'm terribly slovenly about socialising and rarely go out to party or lunches, dinners and such like. I would rather spend my time reading, writing or being with my son. I'm pretty boring in that sense. I am also very disciplined about my work time – I make lists of tasks to be done for the day and get my bread and butter work done before I get down to fiction writing or blog writing. I make sure I'm at my desk every single day unless I'm seriously ill.
Your second book, Once Upon A Crush, is just out. What was the first book about and what is the new one about?
My first book, The Reluctant Detective, was about a suburban housewife who stumbles upon two murders and reluctantly gets involved in the investigation. This one is pure office romance, a romantic comedy, firmly tongue-in-cheek chick lit.
What is next on your agenda? Another book? More projects like CSAA? Or taking some time off?
Honestly I don't know. I am writing books. I don't work on one book at a time, so I have three different manuscripts at different stages in progress. CSAAM has gathered steam and will do very well with or without me now, I think. As for taking time off, if one is a mom, one never has time off. I tend to take things as they come to me. So hopefully, more writing projects, more time I can give to offline social efforts and yes, enjoying the last couple of years before my son hits the terrible teens.
Anything else you'd like to share with The Metrognome's readers?
There is so much one is tempted to say if one is given a soapbox and no word limit, but all I would like to say is follow your heart and the rest will fall into place.
****
A brief synopsis about Kiran's newest book, Once Upon A Crush:
'Rayna De, stuck in a dead end job with a boss from hell, zero love life and the big 3-O looming large on the immediate horizon, has started to panic a bit. No, make that panic a lot. Enter new object of lust in the office, Deven Ahuja, and Rayna is overpowered by inappropriate visions of Cupid aiming his arrows straight into her heart, with turtle doves doing their billing and cooing act in the backdrop.
Alas, Deven is completely out of Rayna's league despite the contradictory messages he seems to be sending out, and is, as decreed by page three supplements of the city newspapers, the man in the life of the gorgeous, light eyed model-turned-actress Sharbari Raina.
As Rayna battles with her unseemly, going nowhere crush, shaky employment status and dithers about signing up for domesticity with the vetted by her parents, Sid Bose, of the multi zero pay package, the two and a half bedroom house in a suburban gated complex and the very cultured, respectable family, she discovers that life has its own plans…'
(Pictures courtesy Kiran Manral, www.aswethinkis.com)