Hum log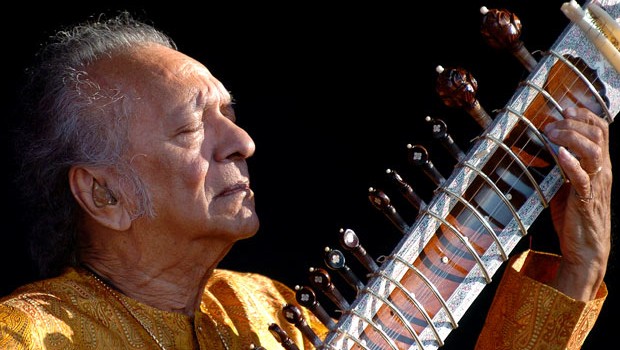 Published on December 23rd, 2012
0
The maestro in his home
Humra Quraishi met Pandit Ravi Shankar at his Delhi home before he moved to the US. This is her story.
I can never forget my first meeting with sitar maestro Pandit Ravi Shankar. It was around the time of his 70th birthday, and as I sat sipping my tea at his Lodhi Estate home, I got so terribly nervous that the entire cup crashed to the carpet of his living room. With that disaster, my nervousness peaked to such an extent that I could barely ask more than the basic, customary questions.
But  Panditji had simply smiled and tried his best to make me feel at ease.
It was only after a longish gap that I'd mustered enough confidence to try and meet him again. This was in early 1993. He'd looked frailer and quite sad. He'd told me that he'd been left totally devastated by the recent death of his only son Shubo. That was the time he and his second wife Sukanya were planning to shift base from New Delhi to San Diego, California.
When I asked him why he was moving to the US, the couple gave me a set of reasons. "The mess in the country is painful for me. Even a place like Delhi is becoming unfit for living. With everything else, the pollution here is killing," he said. Sukanya stood close by and added, "The politicians and pollution have finished the city. We have already bought a Spanish villa in California and now I'm doing it up my way."
To that he'd added, "For me, the house is a very important place. Since I was 10, I have been travelling, living in hostels, so I value my home. That feeling of warmth, coupled with a comfortable middle class lifestyle. Nothing gaudy or vulgar. Somehow, I totally dislike the Delhi concept of showing off. A dignified, balanced and comfortable way of life is what I like."
He went on to tell me details of the very first house he had built for himself in Benaras. "I don't know why I decided to build that house in Benaras. Probably because I was born and brought up in that city…and though I'd built it in the early '70s, within years I decided to abandon it. All sorts of crude elements had sprung up around me, those decaying values stifled me, so I decided to shift out of Benaras. I'm not a fighter. I'm a musician and I can't stand vulgar people, besure log."
Their Lodhi Estate home was really simple. There wasn't a trace of any ornate furniture, no porcelain ware, no elaborate bedroom bandobast. In fact, the only room which looked well done up was the music room; with sitars, surbahaars , tanpuras neatly placed in stands and the walls of this particular room adorned with prized photographs capturing Panditji with John Lennon, Uday  Shankar, Baba Allauddin, Pablo Casals, Mariam Anderson, Pandit Jawaharlal Nehru and Indira Gandhi.
The maestro's bedroom had only a double bed and a fax machine in it. As we neared the puja  room, he told me, "This isn't just a puja room but my private corner. This is where I meditate, do riyaz, pray. For me, religion is a very personal thing. I am certainly not ritualistic. In fact, like me, most musicians are broad-minded.
When I was 18, I went to live with my ustad, Baba Allauddin, and though he was a devout Muslim, his home in Madhya Pradesh's Maiher was full of photographs of Kali, Krishna, Christ, Mary…music makes you more tolerant. I only wish our present-day politicians were more musically-inclined; then there'd be more harmony and not the present-day cacophony!"
I asked him, "If religion is so personal to you, why is there such a bold 'Om' inscribed on the very entrance gates to your home?"
He didn't just explain this with words, but he also wrote in my notebook. I quote him, "Om or Aum is the primordial sacred sound that has been uttered, chanted and sung by yogis, musicians and the common man for thousands of years. In music, Omkar plays a very important and a very great part. Mian Tansen and his family gave great importance in their singing to the aalap, which starts with the words 'Hari Om'. This gradually changes to nom, tom etc…To me, as a musician, this sound signifies a deep spiritual vibration, mentally as well as physically."
 (Picture courtesy guardian.co.uk)