Hum log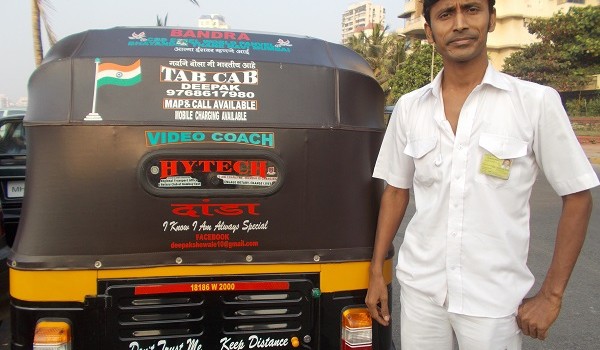 Published on January 6th, 2014
0
The all-in-one autorickshaw guy
A resourceful autowallah in a city known for awful drivers, Deepak Shewale is clued in to passengers's likes and preferences.
by Nidhi Qazi
In a city full of autorickshaws, there is one among a few which stands out. And why? Because the machine, the mode of transport is more than that – a machine – for its owner Deepak Shewale, an autorickshaw driver in the city for the past 13 years.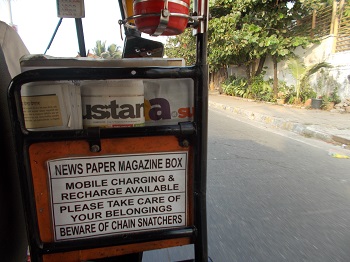 Deepak's auto is anything but boring. From inspirational quotes stuck on the insides of the auto, to a tablet, to mobile recharge vouchers, Deepak has a lot to offer. It doesn't stop here. Passengers also get the privilege of reading the day's newspapers, fresh drinking water, and even medical care, with basic medicines like Crocin and Combiflam on offer. He has also put up pictures of a few celebrities how have boarded his auto in the past.
For the 35-year-old Deepak, a resident of Khar-Bandra, and a native of Baramati in Maharashtra, his auto has garnered him popularity from passengers. He says, "There has been an increase in the number of passengers. Moreover I also have passengers who call me regularly for services and have now become my fixed clients."
Why is his auto so different from the others that ply on Mumbai's roads? He says, "After the 26/11 terror attacks, I understood the true meaning of emergency. I got inspired to do something for my passengers." The amenities in his auto serve his passengers and him both. For instance, the tab helps him navigate the city better – he uses Google Maps to reach his destination and also offers the service to his customers – besides entertaining present company with songs and movies.
The passengers also have the convenience of emergency helpline numbers. But what makes Deepak really stand out from most others of his creed is that he plies passengers who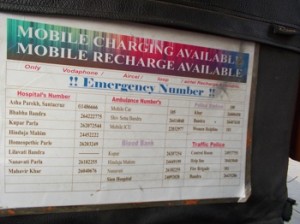 are in need even after working hours. "Even if I am done for the day and headed back home, I take passengers in an emergency aboard," says Deepak, who mostly plies around Bandra and Khar.
Another interesting aspect of his auto is the variety of posters and quotes he has put up, ranging from the philosophical to the funny, and from the religious to the informative. Here's how one goes: 'Gussa kya hai? Kisi ki galti ki saza khud ko dena (What is anger? It is punishing yourself for someone else's mistake)'. Another one reads, 'Think good, do good'. A little fun one says, 'Paise ko jeab mein rakho, dimaag mein nahi (Keep money in your wallet, not your head).' There's also a poster displaying scientific trivia, a nod to Deepak's interest in the Discovery channel.
Deepak was recently felicitated by the RTO and the Rotary Club of Mumbai for his 'Social work for Community'.
The social media fad has also caught this auto driver, and he also has a page on Facebook. "A customer gave me this idea so I created a page on Facebook. It doesn't really help me but it is okay," he says.
With an income of Rs 20,000 a month, don't all the amenities cost him extra? "No, because most of them are a one-time investment like the TV, the tab and the music system. Moreover, my passengers feel happy that I provide all these services and say that this is a really nice initiative."
Deepak also takes inputs from his passengers. For instance, the quote, 'Give Respect , Get Respect' was changed to 'Respect is commanded, not demanded' when "a passenger pointed out that there is a better way of saying the same thing."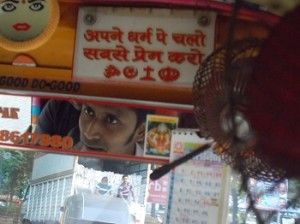 What is that keeps him going at all of this? He grins, "Initially it was to help people; now also it's the same but it has become of a hobby which I like pursuing. I keep thinking of ways to improve the auto and the experience of my passengers."
Shewale plans to fix a cooler to fight off the heat and install a CCTV in the coming days. "CCTVs can come in handy in keeping a watch and being vigilant in the case of fishy passengers," he explains, adding that he is also thinking of garnering advertisements for a better income.
For the time being, though, he prefers to keep going in his extremely colourful autorickshaw. As he takes my leave, he adjusts his converted recliner seat and drives off with a smile.
To book Deepak Shewale's auto, call 97686 17980.
(Pictures courtesy Nidhi Qazi)