Hum log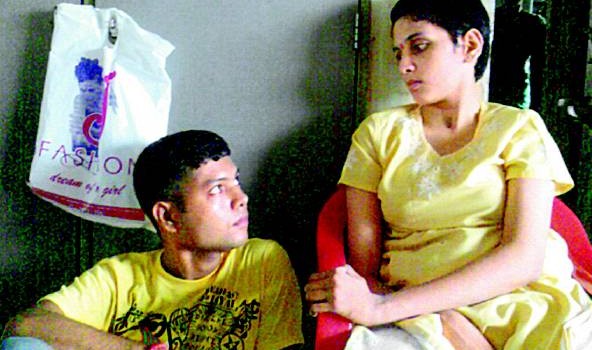 Published on January 30th, 2013
1
Sunny days
He nursed his girlfriend for four years before she died. Sunny Pawar is now rebuilding his life through social service.
by Mamta D
Seven years ago, Sunny Pawar was like any other man in his 20s – he was deeply in love, he had a good job, and his future promised to be an exciting one. But as it generally happens when life is going swimmingly well, fate turned around and threw everything out of order.
In 2006, Sunny's girlfriend Aarti and a few friends were riding near Gorai beach when their car had a nasty accident and turned turtle. The others got away with minor injuries, but Aarti was the worst hit. With serious head injuries, she slipped into a coma and was subsequently in an NICU (Neurological Intensive Care Unit) for the next four months. During these four months and in the next four years, Sunny did what few people would probably do – he never left Aarti's side once during the entire time she was in the ICU, and even when she was subsequently moved to a ward.
His constant presence at her bedside made headlines in major newspapers and his story was covered by a few news channels, too.
Sunny and Aarti became symbols for the ultimate love story in a cynical city that often has no time for love. Readers' aid poured in, which helped Aarti's family bear a part of her enormous medical expenses.
Things appeared to look up for the couple: in 2007, Aarti made a miraculous recovery from the coma and was sent home, though she couldn't recognise anyone; not Sunny, not even her mother. Undeterred by her condition, Sunny fed her and continued to take care of her basic nursing needs along with her mother, Bharti Makwana. Aarti was still bed-ridden, with the right half of her body paralysed, but she showed a lot of improvement.
During this tumultuous time, Sunny had quit his Chartered Financial Analyst course halfway to tend to Aarti, but he gradually resumed his education in 2009. However, instead of the CFA course, he chose to enroll for a Masters in Social Work from Nirmala Niketan, College of Social work. "Instead of being frustrated with my situation, I decided to focus on doing social work," he says.
"Each day, I hoped for her recovery and that she would be completely normal some day," he adds.
But fate was still not finished with Sunny. In 2010, Aarti breathed her last after a sudden attack of pneumonia.
At this point, Sunny could easily have succumbed to depression or resorted to unnatural ways to vent his grief. "I had many negative thoughts during those tough times," he says. "Like any other person affected by trauma, I struggled for more than five years and felt a huge void after Aarti's death. Then I stumbled on the philosophy of helping strangers without expecting anything in return. I call this A.R.T after Aarti, an Act of Random Kindness," he explains.
These days, Sunny is busy with his NGO work – he is Project Manager at the Shree Ramanugrah Trust, and often initiates many new welfare and empowerment projects on their behalf. Besides this, he has spoken at several motivational seminars, and enrolled in a part time MBA in Social Entrepreneurship at NMIMS. Most recently, he has taken upon a personal initiative, wherein he will distribute donated new or used footwear to female ragpickers he has met during the course of his field work.
Sunny recalls how his story encouraged another young man to follow his heart. "A couple of months ago, my story so far was published in a Kannada publication named Kannadaprabha. The next day, I received a call from a person named Sunil, who told me that he was in love with a girl from his own locality for four years, but due to his parents' opposition, he had not been able to marry her till date. His parents had been opposing the marriage because the girl suffered from epilepsy.
But Sunil promised me that after reading about me and Aarti, he had made up his mind to marry the girl very soon, regardless of whether his parents gave their consent or not. The moment the call was over, I thanked God and Aarti."
Ask him about his will to go on, and he says, "Whatever I am today is because of Aarti, my family, her mother and all those people who helped me during this acid test of my life. My parents, though shocked at first, eventually accepted and came to terms with what I was doing. They let me be, without becoming judgmental or stopping me from what I set out to do. They are my pillars of strength and support, without whom I would have totally collapsed. Aarti provided me an opportunity to get in touch with my inner self. Today I have found my calling because of her; she is physically no longer with me, but she is still with me through our shared memories and precious experiences together. Had she been alive today, this is what she would have done; she is alive through me and my work."
He adds, "Opportunities to serve others sometimes come in the form of our own tragedies. Unpacking something with an ugly packaging requires a lot of audacity and struggle, but what seems unbearable is definitely not impossible."
If you wish to donate new or old footwear for women ragpickers, you can contact Sunny Pawar on +91 9892856554. He is also available for group motivational talks and will answer donation queries, too.  
Mamta D works in the IT industry. Beyond her job, she writes, travels, paints and experiments with various side projects, among other things. She is also keen on making a difference to society in whatever way possible.
(Featured image courtesy timesofindia.com)