Hum log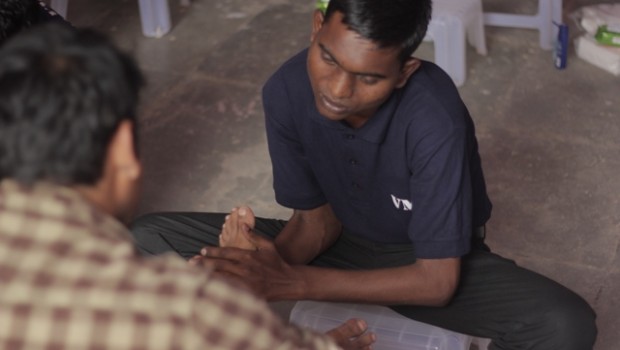 Published on November 17th, 2014
0
Looking for a good masseur? Try a visually challenged one
Qualified masseurs from the Victoria Memorial School for the Blind offer massages for very reasonable rates – and they're sensational.
by Vrushali Lad | editor@themetrognome.in
I am a sucker for back massages. Which was why, when I heard there were massages up for grabs for as little as Rs 100 at Borivali, I made my way there at once. There were 11 professional masseurs attending to people who'd asked for foot and head massages. I was the only one in that bunch to ask for a back massage.
The masseur started by asking my name while kneading my back gently. But a few minutes later, I almost cried out, "AAA, please don't kill me!" as his thumbs caught the chronically painful points in my lower back. Unperturbed by the way I suddenly stiffened, he said in Marathi, "Roz Suryanamaskar kara. Thoda vajan vadhava. Ani methi kha, tyane farak padel (Do Suryanamaskar every day. Increase your weight. Also eat methi, it will help)."
15 minutes later, it was as if I had never suffered a bad back in my life. I thanked the masseur profusely and asked him his full name. He fixed his sightless eyes in my direction, smiled at me and said, "Rambabu Dhume."
The event
Rambabu was one of 11 visually challenged masseurs who came to Borivali at the behest of resident Vidhi Mistry, who put together a massage camp in her building premises in association with the Victoria Memorial School for the Blind, Tardeo. Like Rambabu, all the other masseurs are specially trained in giving foot massage, reflexology, neck and head massage, full body massage and facial massage. Students from the school give massages for a living, for extremely modest rates.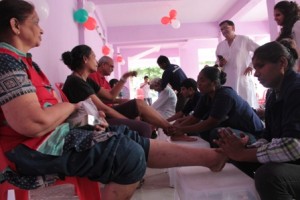 Speaking to The Metrognome, Vidhi said, "A few months ago, I had gone to the World Trade Centre to see a friend's stall. Over there, I came across these visually challenged youngsters giving foot massages for as little as Rs 50 for 15 minutes. I asked for a massage, and it was the best foot massage ever. I promised them that I would organise a camp for them soon." Coming good on her promise, Vidhi organised the camp and invited about 200 people to attend and avail a massage of their choice for Rs 100. "I'd asked people to donate more, because this money is going to their School and the masseurs."
Hoping to make at least Rs 50,000 from the camp, Vidhi and her team was stunned to discover that they had made Rs 82,500. "The response was overwhelming. Over 250 people turned up and we extended the event by two hours," she said.
Massage for a living
During the massage, I got to talking with Rambabu, who told me that he stayed at a hostel in Churchgate and that he travelled anywhere in Mumbai for home visits. "I have a D.Ed from the School," he said proudly when I asked him how far he had studied massaging. "Along with the practical work, we are also taught to detect why people have certain painful areas and how they can correct them with diet and yoga." This explained how he had correctly tapped my chronically painful lower back within minutes of massaging me.
Vidhi said that most people did not opt for these "blind masseurs" because they were not confident that they could give a good massage. "They charge very less, too. This is their livelihood, and since most of us get massages anyway, it's a good idea to hire these people instead," she said. Rambabu explained that for the home visits, people could specify what kind of massage they wanted and for how long.
Having tried the massage myself, and with my back feeling better than it has in weeks, I'm sure to give the Victoria Memorial School a call for a home visit next.
Want a massage at home? Want to organise a camp employing visually challenged masseurs? Call the Victoria Memorial School to hire a masseur, inquire about charges and other details on 022 23531236. Look up www.vmsb.org for more information.